Fact Check: Did Larry Elder Campaign Link to 'Fraud' Page Saying Gavin Newsom Already Won?
Larry Elder shirked the question of whether he will accept the California recall results and it appears he is already preparing to challenge them in the face of defeat.
The Claim
Elder's campaign website is said to link to another website that already suggests Governor Gavin Newsom has survived the recall.
Several social media users pointed this out.
The Twitter account for No Lie with Brian Tyler Cohen highlighted a section of the second site in question in a post on Monday, September 13, and said: "California recall candidate Larry Elder has launched an "anti-voter fraud" website that accidentally already says that Gavin Newsom won the recall election. The election is tomorrow."
This included a screenshot with a purported section of the site that noted fraud had been detected "resulting in Governor Gavin Newsom being reinstated as governor."
That tweet has been liked more than 2,000 times at the time of writing. Pollster Frank Luntz also tweeted that this was the case and shared a screenshot. His tweet has been liked more than 1,900 times at the time of writing.
The Facts
On Elder's campaign website, electelder.com, there is a button in a bar at the top of the home page which says "STOP FRAUD."
Clicking on this leads to the website stopcafraud.com—at the top of which it has in bold letters "Fight California Election Fraud!"
This details a petition "demanding a special session of the California legislature to investigate and ameliorate the twisted results of this 2021 Recall Election of Governor Gavin Newsom."
Further down the page there is a paragraph that reads: "Statistical analyses used to detect fraud in elections held in 3rd-world nations (such as Russia, Venezuela, and Iran) have detected fraud in California resulting in Governor Gavin Newsom being reinstated as governor. The primary analytical tool used was Benford's Law and can be readily reproduced."
Newsom would not technically be reinstated as governor, he would simply remain governor as he is now if he survives the recall. However, the paragraph clearly suggests Newsom has already managed to remain in his position following the recall.
The page was flagged in social media posts on September 13. The recall vote is to be held on September 14. At the time of writing, there is no result. People have been able to vote by mail, but there is still no result ahead of the in-person vote being conducted.
The stopcafraud.com website states it is paid for by "Larry Elder Ballot Measure Committee Recall Newsom Committee" and cites major funding from Elder for Governor 2021.
Talk radio host Elder is the frontrunner among Republican candidates bidding to replace Newsom. However, polling has tipped Newsom to survive the recall.
Newsweek has contacted Elder's campaign for comment.
The Ruling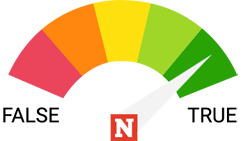 True.
FACT CHECK BY NEWSWEEK
A website linked to by Elder's campaign site did suggest that the results for the recall had been determined and Newsom was to remain governor of California.
The page was available online prior to the vote being held on September 14.
It said "statistical analyses" had "detected fraud in California resulting in Governor Gavin Newsom being reinstated as governor."