Fact Check: Is Photo of 50 Cent and Ice Cube in Trump 2020 Hats Real?
A photo of rappers Ice Cube and 50 Cent swept social media platforms this week after it appeared to show them endorsing President Donald Trump for re-election.
The image features both entertainers seated next to each other, wearing hats with "Trump 2020" across the front. But users were quick to point out issues with the photo, leading to questions about its accuracy.
The Claim
The photo began circulating on social media platforms Monday, receiving thousands of shares on Twitter and Facebook. But it picked up more traction on Tuesday, when Eric Trump, the president's 37-year-old son, shared the image with his 4.2 million Twitter followers.
"Two great, courageous Americans," Eric Trump tweeted Tuesday morning, along with the photo. Within an hour of posting, the tweet had more than 15,000 likes and 3,500 retweets.
Eric Trump deleted the tweet after Ice Cube responded with a quote-tweet, writing: "N----a please ..." The rapper's tweet has since received nearly 30,000 likes and 3,700 retweets.
The Facts
As the photo of Ice Cube and 50 Cent began circulating on social media, users were quick to find its source, showing how the image had been doctored.
The original photo shows Ice Cube and 50 Cent wearing baseball caps with sports logos. Ice Cube's hat says "Big3," a reference to the rapper's 3-on-3 basketball league that he co-founded in 2017. 50 Cent's hat shows the New York Yankees logo. Ice Cube posted the image to his Twitter account July 6 as a birthday message to the other entertainer.
When the doctored image began circulating on social media this week, Eric Trump took it as a sign that both rappers were endorsing his father's campaign for re-election.
But only 50 Cent has publicly announced his support for the president, sharing an image on Instagram on Monday that detailed Democratic candidate Joe Biden's proposed tax plan.
"WHAT THE F---! (VOTE ForTRUMP) IM OUT," the rapper wrote in the caption. "F--- NEW YORK The KNICKS never win anyway. I don't care Trump doesn't like black people 62% are you out of ya f---ing mind."
Ice Cube, meanwhile, has worked with Donald Trump's re-election campaign on its policies for addressing racial inequality but has not endorsed either candidate.
"I'm not on nobody's team," Ice Cube told CNN's Chris Cuomo during an October 16 interview. "I'm not on team blue or team red."
The rapper appeared on Cuomo Prime Time to explain his decision to work with the president on his Contract With Black America (CWBA). The document, which Cube released in July, outlines recommendations for promoting racial equality and closing the wealth gap between Black and white Americans.
"Facts: I put out the CWBA," Ice Cube tweeted on October 14. "Both parties contacted me. Dems said we'll address the CWBA after the election. Trump campaign made some adjustments to their plan after talking to us about the CWBA."
Ice Cube previously criticized the Biden campaign, asserting that the former vice president and his running mate, Senator Kamala Harris of California, needed "to do way more for Black people to sure up the vote."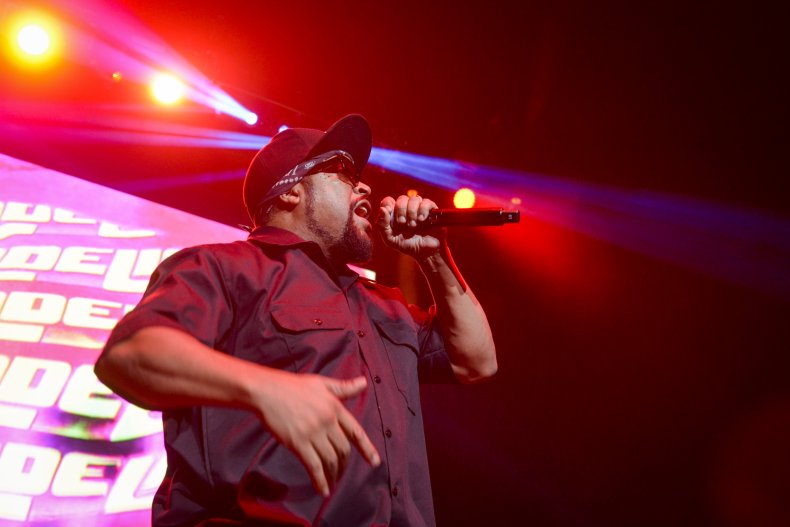 The Ruling
False.
The photo of Ice Cube and 50 Cent was altered to place a "Trump 2020" message over their hats.