Fact-check: Are Protesters Throwing Cans of Soup and Tuna, As Trump Claims?
Donald Trump has doubled-down on claims that protesters are using canned food such as soup and tuna as weapons during demonstrations against police brutality and racial injustice. Newsweek investigates if these claims are true.
What did Trump Say?
Speaking at a campaign rally in Pittsburgh, he said: "They're walking up there like 30 cans of soup [sic]. They have like 25 cans of tuna. They get caught."
He then quoted an imaginary protester, saying: "'I'm bringing this home to my family, how dare you stop me," before adding: "No, no, no. They use it as ammunition. It's terrible."
Trump suggested protesters chose cans of tuna because they were the "perfect weight," telling the crowd: "They can really rip it, right? And that hits you. Bumble Bee brand tuna, and you can throw that, because you put a curve on it, you can do whatever you want."
He described Portland as an "anarchist's dream" where "the people are starting to go wild" and claimed journalists reporting from the protests had themselves been hit with tuna cans.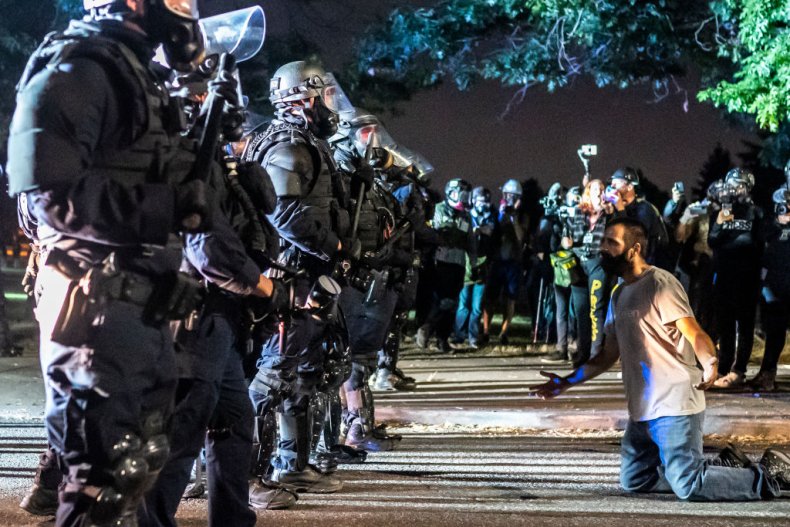 The president previously claimed that protesters were using similar tactics, including throwing frozen bottles of water.
"In cities across the nation, we've also seen police officers assaulted with bricks, rocks, bats, Molotov cocktails, frozen bottles of water," Trump said during talks with Mick McHale, the president of the National Association of Police Organisations, in July.
"And then they have cans of soup. Soup. And they throw the cans of soup. That's better than a brick because you can't throw a brick; it's too heavy. But a can of soup, you can really put some power into that, right?"
"When they get caught, they say, 'No, this is soup for my family.' They're so innocent. 'This is soup for my family.' It's incredible. And you have people coming over with bags of soup — big bags of soup. And they lay it on the ground, and the anarchists take it and they start throwing it at our cops, at our police. And if it hits you, that's worse than a brick because that's got force. It's the perfect size."
Is there evidence of soup cans being thrown by protesters?
Trump made the claims, some of which were contained in a transcript released on the White House official website, without providing any evidence.
Portland Police tweeted a photo in June showing what they said were "items recovered that were thrown at officers: Full beverage cans, bricks, bottles, rocks, food."
The image showed a can of chickpeas, a grapefruit drink, a half-eaten apple and the tops of a beer and wine bottle. But no soup.
However a spokeswoman for Portland Police told Newsweek "over the last several months we have seen full cans thrown at officers by protesters."
A police statement issued on Tuesday said a "viable Molotov cocktail" was thrown at officers: "The wick was lit and the device was thrown onto the property. Fortunately, the fire extinguished and no one was injured."
Portland Police said eggs and water bottles had been thrown at them during protests on September 8. Water bottles and rocks were also allegedly used by demonstrators on September 2.
Is there evidence of tuna cans being thrown by protesters?
There have been no news reports suggesting tuna cans are being thrown by demonstrators despite Trump's suggestion that reporters were among those hit by them.
Indeed, there is no evidence that the use of food cans as a protest weapon is widespread or coordinated, although Portland Police accounts of recent demonstrations suggest projectiles of varying descriptions are sometimes used.
Bumble Bee Seafoods, which was name-dropped by Trump, responded after the claims were made: "Eat em. Don't throw em."