Fact Check: Is Putin Ally's Son Dodging Ukraine Draft as Model in London?
Vladimir Solovyov, one of the best-known propagandists in Russia, responded on Tuesday to a viral tweet calling out his 21-year-old son Daniil Solovyov and accusing him of working as a male model in London instead of volunteering to go to fight in Ukraine.
State TV host Vladimir Solovyov positions himself as a patriot and often implores Russians to fight on the frontline. He has claimed to regularly go to the frontlines of the conflict himself and has been honored with several medals by President Vladimir Putin.
Solovyov has also railed against the West, even urging nuclear strikes against the U.K., and made anti-LGBTQ remarks that have now been picked up by his critics, who accused him of hypocrisy.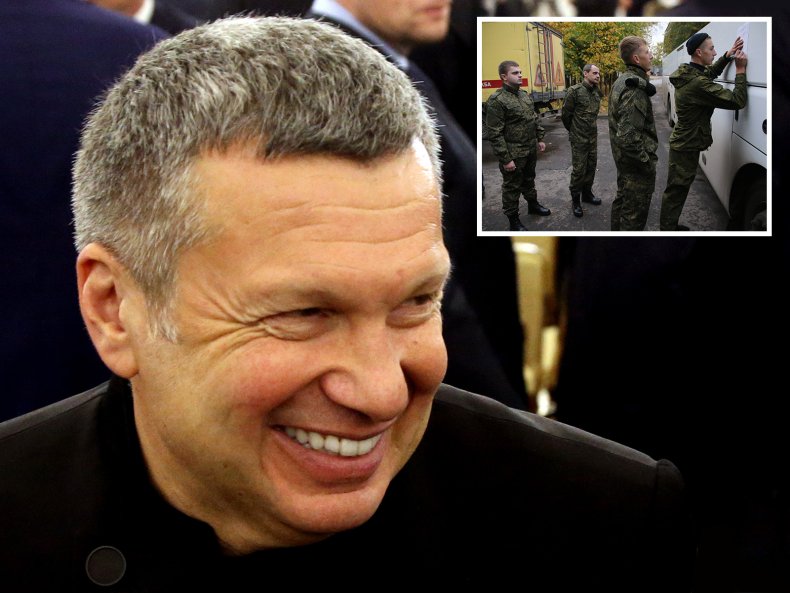 The Claim
On Tuesday, Solovyov responded angrily on Russian state television in response to a viral tweet that contained several photos, including one of him with his son. Some of the photos, also purportedly depicting his son, looked to be professionally shot.
There were two modeling pictures for Contora Lisovets, a style brand and hair salon which is based in Moscow.
The tweet, by Kyiv Post special correspondent Jason Jay Smart and viewed two million times, alleged that Daniil Solovyov had dodged the draft to fight in Ukraine by instead working as a male model in London.
It contrasted its claims about his son against the TV host's pro-war views and his criticism of youths who dodge the draft.
The Facts
On Tuesday, Vladimir Solovyov addressed the rumor. He said his son had previously studied in Britain, but for several years has been studying "in a good educational institution in Russia" and "has never concluded any contracts with any modeling agency in London."
He said that his son was based in Moscow "living a difficult life of an average young person" and "not trying to dodge anything." Solovyov said his son was living his life in his own way as an adult, and that it was irrelevant "whether his father likes it or not".
In the viral tweet, there were pictures of what appeared to be a blonde-haired Daniil Solovyov, including one of an apparent shoot for a Moscow-based modeling agency.
Newsweek has contacted the agency to identify who is in the photo.
During his comments on Russian television, Solovyov seemed to imply that there were photos of his children included, though it was not clear if he was referring to just one or several of the images.
The host accused his critics of conducting "psyops" and alleged without evidence that they were being paid by Ukrainian neo-Nazis. He threatened to sue anyone who published the claim that his son is currently modeling in London.
A photo purporting to be Daniil Solovyov in a fur jacket and black nail varnish was also doing the rounds online, but Newsweek Fact Check found that it is actually an image of an 18-year-old model called Tommy Solovyov.
Newsweek contacted Tommy Solovyov's modeling agency NotAnotherInt based in Dublin, Ireland, and they confirmed that the photo is of "our model Tommy Solovyov who is no relation to Volodymyr Solovyov."
NotAnotherInt called the news that it was Daniil Solovyov "misinformation".
In an Irish Times story dated January 7, 2023, titled "50 people to watch in 2023: Ireland's brightest young talent," Tommy Solovyov is profiled and described as the son of Ukrainians in Country Meath, an area just north of Dublin.
Tommy Solovyov was born in Ireland after his parents moved from Mykolaiv "more than two decades ago." It said that Tommy Solovyov began a modeling career through social media, having abandoned plans to become a vet.
Newsweek has contacted Vladimir Solovyov, Smart, and Contora Lisovets for comment.
The Ruling
Unverified.
At least one of the photos shared regularly online about Vladimir Solovyov's son is misleading and of somebody else; the Irish model Tommy Solovyov.
But there is also no definitive evidence to show that his actual son is currently based in London modeling or elsewhere. Another photo frequently shared online indicates that he has modeled or is modeling; however, that agency is based in Russia.
Vladimir Solovyov has said his son previously studied in Britain but claimed that for several years he has been at a Russian institution, lives in Moscow, and "never concluded any contracts with any modeling agency in London."
FACT CHECK BY NEWSWEEK