Fact Check: Did Reporter Use Condom to Protect Mic from Hurricane Ian?
NBC reporter Kyla Galer went viral during her coverage of Hurricane Ian after it appeared she used a condom to protect her microphone from the elements.
She's one of many journalists in Florida who was attempting to stay safe whilst bringing viewers coverage of the devastating storm. Over 2 million people have reportedly been left without power as many parts of the state have been devastated.
In the midst of the storm, NBC2 journalist Galer was informing viewers in Southwest Florida about the current status of Hurricane Ian, but some viewers were distracted by the equipment she was using to report.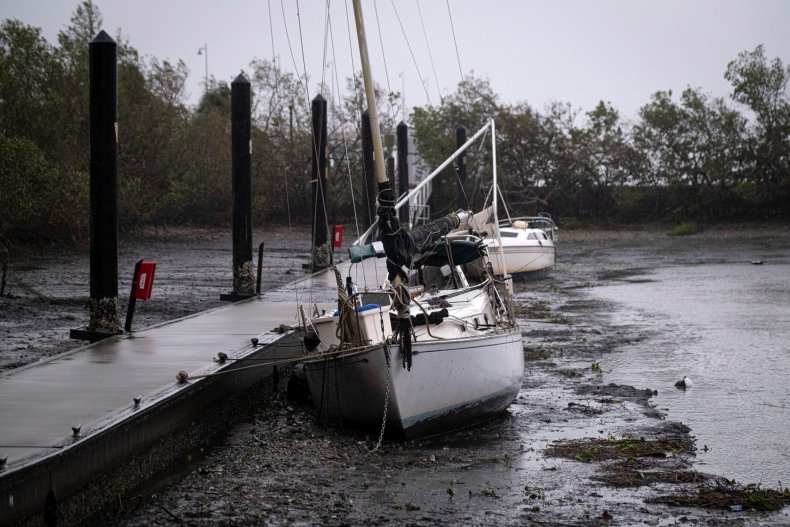 The Claim
Viewers of NBC2 in Southwest Florida noticed an unusual item protecting Galer's microphone as she reported live from on the scene.
Reddit user @PuzzleHead1122 shared a screenshot to the social media site and got almost 50,000 upvotes for asking the question, "Do microphone covers usually come with a nipple on top? Or is that an improvised covering device aka condom?"
Over 2,200 people commented, with many weighing in and confirming that it actually is a condom. Some of the highest-rated comments confirmed that it is industry practice in television to put an "unlubricated condom" on to a microphone to reduce the damage it receives from extreme weather and to reduce the popping noise from the rain hitting the wind filter.
Many others on Twitter picked up on the unusual looking object too, sharing screenshots of Galer out reporting with her mic. @AshleyLolaRyan had to ask her followers "Is she using a condom to keep her microphone dry during NBC's coverage of #HurricaneIan? She is, right!?!?"
Tech journalist Mike Elgan also weighed in. "Putting a condom on the microphone is not what her producer meant by: "Stay safe out there," he joked.
The Facts
With many on social media openly asking if the NBC2 reporter Galer was using a condom to protect her microphone, she responded on her Instagram stories.
"It is what you think it is. It's a condom," Galer told the camera, "It helps protect the gear. We can't get these mics wet. There's a lot of wind, a lot of rain, so we've got to do what we've got to do, and that is put a condom on the microphone."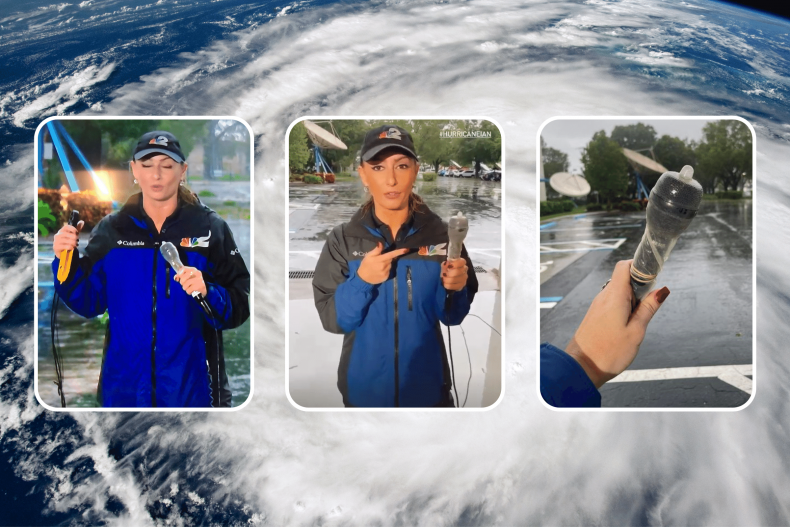 Other journalists weighed in on Twitter to confirm to an inquisitive public that it is a microphone too.
ABC7 journalist Jeff Butera highlighted the "moment of levity in this nasty storm." Including a picture of the microphone in question, he wrote, "We practice safe hurricane reporting. Yes it's a condom, nothing better to waterproof a microphone."
Newsweek has reached out to Galer for comment.
The Ruling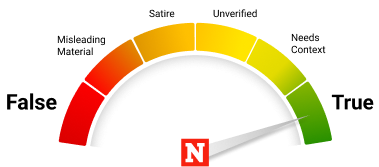 True.
The reporter indeed used a condom to cover the microphone during the storm, as she confirmed on her Instagram page. While it is unclear how widespread the practice is among weather journalists, others have weighed in to confirm that they had done so in the past.
FACT CHECK BY Newsweek's Fact Check team