Is 'Seaspiracy' Accurate? Fact Checking Dolphin-Safe Label Claims Made By Netflix Doc
Netflix's Seaspiracy has revealed some harrowing truths about the widespread environmental destruction to the world's oceans due to human behavior.
From the co-creator of the shocking Cowspiracy documentary, Seaspiracy examines the harm that humans inflict on the seas—from the impact of plastics and fishing gear polluting the waters, to the widespread damage caused by bottom trawling and by-catch, as well as the impact of illegal fishing and ruthless hunting practices.
One revelation made in the documentary that has shocked viewers is the claim that "dolphin friendly" labels on cans of tuna are not guaranteed.
Dolphin-safe labels are used to indicate compliance with laws or policies designed to minimize dolphin fatalities from by-catch during fishing for tuna caught for canning.
More than 90,000 dolphins are estimated to be killed annually in tuna fisheries worldwide, according to a report by the Natural Resources Defense Council (NRDC).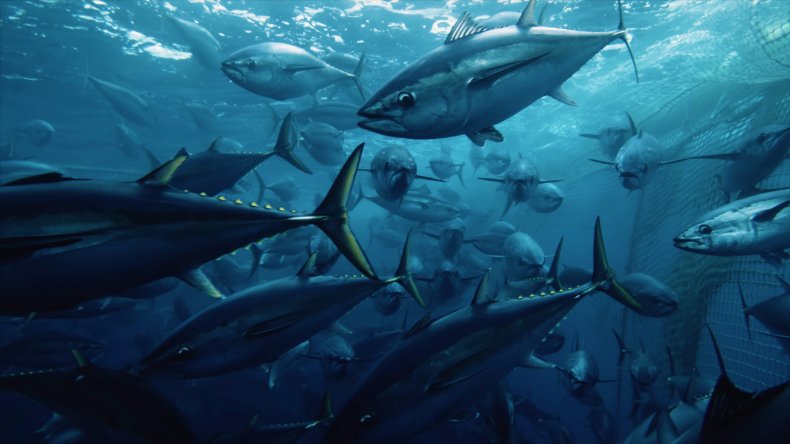 In Seaspiracy, filmmaker Ali Tabrizi meets with the Earth Island Institute, the firm that manages the dolphin-safe label.
A representative from the organization, Mark J. Palmer, is asked in the documentary whether he could guarantee that every can of fish marked "dolphin-safe" is actually dolphin-safe.
"Nope. Nobody can," Palmer said. "Once you're out there in the ocean, how do you know what they're doing? We have observers onboard—observers can be bribed and are not out on a regular basis."
Palmer is associate director of the International Marine Mammal Project (IMMP), which is operated by the Earth Island Institute.
A representative for Sea Shepherd, an organization that holds direct-action campaigns to protect marine wildlife, is also interviewed in the film.
They discuss an experience with one fishing vessel that was working in agreement with dolphin-safe canned tuna standards, but the vessel killed 45 dolphins to catch just eight tuna.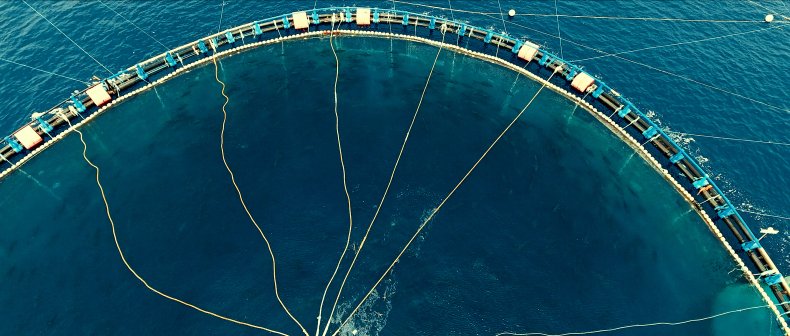 Dolphin Safe labels have legal status in the U.S. under the Dolphin Protection Consumer Information Act, which is a part of the U.S. Marine Mammal Protection Act, but the standards are adhered to by tuna companies around the world on a voluntary basis, managed by the Earth Island Institute.
However, Palmer has since suggested that the documentary took his comments out of context.
"I answered that there are no guarantees in life, but that by drastically reducing the number of vessels intentionally chasing and netting dolphins as well as other regulations in place, that the number of dolphins that are killed is very low," he said, according to IntraFish.
"The film took my statement out of context to suggest that there is no oversight and we don't know whether dolphins are being killed. This is simply not true."
Following the documentary release, David Phillips, director of the International Marine Mammal Project of the Earth Island Institute, said in a statement on the institute's website: "The dolphin-safe tuna program is responsible for the largest decline in dolphin deaths by tuna fishing vessels in history. Dolphin-kill levels have been reduced by more than 95 percent, preventing the indiscriminate slaughter of more than 100,000 dolphins every year."
A spokesperson for the Marine Stewardship Council added in a statement that MSC-certified fisheries "must adhere to our verifiable and science-based requirements, ensuring that fish stocks are conserved for future generations. The positive impact of our program has been recognized by the United Nations, as being important in helping to support ocean biodiversity."
Ryan Bigelow, senior manager of the Monterey Bay Aquarium's Seafood Watch program, told National Geographic in 2020 that "people often see a label on a can and think things are taken care of. The reality is there's often still a lot more work to be done."
Sara McDonald, a senior fisheries scientist at Monterey Bay Aquarium, told the publication: "The U.S. dolphin-safe program has been very effective. Dolphin mortality in the 1980s was 130,000. In 2018, there were 819 documented deaths. If your product has a dolphin-safe label, you are legally obligated not to sell tuna where dolphins were injured, killed, or set upon. It doesn't mean dolphins aren't interacting with the tuna fisheries; it means that tuna can't be sold in this country."
On the sheer number of marine wildlife that are killed each year, Zak Smith of the NRDC told National Geographic: "Three hundred thousand of those animals are cetaceans [whales, dolphins, and porpoises] and the vast majority of them are dolphins because there are a lot more dolphins than anything else."
But Smith explained that law enforcement can't catch all incidents of wrongdoing in terms of upholding dolphin safety.
"The U.S. laws are good if everyone is being honest," he said. "But that doesn't mean nothing ever gets in. There is an incredible amount of illegal wildlife moving into the country. [Law enforcement] can't catch it all."
Based on comments made by the Earth Island Institute and other experts, it is not possible to say whether all canned tuna that is labeled "dolphin-friendly" is guaranteed to have not harmed dolphins in the fishing process.
Seaspiracy is currently streaming on Netflix.