Fact Check: Viral 'Swimming Rat' Video Isn't Actually From New York Floods
A video of a rat swimming in floodwater has gone viral amid the extreme weather in New York.
The Claim
People have suggested the video of the rat is from New York during recent flooding caused by Hurricane Ida.
The clip shows the rat spinning as it pulls itself around in the water.
Various versions of the video, some with music dubbed over the top, have accrued millions of views on social media in total.
One Twitter user shared the video with the words: "Flooding in NYC is on another level." That video has more than 4 million views.
A version on TikTok has the words "New York is different..." written on it and has a location marker saying Bronx, NY.
In it, the TikTok user comes on screen and gestures in shock, taking their cap off and throwing it. It has been viewed more than half a million times at the time of writing.
The Facts
On a version of the video widely shared on Twitter, the original uploader's handle can be seen.
It was posted by @OdinsonLowkey, on July 24—well before the flooding in New York caused by Ida.
Speaking to Newsweek, which along with others had erroneously reported the swimming rat video as being from New York City, @OdinsonLowkey said the footage was taken in the Philippines amid flooding caused by monsoon rains.
"You can actually hear the person who was taking the video spoke Filipino," they said.
In regard to it going viral with claims it is from New York, they said: "I find it a bit funny actually. I thought people who shared that video was just playing around. Coz I thought the audio made it obvious that it was not in NY."
They said "the fun stopped" when people edited out the original audio as this could "deceive others."
@OdinsonLowkey said the video was originally from a person called Christopherson Guevarra.
They sent a Facebook video link to the clip uploaded on July 22 to a page called CG Vlogs.
That video has been viewed 2.3 million times at the time of writing. The contact information on the page has a phone number with the country code of the Philippines.
In a message to Newsweek, CG Vlogs said: "It is from the Philippines."
They said they took the video in July.
The video was included in some online news reports on the flooding in New York after spreading on social media.
The Ruling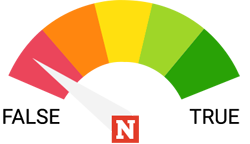 False.
FACT CHECK BY NEWSWEEK
The footage is not from the flooding caused by Ida in New York.
It is from the Philippines, according to two posters of viral versions of the video uploaded earlier in 2021.
The video circulated on social media weeks before the New York floods.