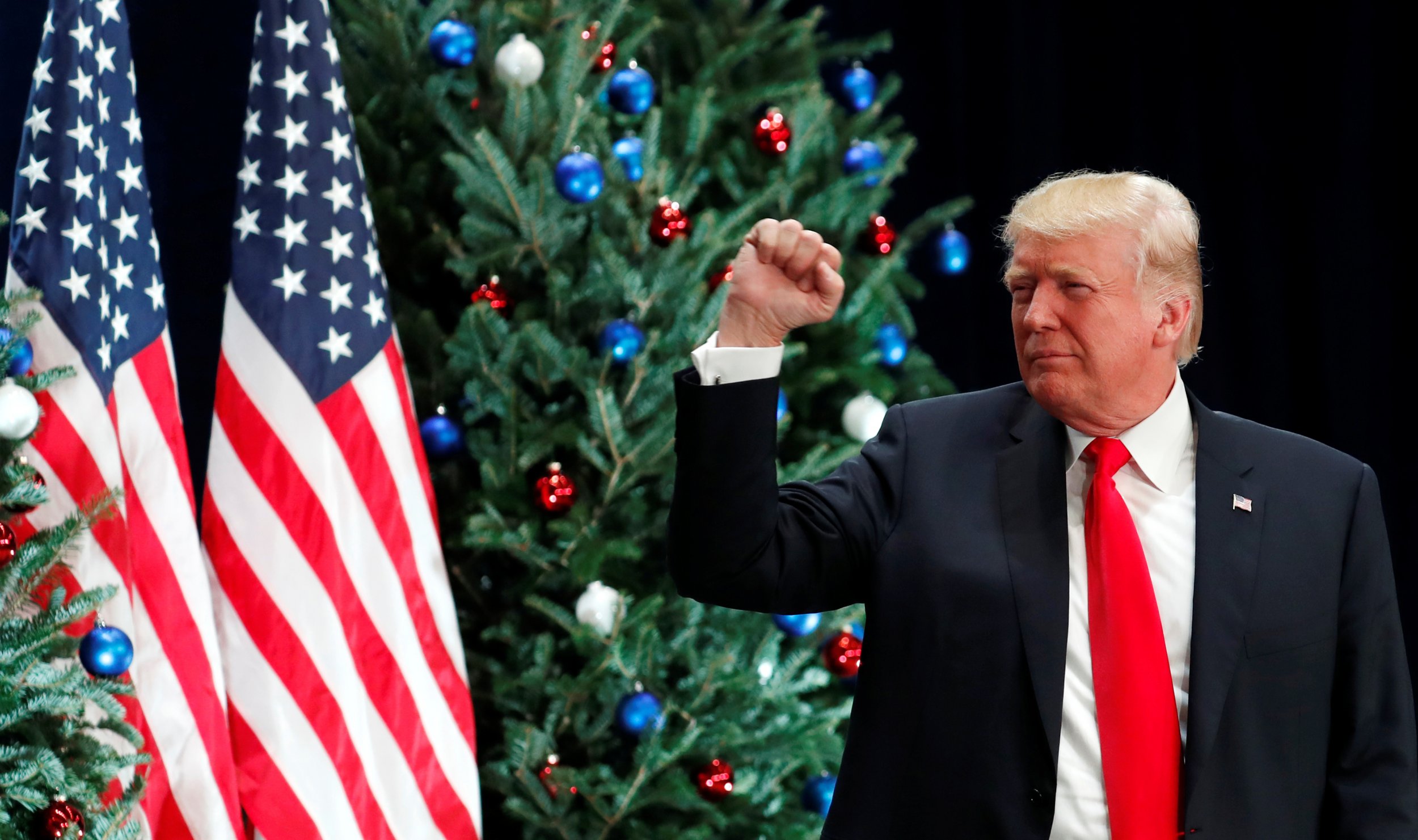 "I will tell you this in a nonbraggadocious way," President Donald Trump said during a speech in St. Charles, Missouri, on Wednesday. "There has never been a 10-month president that has accomplished what we have accomplished."
He touted the stock market reaching a record high, low unemployment rates and job creation, and called himself "the opposite of an exaggerator." And he tweeted similar thoughts on Sunday.
Trump's rather braggadocious 10-month statement can be debunked by fact checks on multiple fronts.
Legislation
The president had made a very similar claim on April 18 in Kenosha, Wisconsin: "No administration has accomplished more in the first 90 days."
Three months into his tenure, Trump had not come close to topping the flurry of laws that former President Franklin D. Roosevelt signed in his first 100 days in office in an attempt to bring an end to the Great Depression. Roosevelt had signed 76 bills at the 100-day marker, while Trump had signed 28.
"FDR definitely outclasses Trump," H.W. Brands, a historian and professor at the University of Texas at Austin, toldThe Washington Post at the time.
Jobs
"I will be the greatest jobs president that God ever created," Trump pledged in June 2015.
At six months, Trump was only the eighth-greatest among postwar presidents. Job growth under Trump was 0.7 percent, lagging behind the growth for the first six months of the first terms of Jimmy Carter (2.7 percent), Richard Nixon (1.9 percent), Lyndon B. Johnson (1.5 percent), Bill Clinton (1.1 percent), and George H. W. Bush, John F. Kennedy and Dwight D. Eisenhower (0.8 percent each), according to Quartz.
Stock market
Trump's recent statement also rings false when it comes to perhaps his favorite measure of success as a businessman: the stock market. The gains since Trump's November 8 election ranked third among first-term presidents, going back to Eisenhower, who won the presidency in 1952.
Kennedy had the best market in the first 250 trading days among presidents in their first terms, with the S&P 500 up 26.5 percent, according to a recent comparison by CNBC. George H.W. Bush had the second best market, with the S&P up 22.7 percent. Third-place Trump saw the S&P rise 21.2 percent.
Promises
Ten months in, Trump has broken at least half a dozen promises he made on the campaign trail, including repealing and replacing Obamacare, building a wall along the Mexican border and creating a tax plan with cuts for people of all classes. (Trump's speech in Missouri was a final push to gain support for the GOP tax plan, which he expects to pass in the Senate this week—and which appears to favor only the wealthiest Americans.)
Trump has delivered on some promises—nominating Neil Gorsuch as a Supreme Court justice, cracking down on illegal immigration, reducing environmental regulations and renegotiating trade deals, including NAFTA and the Trans-Pacific Partnership—so it would be remiss to say he has done nothing. But his accomplishments in no way parallel those of Roosevelt, or even those of a number of other presidents.