Fact Check: No, Trump Did Not Win 'EVERY Debate' in 2016 Against Hillary Clinton, According to the Polls
President Donald Trump falsely claimed in a Tuesday morning tweet that "according to the polls," he "won EVERY debate" during the 2016 election against then-Democratic candidate Hillary Clinton.
In fact, major post-debate polls following the candidates' three debates from September to October showed that respondents believed Clinton emerged as the victor over Trump, ranging from a five-point margin of victory to a 40-point margin.
"As most people are aware, according to the Polls, I won EVERY debate, including the three with Crooked Hillary Clinton, despite the fact that in the first debate, they modulated the sound on me, and got caught," the president—incorrectly—tweeted. "This crew looks somewhat easier than Crooked, but you never know?"
Polls conducted by various organizations, including Gallup, Fox, NBC, CNN, Politico, YouGov and Public Policy Polling, showed otherwise for all three 2016 debates. But it's not the first time that Trump or his campaign have falsely claimed victory in post-debate polls.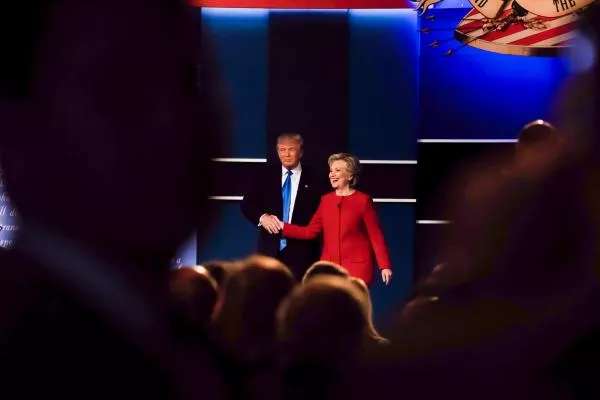 Following the first presidential debate between him and Clinton, Trump tweeted an image that he claimed showed "debate polls" and that he won them all.
"Such a great honor. Final debate polls are in - and the MOVEMENT wins!" he said, along with the hashtags "#AmericaFirst #MAGA #ImWithYou."
However, they were polls conducted by various news organizations' social media accounts, meaning they were not scientifically conducted and likely did not accurately represent the population's opinion as a whole.
Trump's Tuesday morning tweet was also not the first time he's touted poll results that he believed to be in his favor, only to later bash polls that do not shine a favorable light on him as "fake."
"The Fake News has never been more dishonest than it is today," Trump tweeted June 12. "Thank goodness we can fight back on Social Media. Their new weapon of choice is Fake Polling, sometimes referred to as Suppression Polls (they suppress the numbers)."
Just three days later on June 15, however, Trump held a much different view of polls.
"Despite the Greatest Presidential Harassment of all time by people that are very dishonest and want to destroy our Country, we are doing great in the Polls, even better than in 2016, and will be packed at the Tuesday Announcement Rally in Orlando, Florida," he tweeted prior to his official re-election campaign kickoff. "KEEP AMERICA GREAT!"
Trump's Tuesday claim that his mic during the first debate was "modulated" is also a similar claim he made immediately following the debate in 2016.
"They gave me a defective mic, did you notice that?" Trump said to reporters at the time. "My mic was defective within the room. I wonder, was that on purpose? I had a mic that wasn't working properly within the room."
NBC News, who hosted the first 2016 presidential debate, did not immediately respond to a request for comment about the "modulated" mic claim.
{{#isDisplay}} {{/isDisplay}}