Fact Check: Is the U.S.-Mexico Border More Secure Than Ever, as Trump Says?
President Donald Trump visited the U.S.-Mexico border wall in Alamo, Texas, on Tuesday to discuss his accomplishments in immigration and border safety.
During his speech, he boasted of his barrier construction along the border, his commitment to law enforcement and warned that loosening his tough immigration policies would be a "disaster."
The Claim
Trump said he inherited a "broken, dysfunctional and open border" where people were "pouring in at will."
Trump then noted that since taking office, he reformed the immigration system and "achieved the most secure Southern border in U.S. history."
The Facts
When determining the safety of the Southern border, most reports look at apprehensions and encounters at the entry points by Border Patrol agents as well as crime data.
The number of Border Patrol apprehensions at the Southwest border has fluctuated over Trump's term. The 2017 fiscal year number was 303,916, the lowest since the fiscal year 1971, according to Customs and Border Patrol (CBP). This led the Department of Homeland Security to boast that "the southwest land border is more difficult to illegally cross today than ever before."
However, in the 2018 and 2019 fiscal years, there were large increases in apprehensions to 396,579 and 851,508, respectively.
According to CBP, the number of total enforcement actions (from Border Patrol and the Office of Field Operations), including the deportation of people deemed inadmissible under asylum laws, surpassed 1.1 million in 2019. This number decreased by nearly 500,000 in the following fiscal year.
While these figures were the highest in nearly a decade, they are significantly lower than the numbers during George W. Bush's administration. In 2000, the number of apprehensions from Border Patrol reached 1.6 million.
Decade-long data from CBP shows that apprehensions along the Southwest border have significantly increased since 1960.
In 1960, the total number of encounters from Border Patrol was 21,022. That number rose, hitting a high in 1986 with 1,615,844. The numbered dipped again, before peaking in 2000. Apprehensions have fluctuated, but are on a mostly downward trend since the mid-2000s.
These figures do not include what CBP calls "inadmissibles," which are those seeking lawful entry into the United States "but are determined to be inadmissible," as well as those seeking "humanitarian protection," such as asylum or refugee status, and "individuals who withdraw an application for admission and return to their countries of origin within a short timeframe."
While the numbers have gone down, the nature of immigration has changed over the years. In the past, most migrants were single men from Mexico looking for work. In recent years the majority of border crossers are families with children seeking asylum.
According to CBP and the National Foundation for American Policy, in February 2019, there were 66,450 apprehensions at the Southwest border. Family units made up 55 percent of apprehensions in February 2019, compared to only 3 percent in February 2013.
The number of Border Patrol agents along the Southern border has nearly doubled since the 2000 fiscal year. Additionally, from the fiscal year 2000 to the fiscal year 2017, Congress increased the CBP budget by approximately 380 percent, from about $1.1 billion to nearly $3.8 billion, according to CBP data.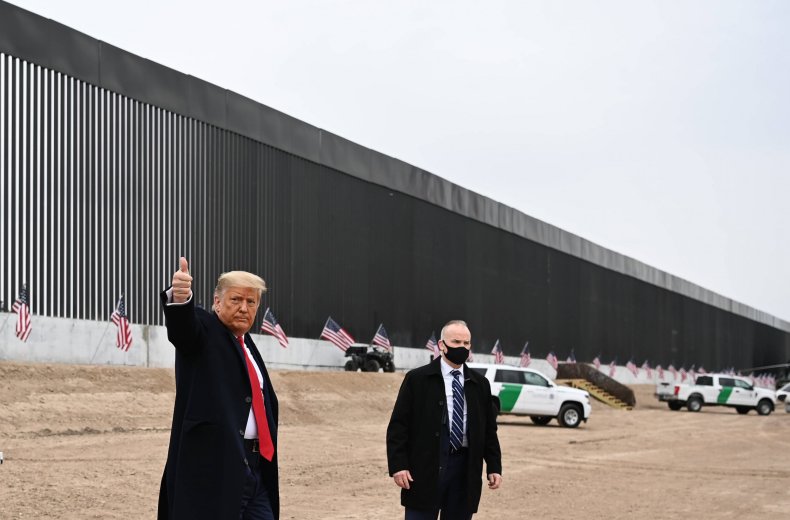 While the number of border interactions has increased, life in border communities is less tumultuous than Trump has conveyed during his rallies and on his now-deleted personal Twitter account.
In January 2018, the president tweeted:
"We must have Security at our VERY DANGEROUS SOUTHERN BORDER, and we must have a great WALL to help protect us, and to help stop the massive inflow of drugs pouring into our country!"
The Cato Institute found that border counties have far less crime per capita than American counties that are not along the border.
"If the entire United States had crime rates as low as those along the border in 2017, then the number of homicides would have been 33.8 percent lower, property crimes would have been 2.1 percent lower, and violent crimes would have dropped 8 percent," the report said.
According to FBI crime statistics, U.S. towns along the Southern border are among the safest in America. Some border cities have crime rates far below the national average.
A 2019 Axios analysis of FBI crime data from 11 border communities found that the cities had a combined violent crime rate of 338.5 per 100,000 residents. The FBI said the estimated rate of violent crime nationally was 366.7 for the same time period.
In 2019, El Paso, Texas, had a population of 687,000 and a violent crime rate of 353.7. Memphis, Tennessee, has a slightly smaller population but a violent crime rate of 1,901.4. Violent crimes in El Paso have been dropping since 1993 and were at a historic low before a border fence was authorized by Congress in 2006, according to the FBI.
McAllen, Texas, a city of 145,000, had a violent crime rate of 96.6, while Kansas City, Kansas, a city of 153,000, had a violent crime rate of 705.7, according to the Kansas Bureau of Investigation.
A study from the University of Texas-El Paso found that in 2010, FBI statistics showed that the border city of San Diego experienced 2.2 homicides per 100,000 residents, compared to 7.6 for Los Angeles. Washington, D.C. (21.9) and New York City (6.4) have higher homicide rates than border cities, where crime rates have declined in recent years.
A 2010 poll commissioned by the Border Network for Human Rights showed that 70 percent of respondents in El Paso "feel their border neighborhood is as safe as most U.S. neighborhoods," while 88 percent "feel safe walking and driving in their neighborhood."
The Cato Institute found that the homicide conviction rate for illegal immigrants was 16 percent below that of native-born Americans in Texas in 2015.
"For all criminal convictions in Texas in 2015, illegal immigrants had a criminal conviction rate 50 percent below that of native-born Americans. Legal immigrants had a criminal conviction rate 66 percent below that of native-born Americans."
According to FactCheck.org, numerous other studies have found that immigrants overall, including those with legal status, do not commit crimes at a higher rate than non-immigrants, and that higher concentrations of immigrants do not lead to higher rates of violent crime. However, not many studies specifically look at illegal immigration.
A 2016 report from Social Science Quarterly found that there was no association between immigrant population size and increased violent crime, though it found a "small but significant association between undocumented immigrant populations and drug-related arrests."
There are some conflicting studies and data that show higher criminal conviction rates among illegal or undocumented immigrants compared to native-born Americans or legal immigrants. But overall, there are not readily available nationwide statistics on all crimes committed by illegal immigrants in the U.S.
According to FactCheck.org, "the available research that estimates the relationship between illegal immigration and crime generally shows an association with lower crime rates."
Trump has also cited gang violence in his speeches about the dangers at the Southern border.
In 2018, Trump defended his use of the word "animals" to refer to criminals crossing the Mexican border, saying he was referring to members of the MS-13 gang.
"We have laws that are laughed at on immigration," Trump said. "So when the MS-13 comes in, when the other gang members come into our country, I refer to them as animals. And guess what—I always will."
According to CBP, the number of apprehensions at the border of people with gang affiliations decreased from 844 to 536 from the fiscal year 2015 to 2017, then increased to 976 in the fiscal year 2019, before dropping again the following year. The apprehensions of people with MS-13 gang affiliation followed the same trend (decreasing from fiscal year 2015 to 2017, peaking in fiscal years 2018 and 2019, then dropping again in the fiscal year 2020).
Trump also has used the fear of foreign terrorists crossing the border from Mexico to paint a scary picture and justify his tough immigration and border patrol policies.
In his speech Tuesday, Trump talked about his efforts to keep terrorists out of the country, including terrorists from "seriously dangerous places in the Middle East" who come in through the Southern border. Trump used this talking point throughout his presidency to justify increased presence at the border.
However, in September of 2019, the State Department issued a report finding "no credible evidence indicating that international terrorist groups have established bases in Mexico, worked with Mexican drug cartels or sent operatives via Mexico into the United States." The report stated that while the U.S. Southern border remains vulnerable to potential terrorist transit, "terrorist groups are likely to seek other means of trying to enter the United States."
The Associated Press (AP) found that most of the State Department reports on terrorism have expressed more concern about the Northern border. In 2017, the State Department said Canada has been home to "violent extremists inspired by terrorist groups such as ISIS and al-Qaida and their affiliates and adherents." While more suspected terrorists enter the country by air travel, Canada has more often been a source of terrorism suspects entering the U.S. by land crossing.
In early 2019, then-White House Press Secretary Sarah Sanders said CBP stopped nearly 4,000 known or suspected terrorists from crossing the Southern border in the fiscal year 2018.
The AP reported that when challenged on this data, Sanders acknowledged that people were coming "a number of ways...by air, by land, and by sea" and mainly not from Mexico. Trump and his officials have misrepresented this data about foreigners who were stopped by CBP to suggest or plainly state that they were stopped coming from Mexico.
After Sanders shared the 4,000 number, NBC News found that overall, 41 people on the Terrorist Screening Database were encountered at the Southern border from October 2017 to March 2018. Of those, 35 were U.S. citizens or lawful permanent residents and six were classified as non-U.S. persons. On the Northern border, CBP stopped 91 people listed in the database, including 41 who were not American citizens or residents. The data came from non-publicized figures provided by CBP to Congress in May 2018.
NBC News reported that the White House used the larger figure to "make its case for building a wall on the southern border and for closing the government until Congress funds it." After publication, then-DHS Spokeswoman Katie Waldman told NBC that the figures were inaccurate and pushed for a full retraction, threatening to publish a DHS statement discrediting the article if they did not. NBC did not retract the article and no DHS statement was made.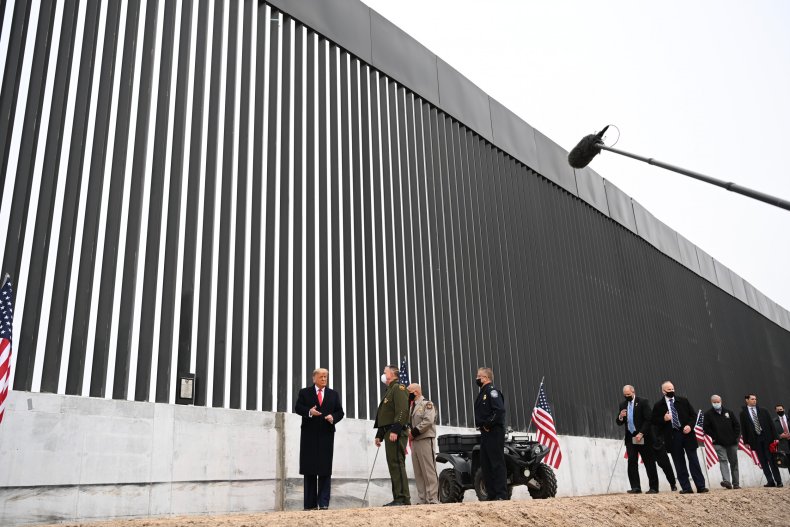 The Cato Institute data shows that only 0.85 percent of all Border Patrol apprehensions from 2007-2017 were "special interest aliens (SIA)." This includes people from any country that has ever appeared on any special interest country list. According to DHS, a special interest alien is "a non-U.S. person who, based on an analysis of travel patterns, potentially poses a national security risk to the United States or its interests. Often such individuals or groups are employing travel patterns known or evaluated to possibly have a nexus to terrorism."
According to the Cato Institute, "zero people were murdered or injured in terror attacks committed on U.S. soil by special interest aliens who entered illegally from 1975 through the end of 2017."
However, seven SIA who initially entered the country illegally have been convicted of planning a terrorist attack on U.S. soil. They all entered illegally from Canada or jumped ship in American ports before the list of special interest countries existed. "None of them successfully carried out their attacks and none illegally crossed the Mexican border," the report said.
According to the Cato Institute, from 1975 to 2017, a total of nine terrorists entered the country illegally and only three came from the Mexican border. The only terrorists who crossed the border with Mexico illegally did so as children, decades before becoming terrorists, and were not even from the special interest countries.
"Of the small number of foreign-born terrorists who committed attacks or were convicted of planning to do so on U.S. soil from 1975 through the end of 2017, the most successful strategy was to first enter legally," the report said. "There is no evidence that that pattern of activity has changed."
The Ruling
Mostly true.
The number of apprehensions at the U.S.-Mexico border from migrants who wanted to enter the U.S. has fluctuated over the past four years. Overall, during Trump's time in office, there have been fewer interactions between migrants and CBP than at its peak earlier in the millennium.
However, the number of interactions is higher than during the 1960s and closely mirrors numbers in the 1970s. There isn't data to determine whether the border is the safest it has been in the 200-year history of the United States.