Fact Check: Is Video of Woman Refusing to Sit Next to Unvaccinated Man on Flight Real?
The Claim
A video seemingly depicting an outraged woman aboard a plane screaming at a fellow passenger for not wearing a mask, and demanding that the crew move him to a different seat, has gone viral on social media.
"I am not sitting here, because it's not safe. I work hard," the woman is seen telling the airline staff. "I paid for my seat. Which is clearly going to put my life in danger, so you're gonna move him."
Over the past seven days the clip has been shared millions of times, on multiple platforms including TikTok, YouTube, Reddit and Twitter.
Despite the presence of numerous red flags undercutting the authenticity of the video—such as empty passenger seats beyond the area of the camera's focus, lack of airline insignia on staff uniforms, a background soundtrack and the woman's dubious accent—it was used by some accounts to promote anti-vaccine narratives and misinformation.
"Unmasked angry Karen won't sit next to Unvaxxed gentleman; as would 'put her Life in danger!'" one Reddit post said.
"A vaccinated woman, brainwashed and instrumentalized by the puppet media, doesn't want to sit next to an un-vaccinated human on a plane and freaks out!" a Twitter user wrote.
It was also picked up by prominent right-leaning news outlets, such as Turning Point USA, which shared the clip on its YouTube channel, gathering nearly 180,000 views.
But many users, including those who praised the overall sentiment the video appeared to promote, questioned whether it depicted a genuine event.
The Facts
Multiple versions of the clip shared on Twitter and YouTube contain a watermark referencing jeloy_25—the account of a TikTok influencer Anjelo Tavera, who posted the video on November 2 with the caption, "She must have been having a bad day," but not revealing its source.
A reverse image search of the video's thumbnail with the above caption reveals the earliest mention on the Facebook page belonging to Prince Ea, who shared the video morning November 1. Since then it has attracted more than 300,000 likes, 150,000 shares and millions of views.
Twitter account @HoaxEye, which tracks and attempts to verify viral content and expose fakes, pointed to what it claims is the IMDB page for the clip, which appears to be a 2021 short film called "Covid Flight," directed by Jamie Hull-Greenwood for JPC Film.
The filmmaker's Instagram account features several posts dated October 27, one of which features actors, closely resembling the woman and the pilot from the viral video, aboard an airplane. The actors are Sean Pogmore, who is featured as the "Captain" on the film's IMDB page, and actress Diana Winter, credited as the "Passenger.
JPC's Facebook account posted a photo from inside an airliner the same day, which among other things shows red seat covers with an airplane logo that is identical to that of J.A.R.E., a Bournemouth, U.K.–based airline training partnership, which among other services offers the Boeing B737 for hire to film crews.
The company's website also features a testimonial from Hull-Greenwood dated October 27, thanking J.A.R.E. for the "fantastic and wonderful space to make a film." Though airline branding is largely absent in the viral video, the same J.A.R.E. logo can also be spotted at the 1.20 minute mark, providing another indication that it was not filmed at an actual commercial flight.
In another post Hull-Greenwood is taking a selfie inside the cockpit, with a caption: "Filming on a plane for Prince Ea, directing a micro short is normally fun but with a fear of flying it's pretty scary."
"Prince Ea" is the stage name of a St. Louis–based rapper, artist and social media influencer called Richard Williams, whose YouTube channel regularly publishes similar staged videos depicting controversial and provocative social scenarios, such as ""WOKE" BULLY SHAMES COMEDIAN, INSTANTLY REGRETS IT," designed in a way maximize online and social media exposure.
Newsweek reached out to Hull-Greenwood, along with the owner of the JPC Film production company Jake Cauty and Richard Williams, aka Prince EA, for comment on the story, but did not hear back at the time of publishing.
The Ruling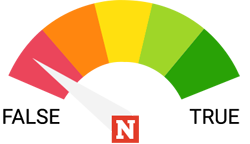 False.
FACT CHECK BY NEWSWEEK
The video, purportedly depicting a standoff between an angry passenger demanding her unvaccinated neighbor be removed and the airline staff, is in fact staged. The short film from the artist Prince Ea was shared without a disclaimer that it does not depict genuine events, leading to it being shared widely online and misused to promote false narratives, including those questioning vaccine mandates and anti-COVID measures.
As the United States opens its borders to international travelers, onboard safety and concerns around COVID-19 vaccination status are becoming contentious topics, which can become weaponized through misleading or inauthentic content.