Fact Check: Is Viral Screenshot of Email Mandating Masks for Zoom Meetings Real?
A screenshot of an email titled "Zoom Meeting Protocol" and calling for staff to wear face masks during virtual meetings—because an employee has "fear of unmasked faces"—has been circulating on social media, adding fuel to the debate over mask mandates.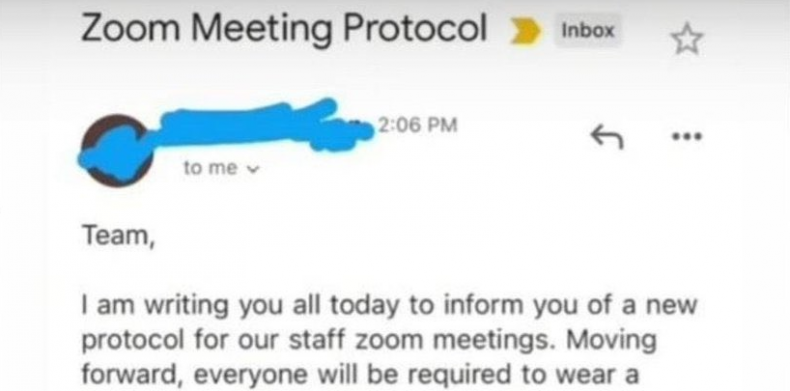 The Claim
Several Twitter and Facebook users are sharing an image, apparently featuring a screenshot of a corporate communication addressing the "Team" and requesting that staff wear face masks during virtual calls.
"I am writing you all today to inform you of a new protocol for our staff zoom meetings. Moving forward, everyone will be required to wear a mask during our meetings. One of our team members has a fear of unmasked people, and I want to make sure everyone feels safe and comfortable," states the email, signed by "Ashleigh" whose surname and email address is blacked out.
The message does not feature any additional information, such as company name or employer's title, but was shared widely across social media platforms, often accompanied with mocking or outraged comments, questioning the "scientific logic" behind such mandates.
The image is the latest evocation of a broader narrative targeting mask and vaccine mandates, often featuring snapshots of prominent figures wearing masks even when it appears to be unnecessary.
The Facts
While there were no traceable details in the email screengrab to verify its authenticity, keyword search on social media brings up several tweets featuring a scraped TikTok video by a Los Angeles based user @zactokz, who states that he works from home and received an email from his boss demanding staff wear masks in Zoom meetings.
The said account features several other videos posted in an apparent response to other users questioning the veracity of the author's claim. The videos feature the email in question, along with several others in the continuation of the correspondence between @zactokz and, purportedly, his boss.
In the conversation, the author suggests the affected member of staff attend the meeting in "audio only" mode, or "close her eyes and cover up her screen." Notably, with each message the "redacted" names become more and more visible, including the correspondent, signed as "Ashleigh LeighAnne Davidson-Greene."
By the third video, most of the followers commenting under the video recognize it as a joke (pointing specifically to the absurd-sounding names featured in the screenshots). The account, which is explicitly labeled as "satire" in the bio, features edgy and provocative content, including claims that the author is receiving "death threats for saying that in 2022 heterosexuality will be criminalized," as well as pandemic-related humor.
Newsweek has reached out to the channel's creator for comment.
While the "screenshots" of the emails appear to be part of an elaborate TikTok joke, one of the images was shared widely without the above context and presented as a legitimate employer-employee communication.
As the debate about anti-COVID face mask mandates gets increasingly more heated, anti-mask social media users in the U.S. and around the world have used similar out-of-context content to undermine and ridicule those wearing face masks.
Most recent examples include U.S. President Joe Biden, who was misleadingly portrayed as the only masked-up world leader at a virtual meeting, and French President Emmanuel Macron. As previous debunks of such claims point out, the images are taken by another person, and more people may be present in the room, meaning that anti-COVID protocols need to be upheld.
The Ruling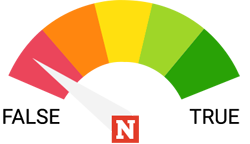 False.
The email is not real. The screenshot of the message was in fact taken from a video posted by a satirical TikTok account.
FACT CHECK BY NEWSWEEK