Fact Check: Was Teacher Fired for Not Meowing Back at Student Who 'Identifies as Cat'?
A short TikTok clip in which a woman claiming to be a substitute teacher vents about a school supposedly firing her for failing to respect a student's decision to identify as a cat has gone viral on social media.
The video has been viewed and shared thousands of times across TikTok, Twitter, Telegram, Reddit, and other platforms, often accompanied by outraged comments and calls to reform "woke" public schools.
The Claim
A TikTok user, whose account name is @crazynamebridgetmichael, explains in the video posted January 11 (as per the video page source), that she is a substitute teacher and details a morning roll call with students.
"I get to the third row and I hear this 'meow!' 'Uhhh, excuse me? Excuse me?' I start looking on the ground, through the fourth row—everything's good. Go to the fifth row—everybody's there. Then I hear 'meow!' I'm like, 'Okay, what's up with that? Who's doing it?' And this little girl in the very front row says, 'You have to meow back at him; he identifies as a cat.' Are you kidding me?" she asks, incredulous.
Though the TikTok post itself received only around 13,000 total interactions, the video was extensively re-shared by Twitter users, influencers on YouTube, posted (and later removed) on Reddit, and picked up by a number of media outlets, including the Post Millennial, Christianity Daily and NewsPunch.
"Teacher fired for not playing along with a student who identifies as a cat. Seriously, an asteroid can hit plant anytime now. 🤦‍♀️🤦‍♀️🤦‍♀️," one Twitter user responded.
"I don't know if I wanna have children, because of how f***ing nuts this world is now," a YouTube streamer with more than a million followers said, after playing the video.
The Facts
The video's creator does appear to be a high school teacher, according to her past videos, but the story is entirely made up—ironically, as an exercise to "create awareness" of what kids are going through at school, according to other videos posted several days later by the same account.
After deciding to "fact check" whether the video has indeed spread online, she found it on several outlets including Citizen Free Press, News Punch and "Tucker Carlson's newsletter" (Newsweek has not been able to independently verify the latter claim).
In another video, the author scrolls through TikTok and YouTube reels featuring her "little rant."
"I'm grateful for the people who reached out and asked me about it, but I'm disappointed ... how fake news is made. I was not fired," she concludes.
Newsweek has reached out to the content creator for comment but has not heard back as of Tuesday.
Curiously, this is the second piece of misinformation purporting that students are identifying as animals this week.
Earlier, a Michigan school superintendent was forced to debunk a rumor, which stemmed from a video from a December school board meeting, where an attendee claimed that the school is installing litter boxes for students that "identify as cats."
"It is unconscionable that this afternoon I am sending this communication," the superintendent of Midland Public Schools, Michael Sharrow, wrote last Thursday in a message shared on Facebook.
"At the December 20 Board of Education meeting, a community member addressed the Board of Education. During her comments she stated that litter boxes were provided within MPS student restrooms for those who identify themselves as 'furries.'
"Let me be clear in this communication. There is no truth whatsoever to this false statement/accusation! There have never been litter boxes within MPS schools."
The false claim nevertheless gained traction after being shared by Meshawn Maddock, the Michigan Republican Party Co-Chair.
The Ruling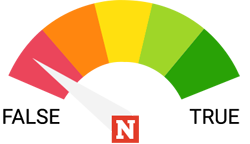 False.
No, a teacher did not get fired for failing to "meow back" at a student who identifies as a cat. The story was made up by the TikTok user, who later posted an update expressing her disappointment at how "fake news" is made and affirming that she was not fired.
FACT CHECK BY NEWSWEEK