Fact Check: Were Kindergarteners in Portland Forced to Eat Outside Due to COVID Measures?
A short video, appearing to show a group of children sitting on "buckets" outside a school and eating lunch, was shared widely online, drawing anger and criticism from parents. The clip was first shared on Friday by Katie Daviscourt, a "journalist/videographer" for The Post Millennial, and captioned with the phrase "CHILD ABUSE."
The Claim
On December 8, 2021, the unverified Twitter account of Katie Daviscourt posted a seven-second video purporting to show some children and adults in a schoolyard on the premises of Capitol Hill Elementary School in Portland, Oregon.
"CHILD ABUSE: Kindergartners are forced to eat lunch outside in 40 degree weather at Capitol Hill Elementary School in Portland, Oregon. They sit on buckets to social distance from their classmates," said the tweet, which has received nearly 18,000 interactions.
Dozens of other accounts re-shared the video on multiple online platforms, expressing outrage and tying the claim into wider narratives questioning the necessity and effectiveness of federal or state-led efforts to counter the spread of COVID.
Over the weekend, social media users also pounced on comments by White House Press Secretary Jen Psaki, who was responding to a question about social distancing in schools and kindergartens.
The Facts
The short clip was first shared by Katie Daviscourt, a Seattle-based reporter for The Post Millennial, a right-leaning Canadian online magazine with a "mixed" factual reporting and "medium" credibility ratings from MediaBias/Fact Check. She is also a "field representative" for Talking Point USA, according to her LinkedIn page.
While the author does not reveal any details about the video's provenance in the post, her article about the alleged incident on The Post Millennial website states that the "shocking video [was] sent to The Post Millennial on Wednesday." Newsweek has reached out to Daviscourt for clarification on her source for the video.
The design of the school fence featured on the video appears to match images of Capitol Hill Elementary on the City of Portland's website.
Other details in the tweet are more difficult to verify. It is not clear exactly at what date or time the video was filmed, but assuming that it was a day or two prior to Daviscourt's post, the claim that children were outside in "bitter cold" seems exaggerated.
A Wolfram Alpha check of the weather conditions in the city on the days in question (during the presumed 12-2 p.m. lunch hour slots) shows temperatures were around 45 Fahrenheit on December 6, 48 degrees Fahrenheit on December 7, and 50 degrees on December 8.
It is also not clear how long the children were outside, or how frequent this practice is. Esther Omogbehin, the Regional Superintendent for Portland Public Schools, confirmed to Newsweek that the video does indeed show students from Capitol Hill Elementary School eating outside, under a covered area.
"We do not know when the video was taken. This week, for this particular school, lunch has been moved inside due to colder weather," the superintendent said in an email Friday.
"We recognize that parents are concerned about the safety and well-being of their children," Omogbehin said. "We also know that our principals are making hard decisions every day to balance the well-being of students and the safety of students and staff. Our Meal Services protocols specified that eating lunch outside would allow for greater social distancing. This was a key part of our layered COVID-19 safety measures to protect our students and each school was responsible for implementing those measures."
The superintendent also shared a statement that the school sent to parents. The statement noted that as winter sets in, the school will be transitioning children to eat indoors, six feet apart.
"Students will be practicing this transition prior to the switch [...] All of our schools have school-specific indoor Meal Safety Plans that outline how indoor meal service will be conducted safely, including utilizing alternative eating spaces, seating charts, cohorting, etc. Meal Safety Plans are posted on our Back to School 2021 website," the school's statement says.
The Ruling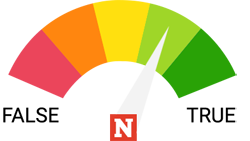 Mostly True.
The video does show students from Capitol Hill Elementary School eating lunch outside, a Portland Public Schools representative confirmed to Newsweek. The claim of children being "forced outside in 40 degrees cold" appears to be misleading, as daytime temperatures in the area have not dropped that low this fall. The school also noted outdoor seating for lunch was in compliance with the "COVID-19 safety measures," which other schools were also subject to, undermining the more extreme accusations of "child abuse."
FACT CHECK BY NEWSWEEK