Fact Check: Were There Armed Protesters at the Capitol on January 6?
As the House select committee investigating the January 6 Capitol attack reconvenes, dubious claims about the event have begun to resurface.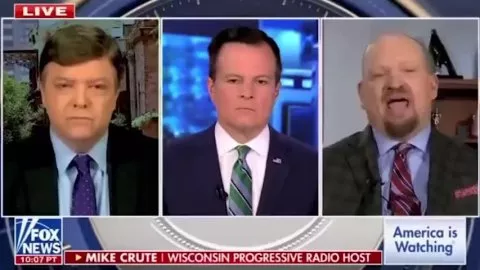 In the aftermath, many denied that rioters at the Capitol were carrying guns and that the event wasn't a government insurrection, a set of narratives that are resurfacing widely again.
So, as Washington re-examines whether Trump's election fraud claims broke the law, Newsweek is taking a look at the claims that the Capitol rioters came unarmed and whether what happened on January 6 amounted to an insurrection.
The Claim
Dozens of social media users have claimed or implied that protesters that stormed the Capitol on January 6 were unarmed. Those claims re-emerged on the back of the recent House Select committee hearings.
"So what your saying... The most heavily armed American's planned an insurrection on January 6th without their guns?" one user wrote in a tweet with more than 9,000 interactions.
"J6 was such an insurrection that Conservatives didn't bring guns," wrote another Twitter user. The claims have been repeated and amplified by conservative media outlets and opinion shows on U.S. television channels.
A tweet, which has received thousands of engagements since it was posted on June 11, 2022, shows a clip from Tucker Carlson Tonight in which Carlson says the events of Jan. 6 did not amount to an insurrection because none of the protesters were carrying guns.
Similar claims referencing "unarmed" protesters have also received hundreds of interactions.
The Facts
Carlson made the claim on the June 10, 2022, edition of his Fox News flagship cable news program; in what he claimed was an attempt to "be clear on terms," he said there were no firearms among protesters, meaning Jan. 6 was not an insurrection.
However, not only is there substantial and clear evidence that there were protesters with guns, it's also not clear why Carlson and other commentators believe that guns are a defining character of an insurrection.
Let's start with the gun charges.
In April, 72-year-old Lonnie Coffman of Falkville, Alabama, was sentenced to four years in prison for bringing loaded guns, ammunition and Molotov cocktail ingredients to Washington on Jan. 6.
The weapons were found in his truck—parked less than half a mile from the Capitol building—which he left to attend a rally at the National Mall. A statement by the Department of Justice said Coffman "also carried a loaded handgun and a loaded revolver as he walked around the area that day."
In March 2022, 49-year-old Texan Guy Reffitt, was convicted (among other charges) for being unlawfully present on Capitol grounds while possessing a firearm and transporting firearms during civil disorder.
A Department of Justice indictment from January 2021 also states that Christopher Alberts, Maryland, was found carrying a Taurus G2C semi-automatic handgun on Capitol grounds on January 6.
Off-duty Drug Enforcement Administration agent Mark Sami Ibrahim, 32, was also indicted by a grand jury for bringing a firearm within the United States Capitol and its grounds.
In an article for Newsweek, Nick Suplina and Justin Wagner of Everytown for Gun Safety said they had identified "12 individuals allegedly tied to the events of Jan. 6 who were arrested in Washington, D.C., and charged with firearms offenses."
A U.S. Capitol Police intelligence division report also found posts on now defunct blog thedonald.win in the lead-up to Jan. 6, which, the report said, contained "several comments [that] promote confronting members of Congress and carrying firearms during the protest."
Further comments on the site included "Bring guns. It's now or never" and "Don't cuck out. This is do or die. Bring your guns."
But while there is clear evidence showing that firearms were indeed brought into the January 6 march, the underlying claim itself is somewhat of a red herring, because it implies that possession of firearms is somehow a condition for an insurrection.
American politics expert Professor Angelia Wilson of the University of Manchester, told Newsweek that insurrection is an act of violent resistance against a civil authority or government, that may involve any weapon or hand-to-hand combat.
"On January 6th, the act of using a crowd-control railing to hit those charged with defending the Capitol building is an act of insurrection," Wilson said.
"Had the protesters reached Vice President Pence, it would not have mattered if they used a gun or a noose, attacking the Vice-President is an act of insurrection.
"There is no doubt that protesters who violently attacked those defending the Capitol on January 6th were committing acts of insurrection."
On this count, there is also plenty of evidence that protesters were carrying other weapons and acted violently towards authorities.
Among the more than 800 people charged in connection with the Jan. 6 riot, more than 85 have been accused of using a deadly or dangerous weapon or causing serious bodily injury to an officer.
There were also the reports of pipe bombs found near the Capitol before January 6, though the investigation into who was behind them is still ongoing.
The broader question of whether the events amount to an insurrection is more complicated and goes beyond the issue of firearms being carried or deployed.
Dr Christopher Phelps, of the Department of American and Canadian Studies at University of Nottingham, told Newsweek "...a mob seeking to use coercion to stop Congress from its ordinary electoral procedure would qualify as an insurrection."
Dr Phelps highlighted how the crowd "battered the capitol police with flagpoles, sprayed bear spray, and shoved, kicked, and punched officers, among other episodes of violence, all while chanting, 'Hang Mike Pence!'"
Dr Mitchell Robertson, an Associate Lecturer in US history at University College London, echoed Dr Phelps' views, adding "As the evidence uncovered by the House Committee and other legal investigations have shown, there was a clear and deliberate attempt to overturn the democratic will of the American people as reflected in the election of Joe Biden as President in the 2020 election.
"This, to me, is the definition of an insurrection. While it is easy to dismiss the participants in the Capitol insurrection as bit players, it is important to understand that they were part of a concerted effort, including the upper echelons of the Republican Party including President Trump, to subvert the democratic will of the American people."
Others say classifying January 6 as an insurrection may depend on other factors, such as intent.
Dr Julie Norman, Co-Director of the Centre on US Politics, University College London, argued to Newsweek that "an armed riot... does not automatically equate to an insurrection."
"In other words, just as Tucker's claim was false that because there were no arms, there was no insurrection, it is not necessarily true that because there were arms there was an insurrection," she said.
"The actual motivation and intent of the protesters likely varied; some may have supported outright rebellion/insurrection, while others were focused on obstructing/delaying the vote count, which is still wrong and illegal, but arguably different from an insurrection."
University of Nottingham Political Sciences professor Todd Landman added while January 6 met the definition of an insurrection meaning "a 'violent uprising against an authority or government,'" a formal conclusion whether it was an "armed insurrection" was still to be determined.
"The impeachment trial (of former President Trump) argued there was intent, motive, and means," Professor Landman said.
"The January 6 committee is joining the dots between the popular elements of the uprising and the role of Trump officials and stakeholders supportive of him in supporting and encouraging these popular elements."
Tucker Carlson's comments aren't the first time claims that January 6 protesters weren't carrying firearms emerged.
In May 2021, Wisconsin Republican Senator Ron Johnson claimed the event "didn't seem like an armed insurrection," while Republican Texas Representative Louie Gohmert said in a floor speech on May 14, 2021, that "There's no evidence ... that this was an armed insurrection. Armed meaning with firearms."
Donald Trump also previously claimed in a Fox News interview that Capitol rioters had "no guns whatsoever."
Professor of Politics Robert Singh, from Birkbeck, University of London, told Newsweek that the questions of whether there were guns at the Capitol are not "especially important, disturbing as they are."
"Had the authorities not reacted as they did, then who knows what would have occurred, and how much more damage could have been inflicted," he added.
"As it is, there is genuine concern that a repetition will occur in January 2025 - but this time, better organised and much more serious."
Newsweek has contacted Fox News for comment.
The Ruling
True.
Tucker Carlson and others making the claim are incorrect in suggesting that no-one at the January 6 Capitol riots was carrying firearms. It's also misleading to claim the presence of firearms determines whether or not January 6 amounted to an insurrection, though the final ruling on the latter is yet to be made, as potential new evidence of the House Select committee may yet shed new light on the issue.
FACT CHECK BY NEWSWEEK
{{#isDisplay}} {{/isDisplay}}