Fact Check: Did the White House Say Gas Had Gone Down to $1.60 per Gallon?
President Joe Biden recently celebrated January's inflation report calling the numbers "good news" despite Americans still experiencing the effects of high prices for goods.
The U.S. Bureau of Labor Statistics said annual inflation had slowed to 6.4 percent. Monthly figures showed a rise of 0.5 percent attributed to food, shelter, and energy costs—a higher increase than the 0.1 rise from November to December.
The question of costs was brought up again this week when during a White House conference, press secretary Karine Jean-Pierre was claimed to have made a questionable statement about the price of gas.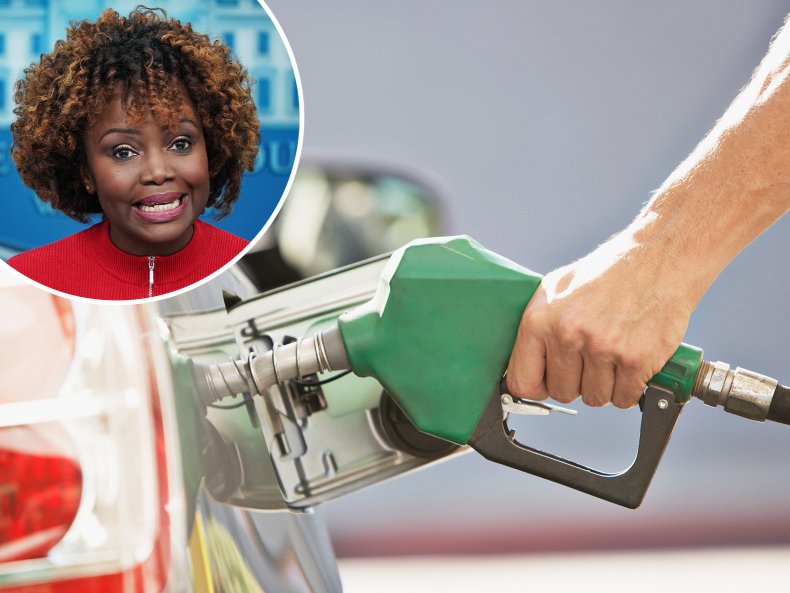 The Claim
A tweet posted by Republican National Committee (RNC) Research, on February 14, 2023, stated: "Karine Jean-Pierre says 'we talk often about the gas prices going down to about $1.60/gallon.'"
The tweet, which has been viewed more than 82,000 times, also stated: "That is a flat-out LIE. Gas prices were $2.39/gallon when Biden took office—and prices have only been up from there."
The Facts
Experts recently told Newsweek that the national average price of gas is expected to rise in spring 2023, having increased incrementally throughout January.
Extreme weather, a weaker dollar, and China reopening are all thought to have impacted the cost at the pumps, adding to Americans' other financial burdens.
However, as appears to be clear even from the video posted by RNC Research, the claim that Jean-Pierre meant to say gas had fallen to as little as $1.60 is misleading.
During a press conference on February 14, 2023, Jean-Pierre, discussing inflation, mistakenly corrected herself mid-sentence, saying: "I talk—we talk often about the gas prices going down by—going down to about $1.60—$1.60 per gallon. That's because the president took historic steps to see that happening."
The figure she appears to have been referring to was the reduction in the price of gas since its peak in summer 2022, by $1.60. Jean-Pierre correctly quoted this statistic earlier during the press conference.
Responding to a question about inflation, Jean-Pierre said: "Inflation came down for groceries and food at home, last month. Gas prices are down about $1.60 from their peak."
The same statistic was quoted by Joe Biden on January 23, 2023, in a tweet that stated: "Gas prices are down around $1.60 a gallon from their peak this summer."
By at least one measure, this claim by the White House is not completely accurate. According to statistics published by the U.S. Energy Information Administration (EIA), U.S. regular gasoline prices in dollars per gallon peaked in the week of June 13, 2022, at $4.84.
As of February 14, 2023, the price stood at $3.31, i.e. about a $1.53 decrease (meaning Jean-Pierre was off the mark here, if these were the statistics she was referring to).
Biden was also slightly off the mark. The week before his tweet, the price was about $3.23, a decrease from June of $1.61. However, the week he made the claim, the average price had increased to $3.34.
At the time of publication, since January 2, 2023, the difference between the peak in June 2022 has wavered, week by week, from a $1.72 to a $1.42 drop, coming to an average decrease of around $1.56.
One might view this difference as significant, with the White House adding seven cents to its most recent calculation. However, as is clear from the clip by Jean-Pierre, the claim that gas costs around $1.60 was a result of her misspeaking.
According to the EIA, it has been 19 years since gas was $1.60, recorded between the weeks of February 2 and February 9, 2004.
Newsweek has contacted the White House and the Republican National Committee for comment.
The Ruling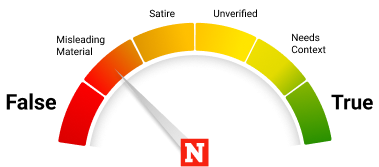 Misleading Material.
As is clear from remarks at the same press conference, Karine Jean-Pierre meant to say that the price of gas had reduced by $1.60 since the peak of summer 2022.
While the intended claim Jean-Pierre was meant to have made is disputable, the average price of gas per gallon has not been $1.60 since early 2004.
FACT CHECK BY Newsweek's Fact Check team