World Turtle Day 2018: Celebrate Turtles, Tortoises with These Facts
All around the world Wednesday, people were "shellebrating" World Turtle Day. The holiday, which falls on May 23 each year, is sponsored by the American Tortoise Rescue (ATR), an organization dedicated to rehabilitating and rescuing the creatures.
The nonprofit was established to help protect all types of tortoises and turtles, and this day in particular was created to help people learn more about the animals and how to conserve them. The ATR has guidelines available online for their treatment, which include instructions about what to do if a person encounters a turtle in a roadway, how to advocate for the fair treatment of the animals and more.
World Turtle Day is a good time for anyone looking to help protect the animals and learn a few interesting facts about them. It shouldn't, however, be confused with World Sea Turtle Day, which is celebrated June 16.
Nine Facts About Turtles and Tortoises
Sea turtles have been on Earth since the dinosaurs roamed—more than 100 million years.
There are more than 300 types of turtles on Earth. Of those 300, there are seven types of sea turtles.
Even though sea turtles live in the ocean, they actually breathe air, and if they're just resting, they can stay underwater for up to two hours before resurfacing for a breather.
A tortoise is believed to be the oldest living land animal in the world. Its name is Jonathan, and he's a Seychelles giant tortoise living on the island of St. Helena in the Atlantic Ocean. Jonathan is believed to be more than 185 years old.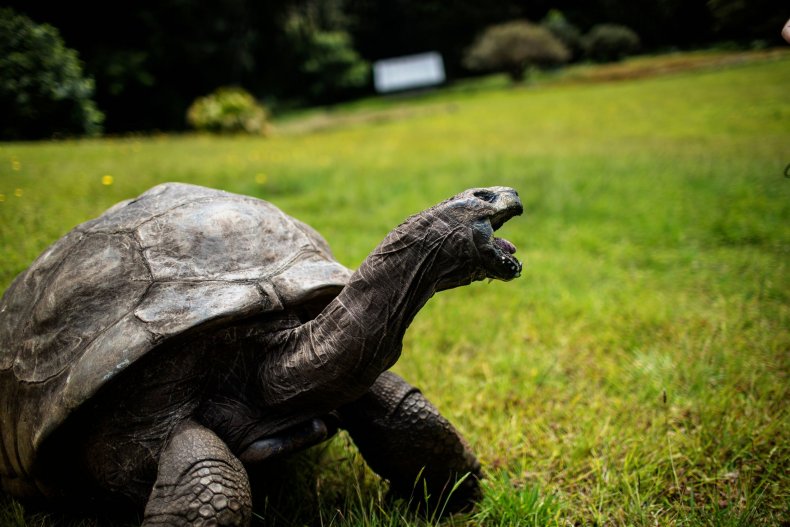 The species of turtle that grows to be the largest is the leatherback sea turtle. They can grow to weigh up to 2,000 pounds and be as long as six and a half feet.
Leatherbacks, spotted pond turtles, Burmese peacock turtles and dozens of other turtle and tortoise species are all listed as endangered by the U.S. Fish and Wildlife Service.
Pet turtles are transmitters of salmonella, and the Food and Drug Administration recommends that people don't buy or gift turtles as pets.
Male sea turtles never really leave the ocean once they enter it after hatching. Only the female turtles come on land to lay eggs before returning to the water.
In 1968, the Soviet Union used tortoises to test a spaceflight vehicle. They launched two tortoises into space for a week and successfully recovered them both alive.