Fadel Alkilani, Student Who Removed 9/11 Memorial Flags, Says It Amplifies Imperialism
A student who removed flags from a 9/11 memorial at a Missouri university has defended his actions, saying the display was "incomplete" without acknowledging the victims of Islamophobia and wars waged by the U.S.
Fadel Alkilani was seen carrying the flags from a display at Washington University in St. Louis in several plastic bags in a video that went viral on social media on Sunday—the 20th anniversary of the September 11, 2001, terror attacks.
The display had been put up by the Washington University College Republicans and featured 2,977 flags to commemorate the lives lost on the day.
The university condemned Alkilani's removal of the flags, while the president of the College Republicans called for his expulsion, the university's student newspaper Student Life reported.
The video has been viewed more than half a million times since it was posted by Young America's Foundation, a conservative youth organization, on Saturday.
But in a statement, Alkilani, the student union vice president of finance, hit back at what he described as a "massive harassment campaign" against him.
He also said he had no intention of stealing the commemorative flags, but had wanted to add statistics "explaining the human cost of 9/11" in the two decades since the terror attacks.
"I had no intention of removing the flags from the Mudd Field area, and my full protest did not have the chance to be actualized," Alkilani's statement said. "My planned protest was to place the bags of flags on Mudd field, along with various statistics (including those below) explaining the human cost of 9/11 in the past 20 years."
He added: "I did not deface, destroy, damage, nor steal any flags, nor did I interfere with any registered event time. I assert that I did not violate any University Code of Conduct policy, though the conduct process is undergoing."
Alkilani went on to say that the memorial did not acknowledge the victims of Islamophobia in the U.S. or those killed or displaced due to the post-9/11 wars.
"Any memorial of 9/11 that does not contend with these facts is not only incomplete, but it also amplifies pro-imperialist sentiment and actively disrespects those who have died because of American Invasion," he said.
"A memorial which uses US flags is especially insidious, as it does not recognize those who have fallen, but uses a symbol that was on the shoulders of those who are responsible for the deaths of 900,000 people, and uses the innocent lives lost during 9/11 as a political prop upholding American hegemony. Muslims such as I have faced fear, harassment, and Islamophobia from those who unjustly use the victims of 9/11 as a political cudgel."
Alkilani said those who died on 9/11 "deserve better than to be used as a political tool by those who seek to excuse American imperialism and Islamophobia."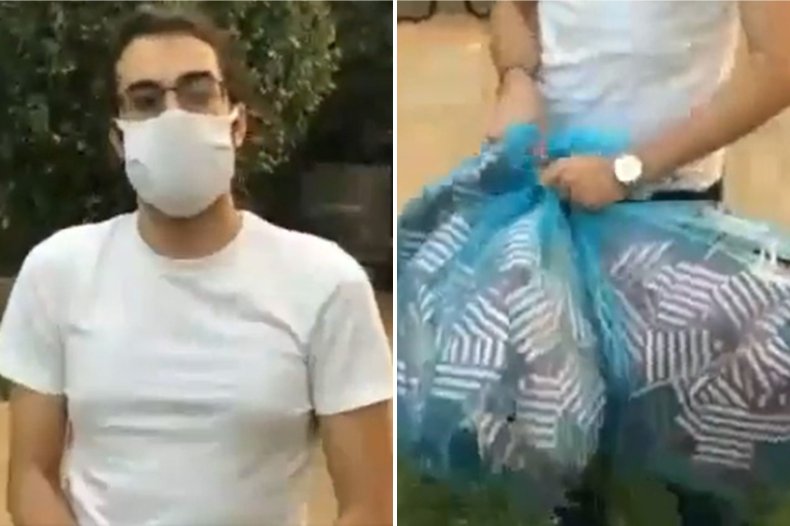 He added: "They died for no reason, suddenly and traumatically, and they should be grieved, not by political symbols, but by their names and faces.
"I also want to extend my condolences to all those who have died and been injured, both American and not, since 9/11. Their deaths were preventable and thus, extremely tragic."
In a statement, the university said: "We were disappointed to learn about the disruption to the 9/11 display on Mudd Field. We condemn the interference with the expression of support by the College Republicans for the victims of the national tragedy that took place 20 years ago today."
In a message to the university community, Chancellor Andrew D. Martin said: "I want to make it very clear that, as an institution, we find the actions of this student to be reprehensible. The removal of the flags impeded the ability of individuals to commemorate the lives lost on 9/11 and to process the trauma of that day. This act was seen as a personal affront by many, at WashU and beyond, and as an affront to the ideals of our institution."
Martin added: "Students have the right to express their viewpoints, but they also have the obligation to respect others' expressions. We are taking appropriate steps to investigate this incident and will follow our standard protocols as we do so. Such steps often take time. As we move forward, we will also ensure that the student involved has access to campus resources that are regularly available to students as he navigates the consequences of his actions, both on campus and beyond.
A university spokesperson told Newsweek that the university "will review this incident according to our normal student conduct protocols."
Alkilani and Washington University College Republicans have been contacted for additional comment.
Update 9/13, 10.30 a.m. ET: This article has been updated to include comments from Washington University Chancellor Andrew Martin and a university spokesperson.