My Husband Is Starving in an Israeli Jail—We'll Be Reunited When Palestine Is Free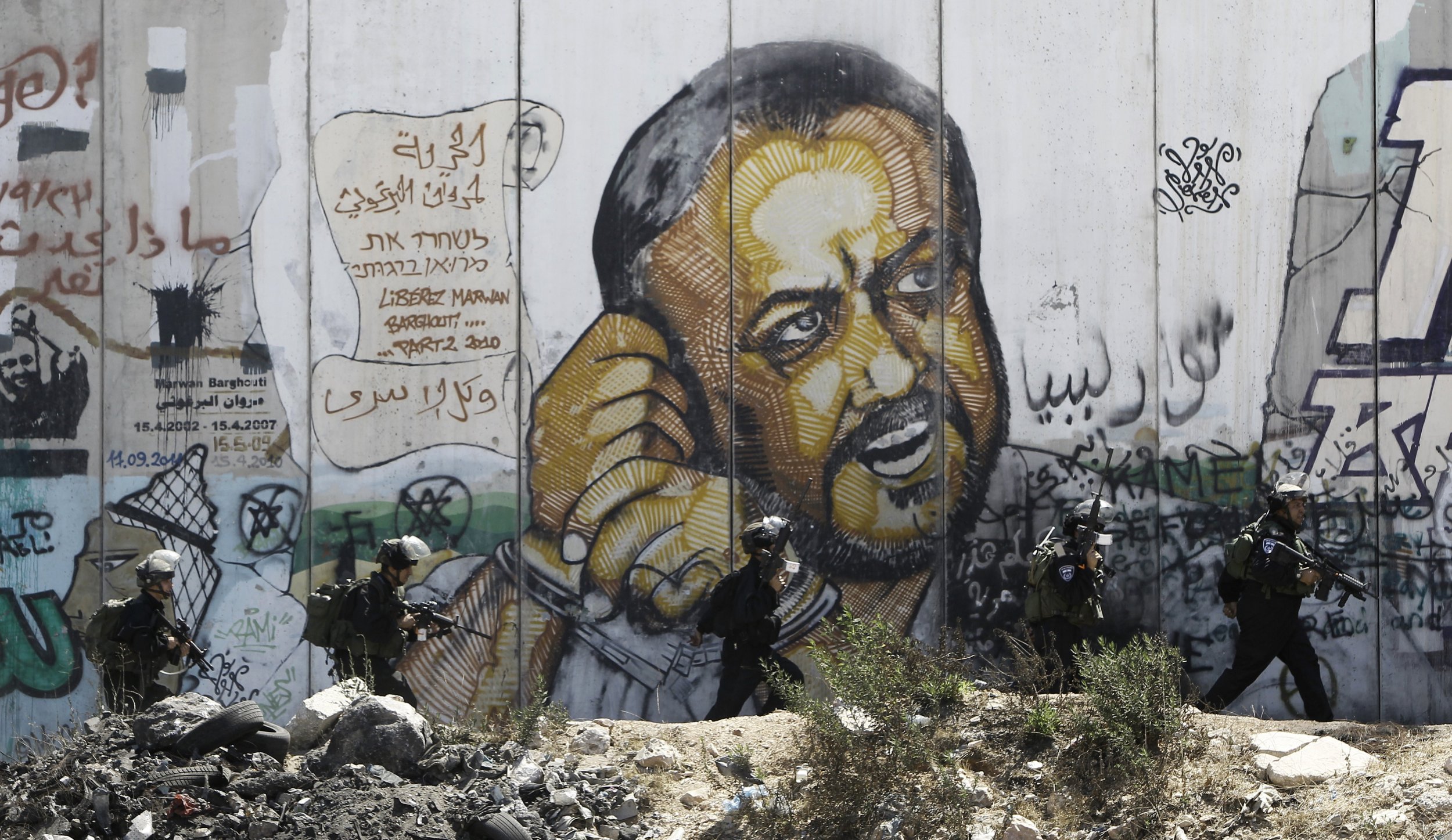 Forty days ago, my husband, Marwan Barghouti, began a hunger strike from his cell in an Israeli prison—alongside over one thousand other Palestinian prisoners. The reason they are all putting their lives at risk is simple: they want to be treated humanely and with dignity. Considering that some of these prisoners are at risk of imminent death, we all wonder why the world has not intervened.
Marwan and I have been married for 32 years and during that time he has spent more time in prison than by my side. He has been struggling against the Israeli occupation of Palestine for more than 40 years. For 22 of those he was imprisoned, and for seven he was in exile after being deported by Israel. He was hunted for many months, and has survived two assassination attempts.
He was not present when each of our four children were born, or when they graduated from high school and university, or when three of them got married, or when our daughter had her two beautiful children, making him a grandfather. He has dedicated his life to the cause of freedom. In these 32 years of love and struggle, there have been many difficult days—far too many—but nothing like the last forty.
The demands that my husband and more than a thousand others are starving themselves for are basic rights. They are asking for an end to arbitrary punishments, such as being placed in solitary confinement, sometimes for years on end. They are asking for an end to torture and inhumane treatment and for better conditions when being transferred between prisons. They are asking for an end to administrative detention, a practice Israel uses to indefinitely detain thousands of Palestinians without charge or trial. Those who do get a trial for the most part stand in front of Israeli military courts with a conviction rate of 90 to 99.7 percent.
Marwan himself was tried in a civilian court in Tel Aviv for terrorism, a trial characterized by international observers as "political" and "unfair", further discrediting the Israeli judicial system. No country recognized the verdict and around 130 countries, as well as the international and European parliaments, called for his release. In direct contradiction to the labels Israel tries to smear him with, Marwan has been nominated for the Nobel Peace Prize seven times, including by Nobel Laureates Archbishop Desmond Tutu and Adolfo Pérez Esquivel.
Since 1967, Israel has arrested an estimated 800,000 Palestinians, the equivalent of 40 percent of our male population in the occupied territory. In the eyes of the Israeli government, military and judiciary, the Palestinians are all guilty. They blame us for their continued military and colonial occupation. They want us to be guilty so they can play innocent.
The hunger-striking prisoners are asking that their right to family visits be respected. Israel forcibly transfers prisoners outside of the occupied territory — which in itself is a war crime — and uses that illegal act to justify placing restrictions on our right to visit. They require immediate family to obtain permits and often prevent many of us from seeing our imprisoned loved ones for years, if not indefinitely.
Extended family, including grandchildren, are prevented from visiting altogether. Prisoners also want access to public phones to talk to their family members, to simply hear their voices as they are denied the right to feel their touch. I myself have not touched Marwan in a decade and a half and I dream of being able to hug him for merely a second, especially in times such as these.
Read more: Palestinians call for Pizza Hut boycott after Facebook post mocked hunger strikers
Israel says it respects international standards when it comes to how it treats our political prisoners. The International Committee of the Red Cross, the High Commissioner on Human Rights, and United Nations experts, and multiple states around the world utterly disagree. No further evidence is necessary for how Israel shows its "respect" but to look at its response to this hunger strike.
Since the strike began, Israel has retaliated against the Palestinian prisoners' peaceful protest in a variety of ways. They have placed several prisoners, including Marwan, in solitary confinement and have resorted to other inhumane treatment, including sleep deprivation, repeated cell raids, inhumane transfers to other prisons, denial of family visits, and for many, denial of legal visits. Instead of ending its violations of prisoners' rights and assaults upon their dignity, Israel has intensified them.
It has decided to try to break the hunger strike by force. Top Israeli officials have called for my husband's execution, for the death of other prisoners, and for Israel to adopt the "Margaret Thatcher approach," which led to the death of 10 Irish hunger strikers in 1981. Israel even passed a law in 2015 that allows for the force-feeding of hunger strikers, a law upheld by the Israeli High Court even though the U.N., human rights groups, and medical bodies worldwide state that force-feeding amounts to torture.
As they see their already-imprisoned loved ones under full-fledged assault by the occupying power, the families of prisoners on hunger strike have barely slept or eaten in forty days. They hear each day news of the deterioration of the health of dozens of prisoners and fear for their lives, wondering if among them there is their son, husband or brother. In a solidarity tent, a mother asks, "Does he have to die for me to hug him?" Another wonders, "Is dying their only way to freedom?"
Even then there is no guarantee, as Israel does not hesitate to detain corpses for years. As we mark 50 years of the occupation of the West Bank, including East Jerusalem, and the Gaza Strip, and almost 70 years since Israel's mass expulsion of our people, known as the Nakba , I encourage the world to look inside Israel's prisons if they seek to find the root of our struggle: the desire to live in freedom and dignity rather than in cages and humiliation. Those who want to be peacemakers must support the freedom of our prisoners and the freedom of our people.
Marwan told me 32 years ago, just before we got married, that so long as we are under occupation, he will dedicate his life to the struggle for freedom. He has kept his promise to the Palestinian people and that is why they trust him. But he also promised me that as soon as the occupation ends, we will be able to enjoy what every person seeks and deserves: a normal life.
Thirty-two years later, I still await that normal life as Marwan lies in solitary confinement, starving for freedom and dignity.
Fadwa Barghouti is the wife of imprisoned Palestinian leader and parliamentarian Marwan Barghouti. Convicted of involvement in five murders during the Second Palestinian Intifada, or uprising, he is currently serving five life-sentences in an Israeli prison.