Legal experts have dismissed claims that President Donald Trump will be permitted to run for a third term if he is impeached by the House but the Senate fails to confirm it, branding them "categorically false."
House Speaker Nancy Pelosi announced the launch of an impeachment inquiry on September 24 following whistleblower allegations that claim Trump asked a foreign leader to investigate a potential political rival.
A July phone call, the summary transcript of which was released by the White House last week, reveals Trump discussed Democratic presidential hopeful Joe Biden with Ukrainian President Volodymyr Zelensky. Aid to the Ukraine was held up around the time of the phone call. However, Trump has insisted there was no pressure or "quid pro quo" discussed.
"There's a lot of talk about Biden's son, that Biden stopped the prosecution and a lot of people want to find out about that," Trump said of Biden's involvement in the dismissal of top prosecutor Viktor Shokin. "So whatever you can do with the Attorney General would be great. Biden went around bragging that he stopped the prosecution so if you can look into it. It sounds horrible to me."
The president has denied any wrongdoing in the call and has insisted he did not pressure Zelensky to investigate Biden. However, the whistleblower allegations were viewed by Pelosi as sufficient to pursue an impeachment inquiry.
Pelosi's announcement appears to have galvanized Trump's base, with the president and the Republican National Committee raising more than $13 million in just three days following the impeachment announcement, while rumors abound that a "failed" impeachment attempt (e.g. one in which the House impeaches Trump but the Senate does not convict him and remove him from office) will mean Trump is permitted to run for a third term.
Among those sharing the claim is alt-right conspiracy theorist Jack Posobiec, who wrote in a tweet to his followers: "These Democrats don't realize that if they impeach Trump and the Senate doesn't confirm it then it nullifies Trump's first term and he gets to run two more times. Read the Constitution, people."
But the rumor is "categorically false," said Professor of Law at Drexel University Anil Kalhan, who dismissed the idea that Trump could look to run for a third term if an impeachment by the House did not result in conviction and removal from office by the Senate.
"The presidential term limits provision of the Constitution found in the 22nd Amendment provides that "[n]o person shall be elected to the office of the President more than twice", and of course Donald Trump has been certified as the winner of one presidential election already (in 2016)," Kalhan told Newsweek.
"Impeachment would not 'nullify' that election—if it did, the same logic would permit someone to resign before completion of their full four-year term and then run for two more terms in office, which of course would be an absurd interpretation that would eviscerate the term-limits provision altogether," he added.
"In fact, if he were convicted by the Senate, the Senate could choose to disqualify him from holding office in the future (under Article I, Section 3, Clause 7 of the Constitution), although disqualification would not be automatic—the Senate would have to affirmatively choose to impose disqualification as a sanction.
"I don't know the source of that claim, but it does highlight the challenge in our current political and media environment of ensuring that the public's understanding rests on truthful, accurate information—which of course is also true about the underlying facts on which the impeachment inquiry itself rests, not just the legal rules that govern the impeachment process," Kalhan said, highlighting what appears to be a widespread lack of understanding when it comes to impeachment.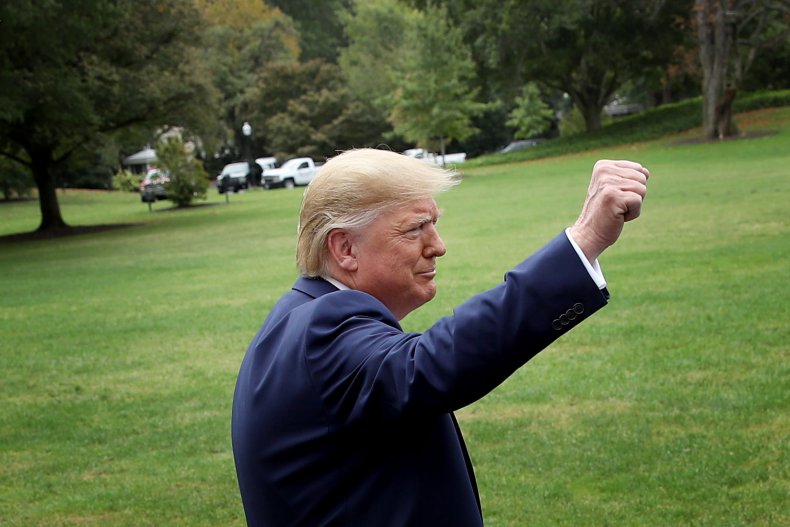 Indeed, there appears to be an information gap generated by the announcement of the impeachment inquiry, given there are so few examples to draw from, explained professor at Harvard Law School Cass Sunstein, the author of Impeachment: A Citizen's Guide and a former Administrator of the White House Office of Information and Regulatory Affairs in the Obama administration.
"If a person is indicted by a prosecutor it's not a trivial matter, even if there is no conviction, and you can see impeachment as similar to an indictment," Sunstein told Newsweek. "It is a real mark on a human being and even more impeachment is a real mark on a president. There have only been two indictments in our history and they have both had a huge impact on what that person could do while president and also on their historical standing."
"Most people are trying to live their lives, they're dealing with their jobs and their families and to know the legal niceties of impeachment, like the legal niceties of the filibuster, isn't the number one priority," Sunstein added. "You will see a big spike in public understanding in the coming months but just as most of us don't know how to make a car, most people don't know about impeachment—it's kind of technical."
Additionally, Sunstein warned against the presumption that a Republican-controlled Senate would refuse to remove the president from office if indeed he was impeached by the House.
"I would say that the situation is so volatile that any prediction about what the Senate would do is hazardous, things change even from day to day and so it's very possible that a Republican-dominated senate will not convict the president if he is impeached but it would be premature to conclude that that is inevitable."
The graphic below, provided by Statista, illustrates the impeachment process.