Failed Recall of Gavin Newsom Cost California Taxpayers $276 Million
The recall election targeting California Governor Gavin Newsom was expected to cost California taxpayers $276 million, according to estimates compiled by the state's Department of Finance earlier this summer.
The Associated Press, CNN, Fox News and several other media outlets projected Newsom would defeat the recall effort shortly after polls closed on Tuesday night.
The state agency was required to submit estimates to California Secretary of State Shirley Weber's office regarding how much it would cost county and state officials to carry out the recall election before an election date was set. The Department of Finance released an initial estimate in early June but revised it a few weeks later after state legislators approved a bill that enabled the recall election date to be moved up. Newsom signed the bill in late June.
The Department of Finance's initial estimate said it would cost $215.2 million to hold the 2021 gubernatorial recall election. The revised cost estimates released in early July said it would cost counties an additional $28.4 million and the state an additional $32.4 million to carry out the election, bringing the agency's cost estimate total to $276 million.
The California secretary of state's office told Newsweek on Wednesday a final assessment of the costs associated with the recall election will be made available by February 1, 2022.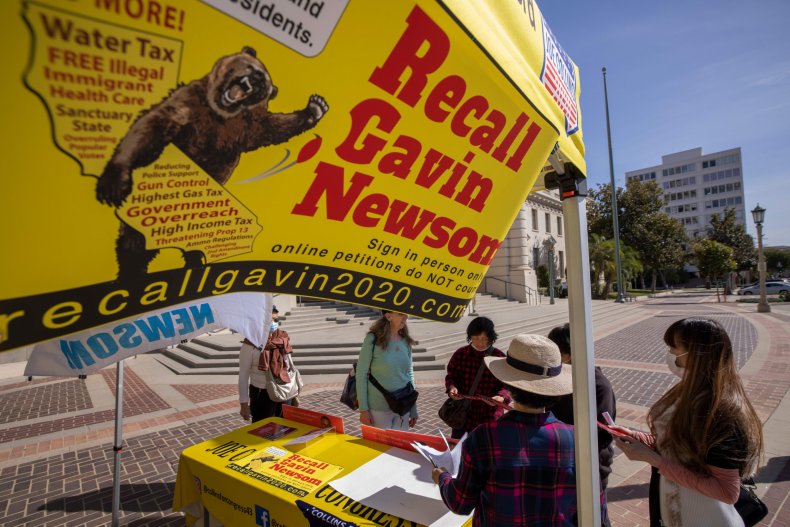 The election was held on September 14, but many voters cast mail-in ballots ahead of the election date. Newsom previously signed an executive order allowing all registered voters to receive mail-in ballots for elections held in 2020 due to the coronavirus pandemic, and he extended that order earlier this year to include elections held in 2021.
Newsom's projected defeat of the recall election is a result that enables him to complete his term in office, which doesn't officially end until January 2, 2023. Newsom, who is currently serving his first term as governor, will also be able to run for re-election during the 2022 midterms.
Newsom is the second California governor to face a recall election since the state adopted its recall process in 1911. The first sitting governor to face a recall was Democrat Gray Davis, who was removed from office following his recall election in 2003. Before that recall, state election officials estimated it would cost between $53 million and $66 million to carry out the recall election.
The Recall Gavin Newsom petition that ultimately qualified for a ballot was first filed last year. Recall organizers had until mid-March to gather signatures for their petition, after which an election date was set in early July.
While Democratic strategists argued from the beginning that there were numerous differences between Davis' recall of 2003 and the recall targeting Newsom, statewide polling results released in July and early August suggested Californians were relatively split on the decision of Newsom's removal. However, polling results began shifting back in Newsom's favor by the end of August, and the Democrat seemed likely to defeat the recall by the time voters headed to the polls on Election Day.
Update (9/15/2021, 4:42 p.m.): This article has been updated to include information from the California secretary of state's office regarding when the final cost assessment of the recall election will be available.