Failed Trump Candidate Admits Not Embracing Mail-In Ballots Cost Him Race
Failed Pennsylvania gubernatorial candidate Doug Mastriano is blaming his double-digit November loss on the GOP's mixed messaging about mail-in voting.
The Republican state senator, who lost to current Democratic Governor Josh Shapiro by about 15 percentage points in 2022, told Politico he is "praying" on whether or not to run for U.S. Senate in 2024.
Republicans "have to embrace no-excuse mail-in voting," Mastriano said, suggesting that his defeat was due in large part to his dislike of the practice. "It's just so—repugnant's the wrong word—it's just so antithetical to how I view elections."
Mastriano's comments are similar to those of former President Donald Trump, who endorsed Mastriano for governor last year and has partially changed his stance regarding mail-in voting after more than two years of lambasting Democrats for "ballot harvesting."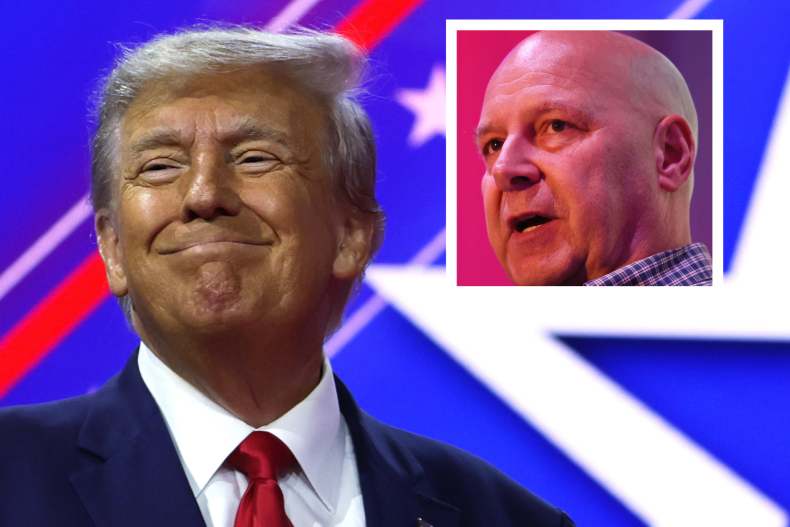 Trump told supporters in a fundraising email in February that his campaign would be launching its own "BALLOT HARVESTING FUND" in states where Democrats had allegedly been "cheating the system."
In December, following losses by Mastriano and Dr. Mehmet Oz (for U.S. Senate) in key Pennsylvania races, Trump doubled down and told Breitbart that the U.S. voting system is not only broken but "corrupt."
"The Democrats know it's corrupt and the Democrats should want to fix it but they don't because they do have an advantage under that system," Trump said. "For the time, though, we have to live with the system that stinks so we have to fight it like they do."
Trump was president when the COVID-19 pandemic began, spurring record numbers of mail-in ballots across the country.
A 2020 YouGov survey analyzed by Charles Stewart III, professor of political science at the Massachusetts Institute of Technology and co-director of the Caltech/MIT Voting Technology Project, found astonishing increases in mail-in voting in the United States, even decades before the pandemic.
In-person voting fell from 89 percent in 1996 to 60 percent in 2016. COVID exacerbated the situation, causing mailed ballots to more than double between 2016 and 2020, to about 46 percent overall. Less than three in 10 voters hit the ballot box on Election Day in 2020, a decline of 32 percent from 2016.
Prior to his campaign, he was steadfast in his belief that the 2020 election was illegitimate because of "voting law violations" across Pennsylvania. He was called on by the House January 6 Committee to testify.
"I don't think it's mail-in voting that is the sole explanation of [Mastriano's] loss," Daniel Mallinson, assistant professor of public policy and administration at Penn State University, told Newsweek. "There were lots of factors. He didn't do a lot of open campaigning or outreach; he didn't have money in doing these types of things."
Mastriano's campaign was packed with controversy, including tour stops at QAnon events and not only praising defenders of Confederate statues but wearing Confederate uniforms. He also closed rallies and events to the media.
Mallinson said that being at the forefront of critiquing election results is compounded by Mastriano's newer, perhaps revelatory, stance on mail-in voting.
"It's really hard to unwind when you've been demonizing mail-in voting as corrupt for two election cycles," Mallinson said. "I don't know how you convince Republicans to go to mail-in voting."
Jennie Sweet-Cushman, associate professor of political science at Chatham University in Pittsburgh, told Newsweek that Mastriano is likely projecting following a poor campaign.
"Even if there was some suppression of the Republican vote, which I have seen no evidence of that, it wasn't anywhere near 15 points. It wasn't .15 points," she said. "Post-mortem after a campaign, especially when you're wanting to perhaps pivot into the next one, blaming yourself isn't the best strategy regardless."
Sweet-Cushman worries about the potential impact of a GOP strategy that encourages more mail-in voting and in turn more skepticism.
"I'm concerned that it's another attempt at pointing to places where there could be accusations of fraud, so by encouraging the bolstering of mail-in balloting, you can increase the number of mail-in ballots and sow the uncertainty," she said.
Now, Mastriano is weighing participation in the GOP primary for the opportunity to face Democratic Senator Bob Casey. Failed Maryland gubernatorial Republican Dan Cox, also an election denier, has signed on as Mastriano's newest chief of staff.
"What do you do with a movement of 2.2 million?" Mastriano told Politico. "We're keeping it alive."
Mallinson doesn't expect a repeat Trump endorsement for Mastriano should he run for Senate, and he sees an "uphill battle" for him or any Republican defeating Casey based on name recognition and a strong incumbency.
"Mastriano, after having such a significant defeat as the gubernatorial candidate, will come in weak as a candidate, even in the primary," Mallinson said.
Newsweek reached out to Mastriano and Trump's campaign for comment.
Update 3/8/23, 1:14 p.m. ET: This story was updated with comment from Jennie Sweet-Cushman.