Failure to Pass Another Stimulus Bill Could Increase Unemployment in October, Small Business Survey Finds
Small business owners are desperate for another round of financial relief. And without help from the government, employees could lose their jobs or have their hours cut.
A survey of Goldman Sachs small businesses conducted by Babson College found 88 percent of companies that received Payment Protection Program (PPP) loans exhausted funding. Failure on the part of Congress to enact another round of financial relief by the end of September would force 36 percent of businesses surveyed in a position to lay off employees or cut their wages.
Unemployment in the United States reached heights not seen since the Great Depression in April, after businesses closed down to slow the spread of a new coronavirus. As the country moves in the direction of reopening, people have been returning to work, driving the unemployment rate down. However, it's still elevated at 8.4 percent and more than 13 million people remain out of work, the Bureau of Labor Statistics reported.
As of the end of June, the Small Business Administration processed about 4.9 million loans to small businesses to guarantee eight weeks of payroll, a system known as the PPP. According to Forbes, 51 million jobs were supported with the help of the PPP.
The White House has been pushing for another round of PPP to help small businesses keep their doors open as the country continues to deal with the economic fallout of the coronavirus pandemic. A slimmed-down version of a July relief package put forth by the Republicans would provide businesses with the opportunity to take out another loan, but it failed to pass the Senate.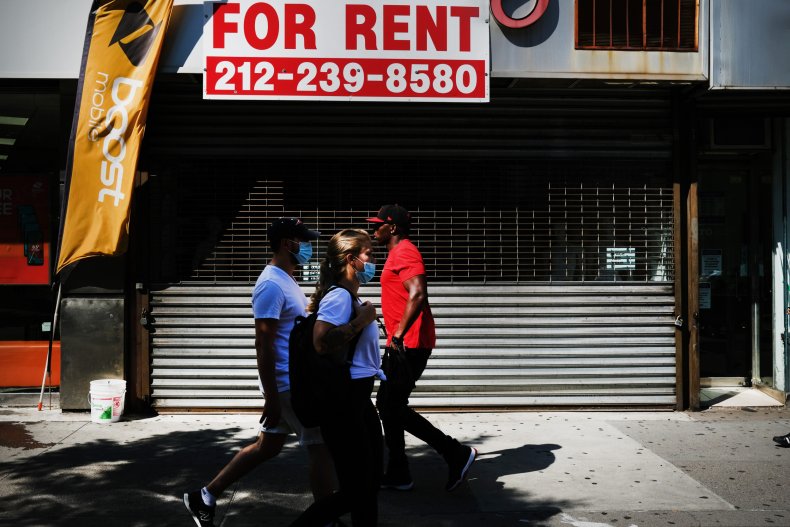 On Thursday, 52 senators voted in favor of moving the relief package to a full vote on the Senate floor, eight people shy of the 60 that are needed. Political division was evident during the vote with every Republican—except for Senator Rand Paul, who has said he would not support any further coronavirus relief—supporting the bill and every Democrat opposing.
"[Senate Democrats] blocked money for schools, testing, vaccines, unemployment insurance, and the Paycheck Protection Program," Senate Majority Leader Mitch McConnell posted on Twitter. "Their goal is clear: No help for American families before the election."
Senate Minority Leader Chuck Schumer, in turn, criticized McConnel for trying to "jam through" a new coronavirus bill that "doesn't help renters keep a roof over their heads or families put food on the table." Democratic Party leadership pushed back on the slimmed-down version, as well as the Republicans' $1 trillion July package, for failing to sufficiently address the needs of the pandemic.
In pushing for the smaller package, Schumer said McConnell isn't "searching for progress" but is "looking for political cover."
Both Democrats and Republicans champion themselves as being on the side of the American public and trying to help the little guy. But of those companies Babson College surveyed, only 7 percent feel as if federal-elected officials prioritize policy issues impacting small businesses over big businesses.
Thirty-two percent of PPP recipients already had to lay off employees or cut wages and by the end of the year, 30 percent of small businesses surveyed will exhaust their cash reserves. When it comes to a comprehensive federal agenda to help small businesses recover, 99 percent of small businesses consider it important.