The Trump family was entering a golden age of real estate. Fred Trump's small family business, begun in the late 1920s and based in Queens, had expanded into a city-wide operation, and his son Donald J. Trump was poised to take over.
But the thriving enterprise had a glaring problem: Fred Trump had allegedly been discriminating against black people applying to be tenants at his properties.
In 1973 — a decade after the Civil Rights Act, and five years after the Fair Housing Act — the Department of Justice sued Trump Management for its discriminatory practices, which activist groups had meticulously recorded for years, according to the New York Times. Trump and his father, who were both named as defendants, responded by accusing the Department of Justice of defamation, and filing a $100 million countersuit. The messy legal battle ended with the Trumps signing a consent decree, an agreement that allows both parties to end a dispute without admitting fault.
The president has denied knowledge of the alleged housing discrimination in his past; neither the White House nor the Trump organization responded to Newsweek's requests for comment.
On Wednesday, the 50th anniversary of the Fair Housing Act, some housing rights advocates are still waiting for Trump to acknowledge the experiences of the men and women who said they were turned away by Trump Management for their race.
"We're disappointed Trump has never acknowledged or apologized for it, and that he acts like it never happened," Lisa Rice, the executive vice president of the National Fair Housing Alliance, told Newsweek. "We'd like him to publicly say that housing discrimination is wrong and shouldn't be allowed."
One of the alleged victims of Trump's housing discrimination was a black woman named Maxine Brown, who, at the time, was a 33-year-old nurse looking to rent a bedroom in a Queens Trump property. Her rental agent, Stanley Leibowitz, told the Times filled out a "beautiful application" — which is why he was stunned when Fred Trump allegedly instructed Leibowitz to put the application "in a drawer and leave it there."
The kind of housing discrimination black men and women allegedly experienced at the will of the Trump family has become less common, according to Rice, though it still occurs. But in the half-century since former President Lyndon B. Johnson signed the Fair Housing Act into law, the practice has become much more insidious.
Just weeks ago, NFHA, along with three of its sister organizations, sued Facebook for allegedly allowing landlords and real estate brokers to keep their housing ads off the timelines of women, minorities and families with children. Rice likened the alleged practice to "racially restrictive covenants," legally-binding language that once appeared in housing deeds spelling out which groups couldn't buy there.
"More often than not, discrimination is more hidden — people will smile at you to your face and tell you, 'Sorry, the apartment has been rented,'" Rice said. "And in Facebook's case, the company is essentially operating a high-tech, but clandestine, system of restrictive covenants."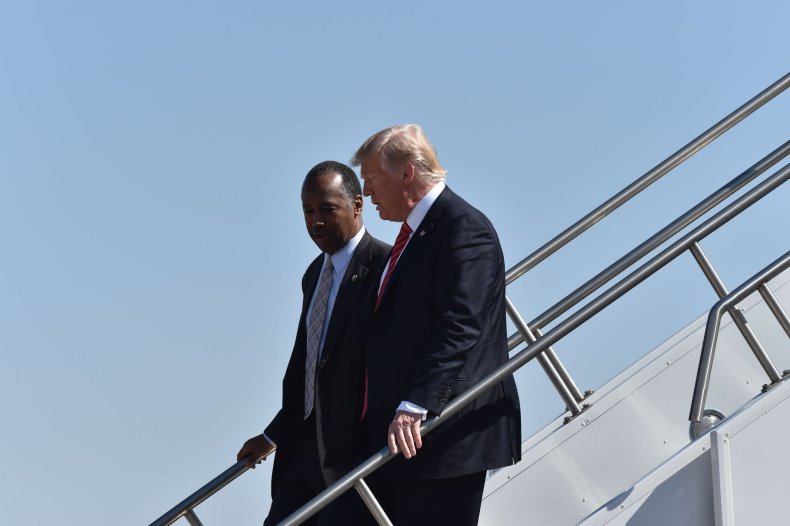 The Trump administration has done little by way of demonstrating its commitment to fair housing, activists say.
In February, Trump proposed a budget that would cut funds to the Department of Housing and Urban Development by $8.8 billion, a motion the National Low Income Housing Coalition said "would leave even more low-income people without a stable home, undermining their ability to live with dignity and climb the ladder to achieve financial security."
And last month, an internal memo first reported on by HuffPost revealed that HUD Secretary Ben Carson had plans to remove anti-discrimination language promoting "inclusive communities" from the agency's mission statement.
"You can be sure of one thing — any mission statement for this Department will embody the principle of fairness as a central element of everything that we do," Raffi Williams, HUD's communications director, told Newsweek at the time. "HUD has been, is now, and will always be committed to ensuring inclusive housing, free from discrimination for all Americans."
When Johnson signed the Fair Housing Act 50 years ago, Rice says it sought to eliminate the final bastion of legal discrimination in the country. The act followed the assasination of Dr. Martin Luther King Jr., and Johnson had intended to push the bill through Congress so he could give it to Coretta Scott King at her husband's memorial service on April 9th, 1968. Instead, Rice says Congress met the legislation with "recalcitrance" so severe, federal lawmakers couldn't get it to his desk on time. "It took the assasination of King to get the Fair Housing Act passed," Rice said, but it will take much more work still to ensure all Americans are protected under it.
"Where you live impacts every area of your life: your access to living-wage jobs, quality food, health care; whether you're going to be able to attend a high-performing school, or have a bank in your neighborhood," Rice continued. "We've can't thrive if we continue to starve half our citizens of the basic rights to realize the American dream."