Stevie J and Faith Evans Baby Planning? Singer Says She's 'Pretty Fertile' and Husband 'Ain't Shooting Blanks'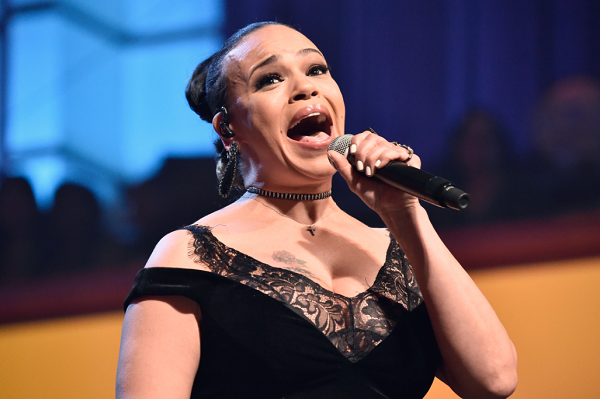 Stevie J and Faith Evans' family may get a little bigger in the future. The newlyweds joked about having a baby while chatting with TMZ on Monday.
When asked if they were going to try to expand their family now that they're married, 45-ear-old singer Evans joked that they likely wouldn't need to do much trying. "I'm pretty fertile," she said. "We know he is too. He ain't shooting blanks either."
The singer is already a mom to four children from previous relationships while Love & Hip Hop Atlanta star Stevie, 46, has six kids of his own.
The couple shocked fans when they suddenly announced they tied the knot while in Las Vegas earlier in July. The duo shared the same selfie photos on their social media on July 19 with the caption, "Love Wins," sparking speculation they were married. A rep for Evans confirmed she and Stevie did indeed exchange nuptials on July 17 in Las Vegas and said the duo filed for a marriage license in Clark County, Nevada, Billboard reported.
Some people on social media criticized the couple for their shotgun wedding while others shared their confusion over their relationship, which only became public at the time of their marriage.
While appearing in TMZ's video interview, Evans and Stevie insisted their romance was a long time coming. "There was always a love there, but I never saw him in a romantic way in all the years of our friendship," said Evans, who has worked on music with Stevie dozens of times since signing to Bad Boy Records in 1994.
She added: "I don't know, a couple years ago I was single, we were working together and I felt a little something."
They admitted their wedding was "spontaneous," but Evans claimed their decision to wed was something they talked about before. "He went to Vegas for a business meeting and I went with him. We were actually talking about plenty of places to get married but we were in Vegas so I was like, 'We don't have to wait to get to such-and-such,' and he was like, 'Let's go now.' And we got on line. We did that," Evans said.