Faithful Pack Philadelphia for Final Mass of Pope Francis's Visit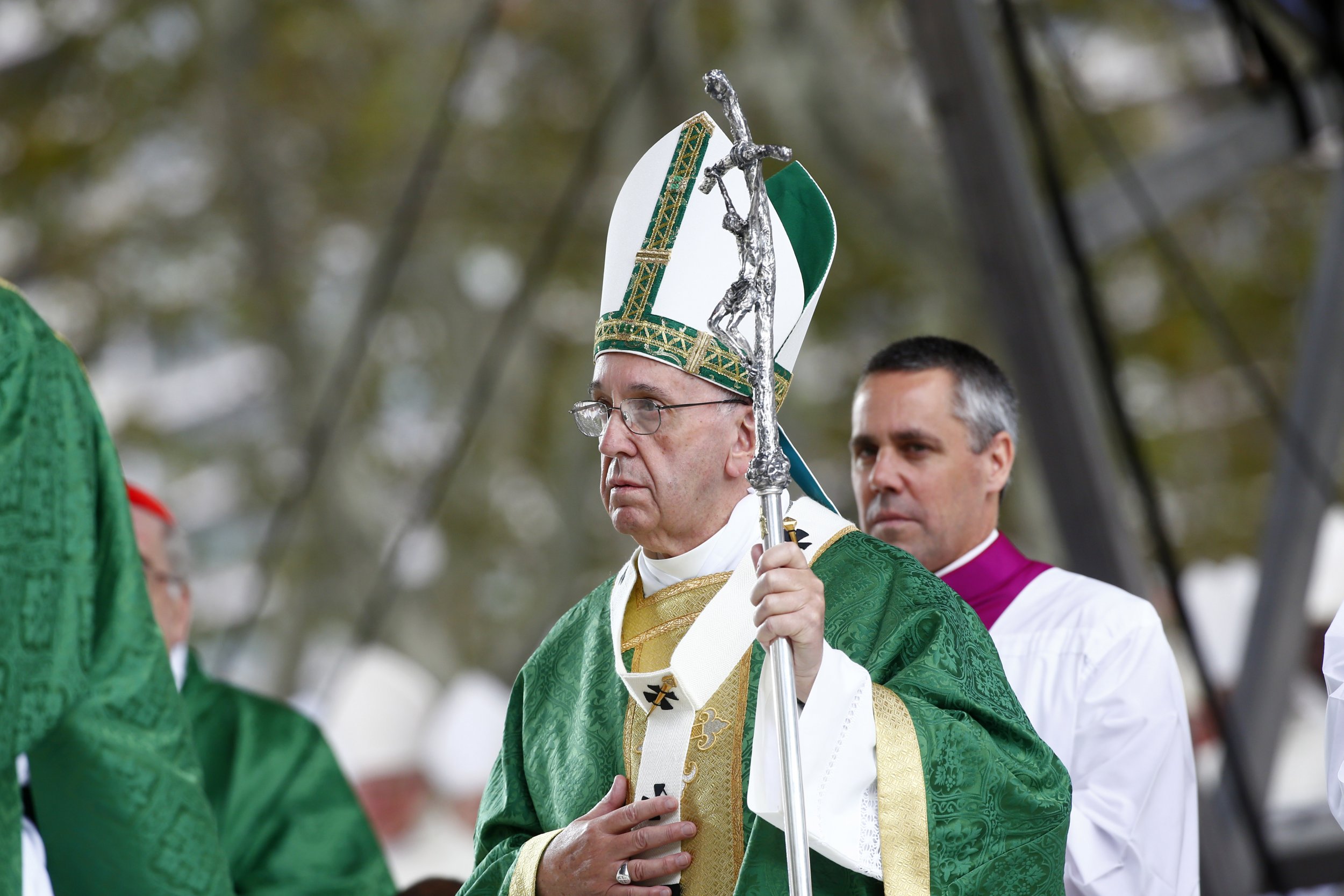 PHILADELPHIA (Reuters) - Pope Francis's admirers from around the world packed into Philadelphia on Sunday for the open-air mass that marked the end of his historic six-day U.S. visit, where they sung, strained to take photos and passed him babies to bless.
Hours before Francis was due to deliver a homily near the steps of the Philadelphia Art Museum, people filed towards a gated perimeter, where their belongings were searched before each person passed through metal detectors.
"We're here early because we don't want to be way far back in the crowd," said 72-year-old Maria Francis, from Philadelphia, who will attend Mass with her husband, Dave, 73.
"We're both Catholic, so it means a lot to us to have the blessing from the pope," she said while waiting in a long line to purchase a sandwich just outside of the secure perimeter.
Philadelphia has been planning for the visit, Francis's first trip to the United States, for months and the city's trains and buses were re-routed on Sunday to perform just one mission—transport the faithful and curious to an event that officials had expected to draw hundreds of thousands of people.
National Guardsmen secured fencing and shouted directions at pedestrians navigating their way into enclosures. Camouflage military trucks parked on the sidelines and helicopters flew overhead.
Peddlers sold plastic "pope stools" and members of the crowd posed to take selfies with cardboard cutouts of the pontiff.
As Francis arrived in the white Jeep he has used as a Popemobile on this trip, people passed his guards no fewer than a dozen babies, which the bishop of Rome kissed and blessed.
Inside the secure zone, families lay on blankets spread onto square blocks of grass and concrete, waiting to pray with the pope. Clusters of nuns and clergy sat together and thousands of others crammed together, searching for dwindling standing and sitting space.
Worshippers could be heard speaking Korean, Spanish and Portuguese and waving flags from their native countries during a visit when Francis has urged the United States to be more welcoming to immigrants.
Doug Bauman and his wife, Julie, stood out in the crowd for their homemade mitres, the tall hats that bishops wear. "They were built out of duct tape and poster board," said Doug Bauman, 38, from Indianapolis. "That's the budget of two Catholic school teachers."
Some 1,500 priests and deacons are expected to give communion at the mass, expected to be the largest event of the pope's six-day U.S. tour that began in Washington on Tuesday and continued on to New York on Thursday before arriving in Philadelphia Saturday.Attendees fought traffic restrictions and strict security measures to see the pope before he flies back to the Vatican on Sunday evening.
"It's the completion of a journey, and he's such a great pope," said Suzanne Casarino, 53, a nurse from Newnan, Georgia, who said she, her mother and her grandmother had vowed to attend a papal mass, a trip that was delayed by her grandmother's death a decade ago. "Just to be in his presence is everything."