Amber Heard's court battle with her ex-husband Johnny Depp has dominated news headlines and social media for the past two months. In the latest twist, a YouTuber has detailed how he "fooled" members of the public and thousands of Twitter users with a Heard lookalike.
On Tuesday, YouTuber Classify released a 10-minute video, "I Fooled The Internet With A Fake Amber Heard," setting out how he convinced people the actress had been photographed dining al fresco in Los Angeles after the trial—resulting in a photo that went viral on Twitter with more than 57,000 likes.
At the start of the video, Classify explained that he had scoured the internet for a lookalike of the Aquaman star, before finding actress Kseniia Dubovitz.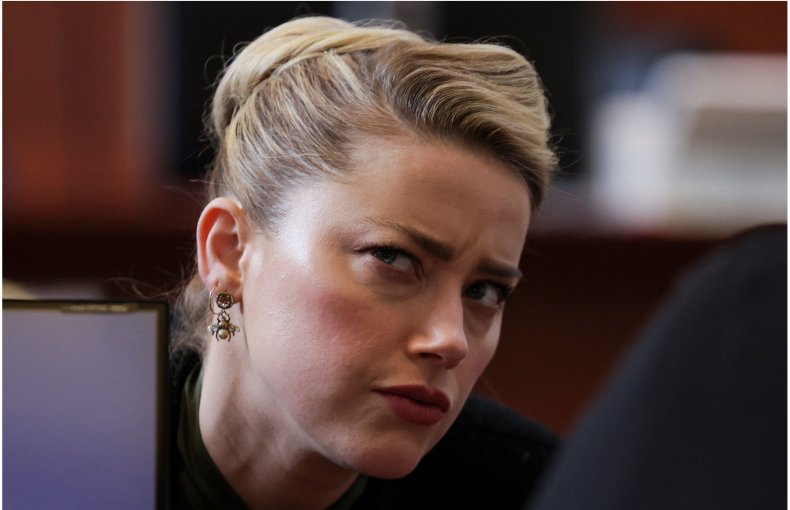 The YouTuber then showed how he researched Heard's wardrobe, settling on ripped jeans, a casual top, gold chains and sunglasses for the photo op.
Dubovitz was flown to Los Angeles from New York City and had her hair and makeup done by a professional stylist. She then went to a restaurant that Classify said was known to be frequented by celebrities.
With a fake bodyguard standing by her table to make the set-up look more convincing, Dubovitz dined al fresco with another person—and before long people started reacting to the person they apparently believed to be Heard.
At one point, Dubovitz gave a coy wave as somebody was heard showing from a TMZ tour bus: "Amber, how are you doing?"
Classify also claimed that rapper Bobby Shmurda, real name Ackquille Jean Pollard, posed for photos with Dubovitz, believing her to be Heard.
For the next step of the prank, Classify said he asked YouTuber FaZe Blaze, real name Lucas Mosing, to post the photo of Dubovitz on Twitter, where he has more than 1.7 million followers.
On June 11, Mosing posted a photo with the caption: "Crazy LA moment.. My girl and I bumped into Amber Heard at lunch."
The image shows a blonde woman at a table with a decidedly large glass of red wine—a reference to one of Heard's lawyers asking Depp at the trial about pouring himself a "mega pint" of wine.
Classify's video then shows him celebrating as he watches the likes and retweets flood in.
"Honestly, I didn't think it was gonna get this big. Like, so many people were interacting with it," said a man resembling Mosing, during a video call with Classify. "It's actually crazy how many people fell into your trap. I actually can't believe how little people called out the BS."
In fact, a large number of comments on the Twitter post came from people questioning the photo's authenticity and saying the woman did not resemble Heard.
Dubovitz has confirmed that she appeared in the video, telling Insider in a statement that she did not have any "bad" intentions and adding: "I'm pretty open for new fun things, so when the guy connected with me I thought it would be fun."
Newsweek has contacted a representative of Heard for comment.
Depp launched a $50 million lawsuit against his ex-wife over her 2018 op-ed in The Washington Post, in which she said she was a domestic abuse survivor.
On June 1, the jury awarded Depp $10 million in compensatory damages and $5 million in punitive damages, after finding Heard's claim to be false and defamatory. The judge adjusted the punitive damages to $350,000, as Virginia law limits the value of punitive damages available.
Heard, who had countersued for $100 million, was awarded $2 million after it was found that Depp's former attorney, Adam Waldman, had made defamatory comments about her.