Fake Announcement That Walmart Will Accept Litecoin Cryptocurrency Sends Stock Soaring
A fake press statement released Monday claimed Walmart was partnering with the cryptocurrency Litecoin, leading to a brief but major stock gain for the company.
The press release and the supposed merger was quickly revealed to be untrue, and its inauthenticity was confirmed by a Walmart spokesperson to CNBC.
In the press release, the claim was made that Walmart—the biggest retailer in the U.S.—would accept cryptocurrency for payments from shoppers via Litecoin beginning on October 1.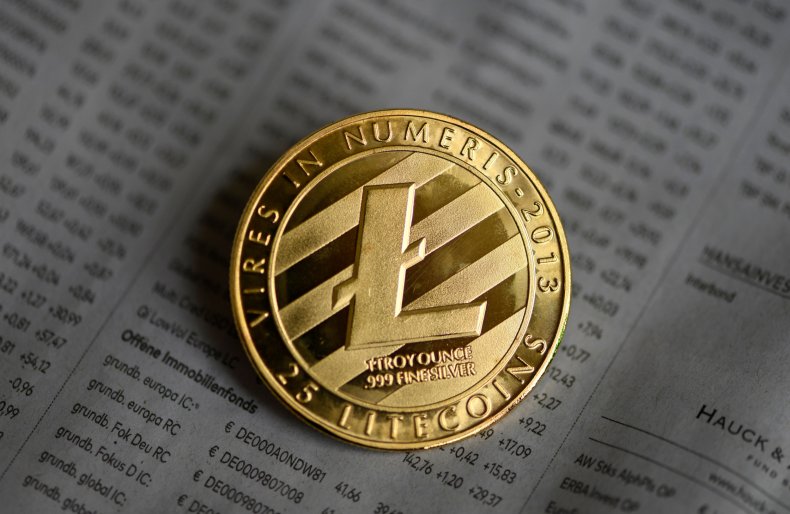 A lengthy quote attributed to Walmart CEO Doug McMillon was also included in the fake announcement, which was never listed on Walmart's official corporate website.
Several media outlets announced the bogus merger before it was disputed. The Twitter account for Litecoin also shared out the announcement Monday morning before later deleting the tweet.
Later, the Litecoin Twitter account retweeted a post from Litecoin Foundation that confirmed the earlier story was not true.
Suspicions were first raised on social media about the validity of the merged after the email walmart-corp.com was referenced in one of the contacts listed in the press release. The email domain was registered last month, but it doesn't link to any website.
The fraudulent press announcement received attention after it was picked up by GlobeNewswire, a global press release distribution agency. The website for GlobeNewswire has since deleted the press release and posted the following message: "Please be advised that journalists and other readers should disregard the news release, 'Walmart Announces Major Partnership With Litecoin (LTC)' issued September 13, 2021, over GlobeNewswire."
Cryptonews.com reported that Litecoin gained more than 36 percent in less than one hour, and the price of its stock jumped from $174 to $237 on Coinbase after the false news broke. It later gave back almost all the gains was valued at around $180 at around 12 p.m. ET.
Litecoin was launched in October 2011, by Charlie Lee, a former Google employee who later became Engineering Director at Coinbase before concentrating full-time on Litecoin.
On Monday, Lee spoke with Bloomberg News. He said the tweeting out about the press release was a case of someone behind the account getting overly excited before verifying the story.
"The @litecoin handle, we have three people who control that and one of the people this morning, before I woke up, saw the GlobalNewswire [sic] and saw Yahoo News posting it and CNBC posting it and he thought it was true because he didn't know better," Lee said. "Pretty soon after that he realized he had made a mistake, that it was fake and he deleted it."
Walmart has also released a statement on the matter on its corporate site.
"Walmart was the subject of a fake news release issued on Monday, Sept. 13, that falsely stated Walmart announced a partnership with Litecoin (LTC)," the statement said, adding, "Walmart had no knowledge of the press release issued by GlobeNewswire, and it is incorrect. Walmart has no relationship with Litecoin."
Litecoin is similar to Bitcoin in that it functions as a peer-to-peer cryptocurrency and facilitates cross-border transactions. Like Bitcoin, it also has no central authority. One major difference between the two cryptocurrencies is that Bitcoin much more expensive than Litecoin: One Bitcoin currently equals around $44,300.
The Verge received a comment from GlobeNewswire regarding the press release. Dave Pleiss, vice president of investor and public relations for the agency, said the made-up statement came from "a fraudulent user account" and that nothing like this has happened to the company before.
GlobeNewswire has put into place "enhanced authentication steps to prevent this isolated incident from occurring in the future," Pleiss told The Verge. He also said the company was working with authorities on "a full investigation, including into any criminal activity associated with this matter."
At this time, it's unclear who may be responsible for the hoax announcement.
Update 09/13/21 12:10 p.m. ET: This story has been updated to include more information about the fake press release and background on Litecoin.
Update 09/13/21 2:20 p.m. ET: This story has been updated to include comments Charlie Lee made to Bloomberg News as well as a statement from Walmart.
Update 09/13/21 5:10 p.m. ET: This story has been updated to include comments from GlobeNewswire.