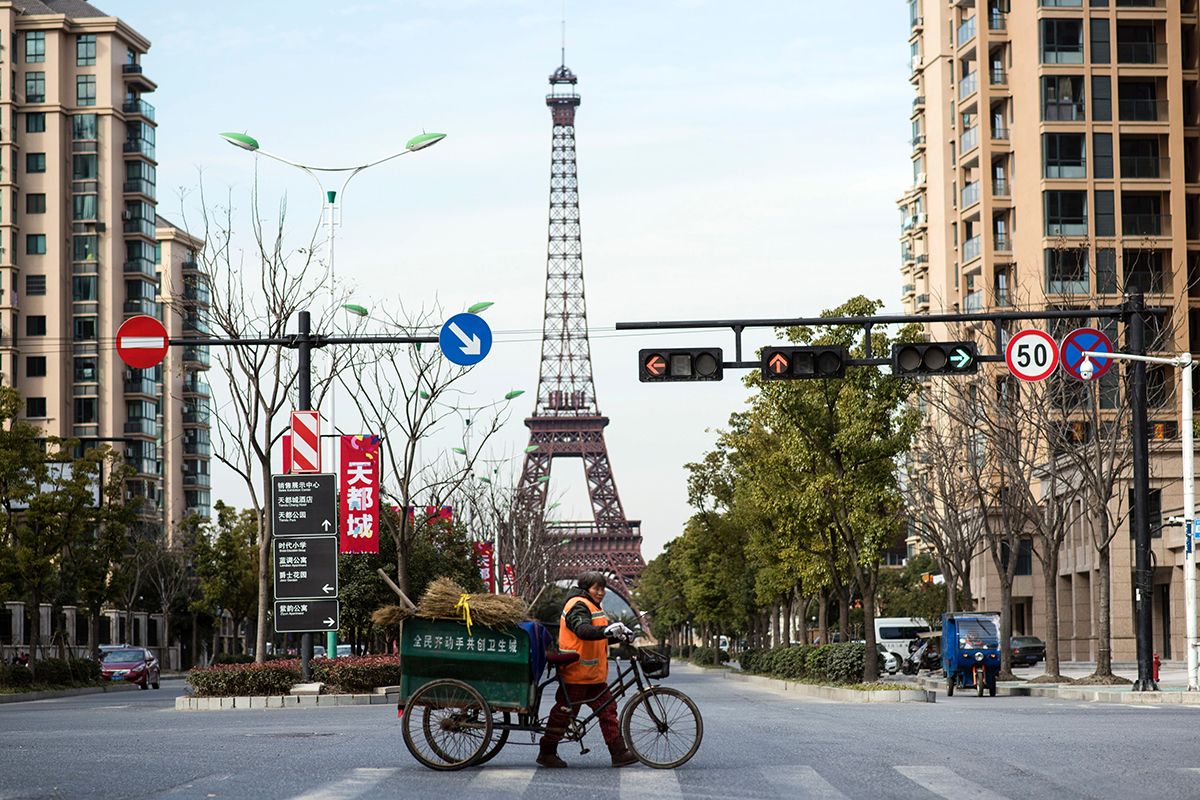 In China's eastern coastal province of Zhejiang sits a 354-foot replica of the Eiffel Tower surrounded by 12 square miles of Parisian-style buildings, fountains and landscaping. Although the pastiche town is more than 5,000 miles away from Paris, it was designed to capture France's essence—and to ensure that those who visited it would no longer need to see the real thing.
Tianducheng—also known as "Sky City"—opened its doors to the public as a luxury housing estate in 2007 with capacity to accommodate more than 10,000 residents. But it remained largely unoccupied as Chinese citizens' rejected its bizarre theme and undesirable location.
In 2013, a video surfaced showing the town's long-empty boulevards and Eiffel Tower overgrown with weeds. The footage led to several reports deeming the design a failure and the city a "post-apocalyptic ghost town."
But Sky City isn't the only Chinese town that carries an uncanny familiarity to somewhere else entirely. As the Chinese economy began to boom in the 1990s, duplicating Western architecture became a fad, as citizens increasingly wanted homes that conveyed success and wealth on a global scale. Starting in the early 2000s, "fake" cities and knockoff global cultural landmarks have sprung up in all corners of the country.
In Hebei, two hours north of Beijing, lies a version of Jackson Hole, Wyoming, eerily similar to the American West. The resort town—where wealthy Chinese city inhabitants go for vacation—has a town square, cowboys, a church and Route 66 running through it. In 2001, the Shanghai Planning Commission embarked on the "One City, Nine Towns" project, which aimed to create multiple-themed satellite villages in a bid to alleviate the inner city's growing population.
Thames Town in the Songjiang District looks like a caricature of London's boroughs. Its rowhouse streets are paved with cobblestone, and have red telephone booths, cathedrals, guards dressed in British uniforms and a statue of Winston Churchill. Only an hour's drive east, in Suzhou, is a replica of Tower Bridge, which boasts four towers instead of two.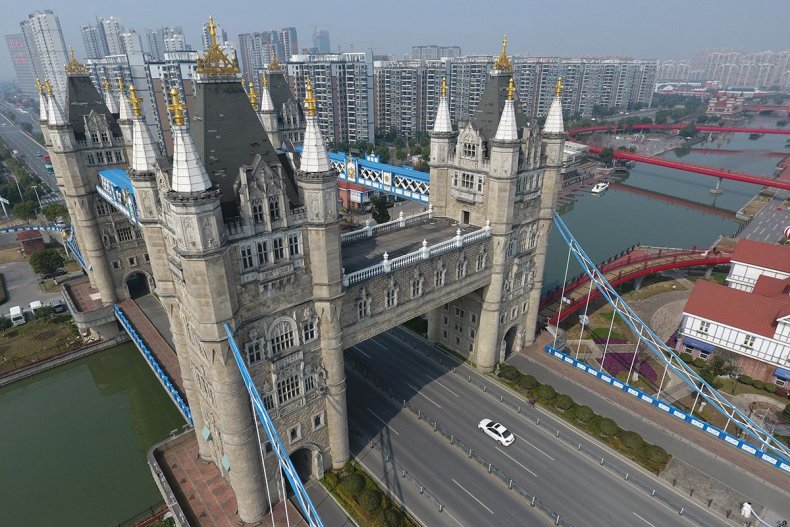 Anthony MacKay, the masterplanner and architect of Thames Town, told Newsweek that he was disappointed with the finished product, calling the entire village "comical."
"It's not how I intended Thames Town to be. It's doesn't look right. I'm angry about it," he said. "They came [to England], took photographs of lots of buildings, went back and copied them… It's like a collection of facades, there's no depth to the buildings."
Thames Town and the other eight cities modeled after the West's greatest architectural hits function both as housing estates and tourist attractions for those who can't make it to the real thing.
Chinese families who can't afford to travel to the Parthenon in Greece can instead visit Lanzhou in Gansu to see a copy. Other famous landmarks have also been erected all across China, including Washington D.C.'s White House, Rome's Colosseum and Egypt's Great Sphinx of Giza.
In Pictures: China's 'Fake' Cities—and the Places They've Copied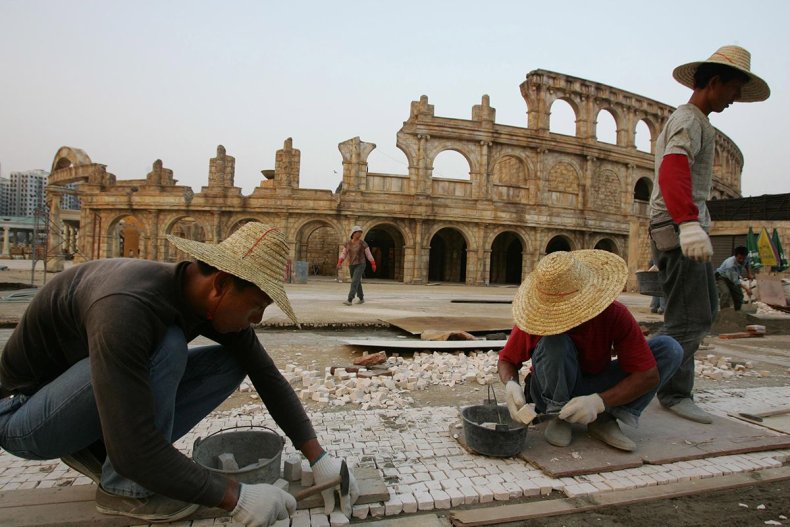 In recent years, Beijing's attempts to limit the spread of these "weird, oversized and xenocentric" architectures have been in vain. In 2016, China's State Council released a document that required all new buildings to be "suitable, economic, green and pleasing to the eye."
President Xi Jinping, who initially called for the end of "weird architecture," spearheaded the directive after the rapid expansion of Chinese cities and increased urbanization resulted in a surge of strange buildings, including doughnut-shaped skyscrapers and a phallic-shaped high rise.
Although the order was not aimed specifically at pastiche buildings, they were included in the directive. "Fine art works should be like sunshine from the blue sky and the breeze in spring that will inspire minds, warm hearts, cultivate taste and clean up undesirable work styles," Xi said. The order also banned gated communities and nonpermitted developments.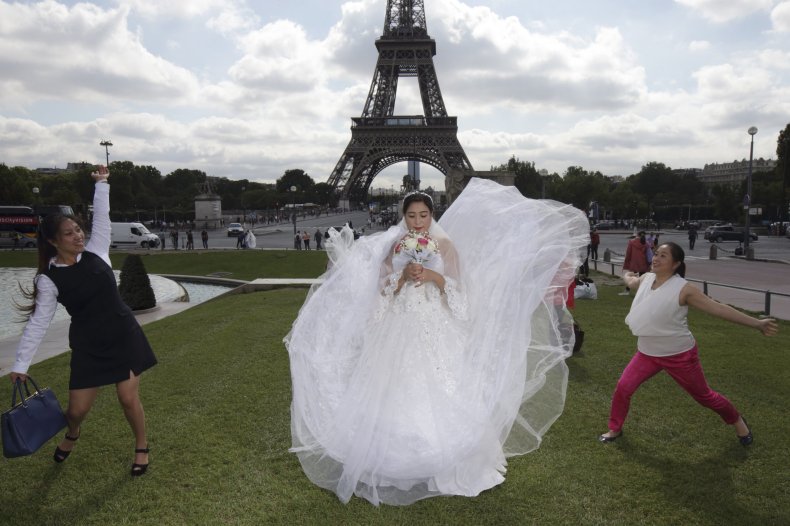 Xi's criticism of excessive architecture has since influenced local governments' decisions when granting consent for buildings. "Generally speaking, local governments now tend to approve more conservative designs," Feng Guochuan, a Shenzhen architect told the The New York Times.
Despite the nationwide crackdown, William Shakespeare's historic hometown Stratford-upon-Avon is currently still being recreated as part of a new tourist town called San Weng, in Jiangxi province.
"China's rising middle and upper class are exploring the world, but its still expensive and difficult. For many Chinese citizens, a visit to the Paris replica in Hangzhou is the next best thing," Bianca Bosker, an American journalist and novelist, told Newsweek.
"These are not just theme parks, some of them do double duty as both home and tourist attraction, which is not so different from the real Paris or Rome."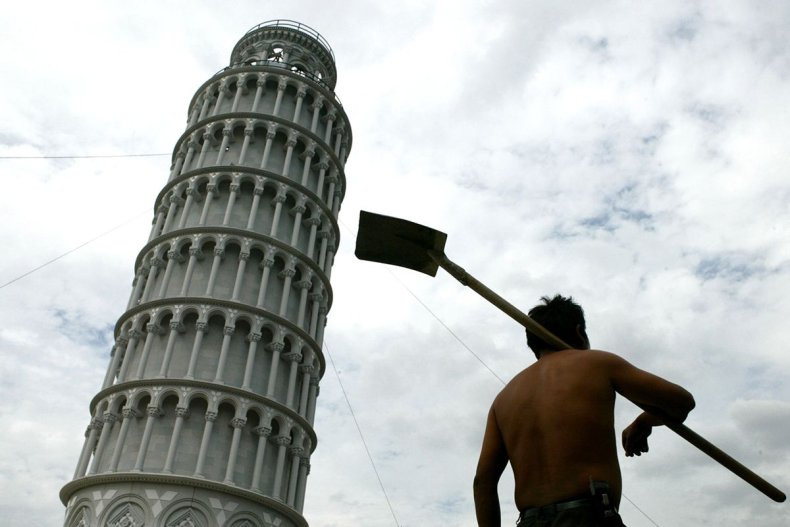 In 2013, Bosker published the book Original Copies: Architectural Mimicry in Contemporary China, which presented the first definitive chronicle of Chinese "duplitecture," a word she coined to describe the phenomenon. While researching the book, Bosker traveled to multiple locations in China in a bid to better understand why the world's most populous country was appropriating historical Western architecture.
"For those people who haven't been to Sky City, when you step foot in these duplitecture communities, it feels as though you've been transported thousands of miles away," Bosker recalled. "The smell of the air changes. There's such a close attention to detail."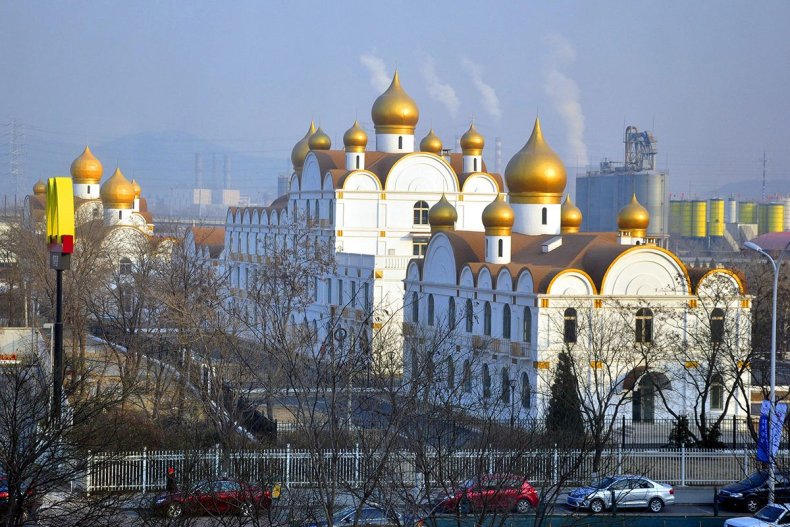 Although Tianducheng may look like Paris, the city is still culturally Chinese and isn't as well maintained as the French capital. "French-style" bakeries sell taro, salted egg and red bean treats rather than Parisian baguettes, the fountains are dry, and smog clouds the air.
"I think [the city is] a little strange. I live here because it's cheap. In Hangzhou, this is very, very cheap," Rachel Ni, a resident, told ABC News in 2016. "The environment is good, especially for the baby."
While some homebuyers found Tianducheng too weird and inconvenient, other towns located closer to main cities have sold much better. According to a Nightline report, one highly sought-after home in China's Jackson Hole sold for $2 million because of its close proximity to Beijing.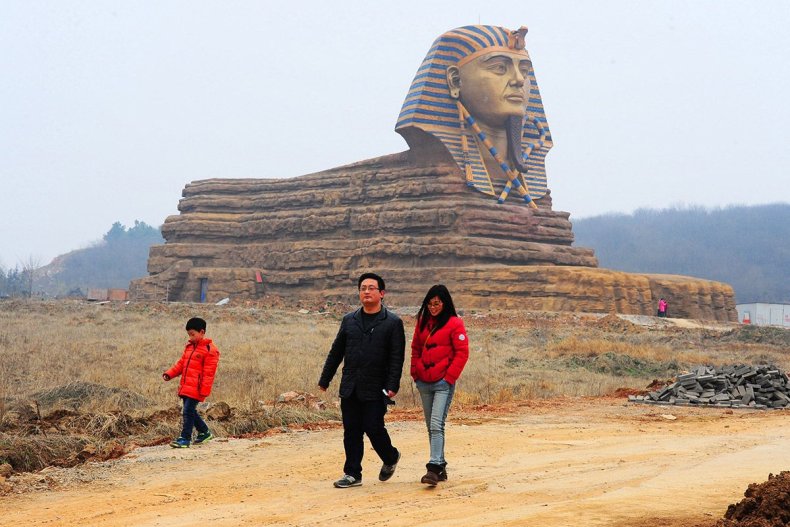 In recent years, as more people moved into Tianducheng, the city has been transformed from a ghost town to a normal place where people live. Nowadays, most of the parking spots are occupied, couples stroll its streets in the evenings, and beneath the faux Eiffel tower, tourists and wedding parties can be seen posing for photos throughout the day, every day.
After spending years trying to figure out the reason behind China's obsession with duplitecture, Bosker and MacKay have only ended up with more questions.
"Maybe it doesn't actually matter that much because they are so clearly a pastiche it's almost comical," MacKay said. "If the people are happy to go there and walk around and have a drink. That's OK."