As millions of Americans continue to seek coronavirus tests, authorities warned that fake at-home testing kits are being sold online on Tuesday.
The Federal Trade Commission warned that the fake tests are not only a waste of money, but increase the chance of unknowingly spreading the virus and not getting the correct treatment, saying some "opportunistic scammers" are taking "advantage of the spike in demand."
The FTC offered some tips to help people avoid purchasing the fake tests in a statement Tuesday.
They recommend buyers double check the test is authorized by the Food and Drug Administration by seeing if it is on their list of antigen diagnostic tests and molecular diagnostic tests before purchasing.
People should also research the seller before buying from a website they do not know about, according to the statement.
"Search online for the website, company, or seller's name plus words like 'scam,' 'complaint,' or 'review,'" the statement said.
The FTC also suggested that people compare online reviews from a wide variety of websites.
"You can get a good idea about a company, product, or service from reading user reviews on various retail or shopping comparison sites. Think about the source of the review. Ask yourself: Where is this review coming from? Is it from an expert organization or individual customers?" the FTC said.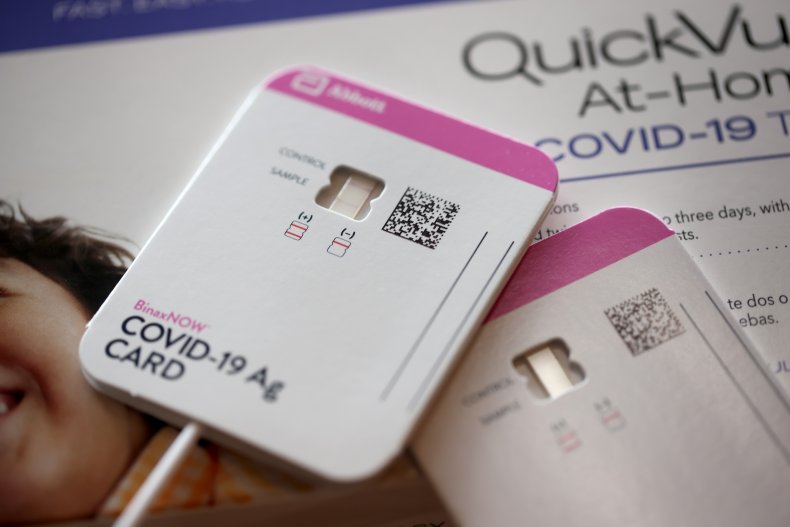 Buyers should also pay with a credit card and contact the credit card company to dispute the charge if they never receive the test, according to the FTC.
Anyone who suspects a scam seller or a bogus test can report it to the FTC by going to ReportFraud.ftc.gov.
Coronavirus cases across the United States have soared in recent weeks due to the Omicron variant. On Monday, the United States reported a daily average of 486,658 new cases per day, up from 153,425 one month earlier, according to data from The New York Times.
The increased number of cases has amounted to an increased demand for testing. The United States is conducting an average of 1.7 million cases per day, according to the Times.
The demand for testing has seen other scams and fraudulent testing emerge. On Monday, the Philadelphia Department of Public Health warned residents to avoid unauthorized pop-up testing tents after receiving reports of two sites that falsely claimed to be funded by FEMA.
Last week in Florida, a man reported to police that he was offered a fake COVID test by someone posing as staff at a legitimate testing site. Police warned about potential scammers "giving online links asking for personal info."
Uncommon Knowledge
Newsweek is committed to challenging conventional wisdom and finding connections in the search for common ground.
Newsweek is committed to challenging conventional wisdom and finding connections in the search for common ground.
About the writer
Andrew Stanton is a Newsweek weekend reporter based in Maine. His role is reporting on U.S. politics and social issues. Andrew joined Newsweek in 2021 from The Boston Globe. He is a graduate of Emerson College. You can get in touch with Andrew by emailing a.stanton@newsweek.com. Languages: English.