Canadian Man Accused Of Unauthorized Horse Dentistry: 'A Display of Lawless Bravado'
A Canadian man is facing a lifetime ban on practicing veterinary medicine after accusations he's been performing unauthorized horse dentistry.
The Manitoba Veterinary Medical Association (MVMA) is seeking a permanent injunction against Kelvin Brent Asham, accused of treating horses—including giving one horse a sedative—without veterinary certification.
An investigator described Asham's actions as "a display of lawless bravado," according to court documents.
The MVMA says it's been trying to stop Asham for the past three years: It first became aware of his activities in 2015, when a complaint was filed about a 16-year-old gelding he had treated. Asham sedated the horse, filed down its teeth—a process known as "floating"—pulled one tooth and tried to extract another.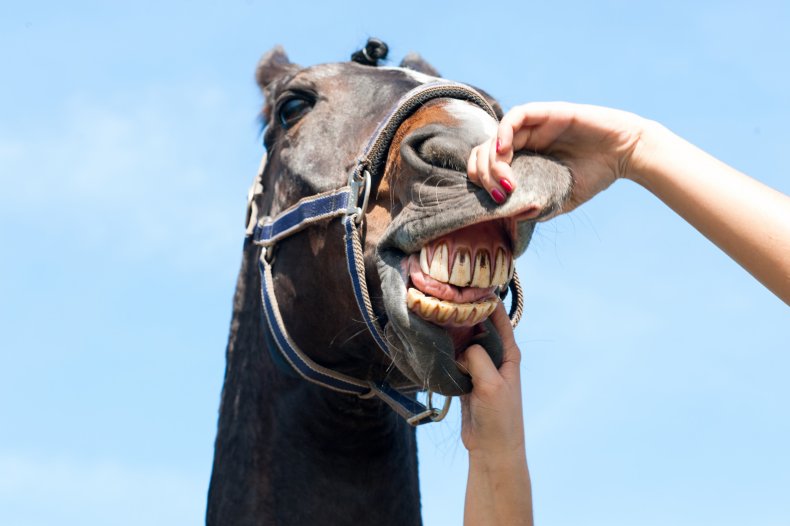 Leon Flannigan, an animal protection officer in Manitoba, investigated the claims and determined the horse had suffered "irreparable damage." In an affidavit, Flannigan said he'd met with Asham in 2016 at a Tim Horton's donut shop in Selkirk. Asham allegedly told Flannigan he'd been floating horse teeth since 1996 and had performed the procedure on four other horses owned by the same person as the gelding.
Asham also told Flannigan that most vets float teeth improperly, and that he had different tools than vets use. "Off the record, I do thousands of horses," Asham allegedly told Flannigan. "I do a good job. I am willing to fight this in court."
This incident caused the MVMA to send Asham a cease-and-desist letter in 2017, as he is not a licensed veterinarian.
But last year, the MVMA found out that Asham was still working as a equine dentist and was recommended on Facebook. The MVMA hired private investigator Russ Waugh to go undercover and try to hire Asham.
According to Waugh's affidavit, Asham told him the horse Waugh brought in could be treated for $200 CAD (about $150), the average price for floating teeth. After the investigation, the MVMA filed suit against Asham, asking a judge to ban Asham from acting as a vet.
"By engaging in the unauthorized practice of veterinary medicine, the respondent effectively declares himself to be outside the law," writes Robert Dawson, an attorney for the association.
This isn't Asham's first run-in with the law: In December 2001, the then-37-year-old was arrested after admitting to carrying 10 one-kilogram bricks of cocaine in his truck. Asham and Barry Vaughan Hancock, who was also in the truck when it was pulled over, were each charged with possession of cocaine for the purposes of trafficking.
At the time, Hancock was an equine dentist.