Fake Legs Covered in Blood Left By Shark Attack Memorial: 'It is Absolutely Depraved'
Disturbing additions to a memorial for the victim of a fatal shark attack have attracted police attention in Wellfleet, Massachusetts.
Three wooden legs have appeared at the site over the past few months, local law enforcement told The Cape Cod Times. The memorial is dedicated to Arthur Medici, who died last September.
The first fake leg was thrown away by public works employees in March. But the second, which was bolted to a fence in June, is being stored by police. The leg had a tag around the ankle that read "RIP."
A third fake leg, secured to a cooler apparently filled with cement, had a bloody cut across the thigh, with a trail of red leading down to the ankle.
Visitors were shocked by the additions to the memorial, which is marked by a stone that reads "Arthur Medici, 7/8/92 - 9/15/18 Shred In Heaven RIP." Mourners typically leave flowers and keepsakes like shells, flip flops and bodyboards at the site.
Vacationer Fran Conroy told NBC New York: "It is absolutely depraved. This is a very raw memory." Visitor Ava Schneider added: "If you see that you get creeped out…you should have some respect."
Local police told the station they were investigating the legs, but aren't sure if any laws have actually been broken. Police chief Ronald Fisette told The Times he didn't yet have enough information to make any charges. "It's not destruction," he added.
Lieutenant Michael Hurley told Boston.com: "It's hard for us to make any type of educated decision or guesses. To be honest, what criminal charge would even be there at the moment?"
A shark attacked Medici while he was boogie boarding last September near Newcomb Hollow Beach. Witnesses said the animal bit Medici before letting him go. But it was too late for the boarder from Revere, who was later pronounced dead at Cape Cod Hospital in Hyannis.
A doctor who was present at the scene said Medici died before reaching the beach, the Times noted. At the time, reports indicated he quickly bled out after being bitten in the leg.
Fatal shark attacks are incredibly rare in the state, with Medici's being the first such death recorded in 82 years.
Cape Cod officials are working to make beaches safer as great white sharks hunt the region's booming seal population.
At a meeting on Wednesday, Barnstable County Commissioners heard suggestions such as new audio alert systems and the removal of seal protections, The Boston Herald reported.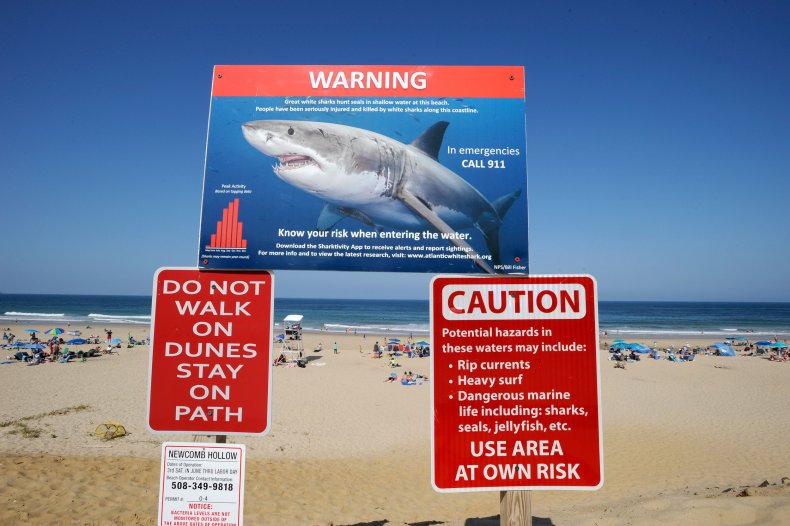 Fake Legs Covered in Blood Left By Shark Attack Memorial: 'It is Absolutely Depraved' | News