Police Seize Hundreds of Fake McDonald's Free Coffee Stickers From Man Arrested for Alleged Drug-driving
A man who was stopped by police for allegedly driving under the influence of drugs was also punished for trying to scam McDonald's after officers found he had several sheets of counterfeit coffee stickers in his car.
The man, who has not been identified, was stopped by officers from West Yorkshire Police in Bradford, U.K., on Sunday.
He was being held by officers from the Steerside Enforcement Team, which deals with anti-social and criminal use of the roads in Bradford, after being arrested on suspicion of drug-driving, police said.
But police said he was also "dealt with" for a fraud offense after "multiple sheets" of fake McDonald's coffee stickers were found in his vehicle.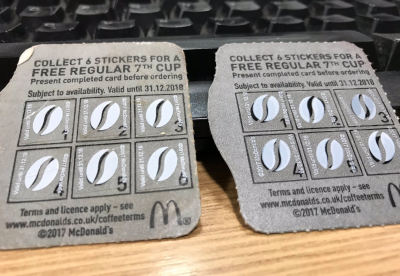 Police said the man was trying to defraud the fast food chain which has a loyalty scheme that rewards customers with a free hot beverage after they have collected six stickers.
"Male arrested for drug driving in @WYP_BradfordS also dealt with for a fraud offence when multiple sheets of fake @McDonaldsUK coffee stickers were found in his vehicle," the Steerside Enforcement Team wrote on Twitter.
"It may seem inconsequential, but it is illegal to cheat a company like this. Just pay for your coffee!" it added, alongside a picture of the counterfeit stickers.
West Yorkshire Police confirmed the man was given a "community resolution" for fraud in connection with the counterfeit McDonald's stickers, the BBC reported.
He will appear in court at a later date after also being arrested on suspicion of drug-driving. West Yorkshire Police have been contacted for additional comment.
McDonald's said anyone trying to use fake stickers will not receive a free drink. In a statement to Newsweek, a McDonald's spokesperson said: "Anyone attempting to use what our restaurant teams believe to be counterfeit stickers will be declined their free coffee."
In the terms and conditions of the McCafé Loyalty Card outlined on the McDonald's website, the company says any stickers that appear to be fake will be "invalid for all purposes" and will be retained by the restaurant.
"Any Sticker or Loyalty Card which appears in the absolute discretion of a McDonald's restaurant to be photocopied, counterfeit, illegible, stolen or damaged or on which any security device has been tampered with or affected will be invalid for all purposes and will be retained by that restaurant," it said.