Fake News: Archaeologists Unearth Rare, Magnificent Sphinx Head.... From a Movie Set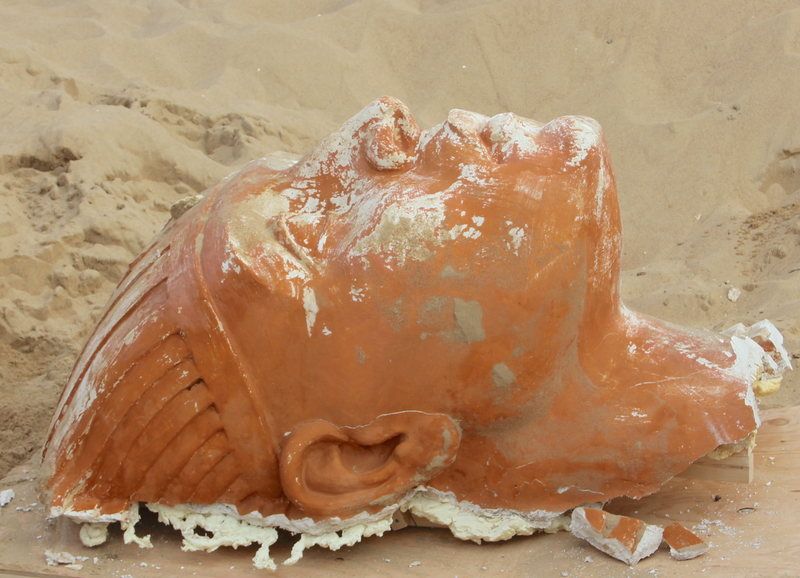 Archaeologists excavating the Guadalupe-Nipomo Dunes in California unearthed a magnificent sphinx head dating all the way back to…1923.
Ninety-five years ago, Hollywood director Cecil B. DeMille oversaw the construction of a lavish Egyptian set for his high-concept (and high-budget) three-hour silent film The Ten Commandments. As Atlas Obscura reported, the 800-foot-wide set comprised temple gates more than 100 feet high, not to mention 21 massive sphinxes. So extravagant was the whole thing that when the movie was finished shooting, it defied all conventional ideas for what exactly to do with it, which is when the story gets very meta, very quickly.
Like actual ancient archaeological treasures, the sphinx head was too big and too expensive to move. Yet it was also too big and too expensive to leave, lest it be looted (by rival studios). So DeMille and his production team buried it.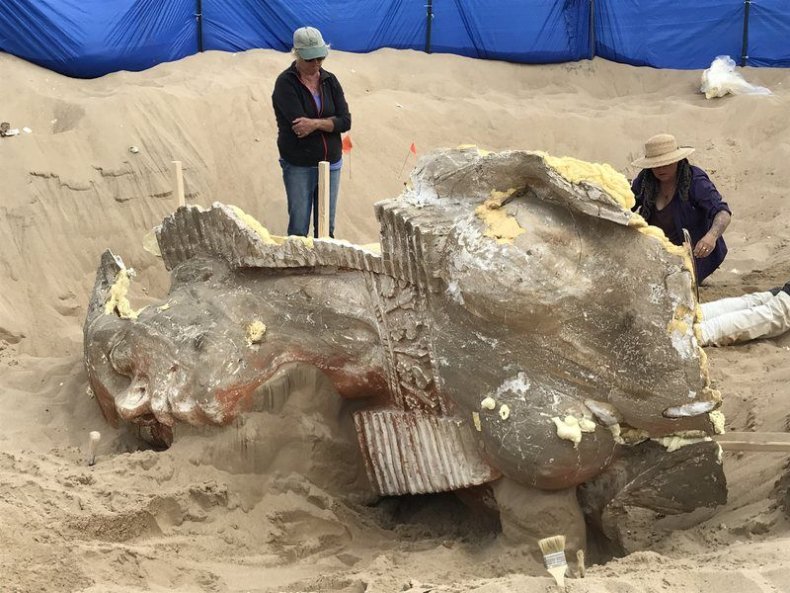 "If 1,000 years from now, archaeologists happen to dig beneath the sands of Guadalupe," DeMille wrote in his 1959 autobiography, according to the Washington Post, "I hope they will not rush into print with the amazing news that Egyptian civilization, far from being confined to the Valley of the Nile, extended all the way to the Pacific Ocean of North America."
For decades, the set seemed to have simply vanished into the desert. In recent years, bits and pieces—in the case of this sphinx head, very large bits and pieces—have been recovered. Researchers need funding and permits and restoration artists, just like they would if they were excavating artifacts that were, you know, more than one century old. The sphinx should be unveiled to the public in the summer of 2018.
"The piece is unlike anything found on previous digs," Doug Jenzen, executive director of the Dunes Center, one of the various collaborators working on the excavation, said in a statement. "The majority of it is preserved by sand with the original paint still intact. This is significant and shows that we're still learning unexpected facets [of] historical movie production, such as the fact that objects in black-and-white films were actually painted extremely intense colors."
The Ten Commandments was a behemoth of a movie, both in budget ($1 million, the equivalent of about $31 million today, according to Atlas Obscura) and running time (three hours). DeMille was probably not being exactly serious when he wrote about his movie set being taken for an actual lost civilization, but fake archaeology does have its own long history.
Medieval churches used to feature bones purportedly belonging to giants or to Jesus (though they did not). According to Popular Mechanics, everything from fraudulent human skulls to river tracks to flies preserved in amber has been passed off as an exciting discovery at one point or another.
The crystal skulls the fourth installment of the Indiana Jones franchise—Indiana Jones and the Kingdom of the Crystal Skull—refers to are real, or rather they're real in the sense that they refer to a real-life fraud. They were not, as the movie claimed, made by aliens. Just human forgers from Earth, according to LiveScience.