Trump's Fake News Awards: Newsweek Clinches 8th Place, But The President Misses Even More Critical and Longer Stories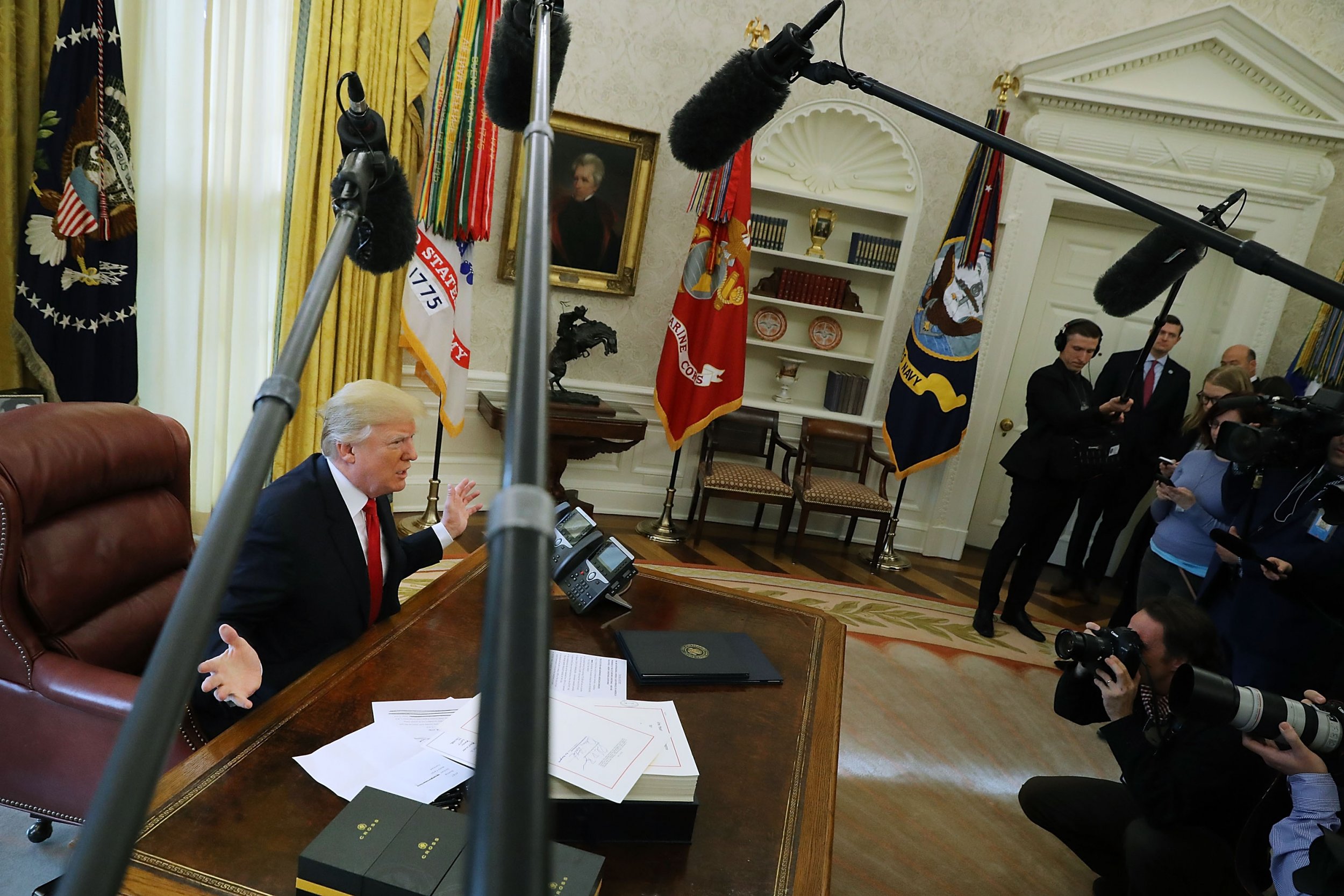 The White House sure put one over on that old mainstream media—and everyone else—this time.
President Donald Trump's "highly anticipated Fake News Awards" hit the web Wednesday night with plenty of interest—so much, in fact, that it initially crashed its page.
The president had built up the "anticipation" by at least once postponing his bestowal of laurels to news organizations.
He finally tweeted out a link to the "results" at 8 p.m. Wednesday—and promptly derailed the entire program.
Get your unlimited Newsweek trial >
The awards link, while it lasted, led not to a White House site (understandable, considering ethics restrictions on federal government employee attacks on a free press) but to the Republican National Committee.
That page quickly went under with an apology: "The site is temporarily offline, we are working to bring it back up. Please try back later" — and didn't at first seem to even offer a Hall of Fame.
Some early viewers who used a cached link to the site got an RNC poll asking them to weigh in on who they'd crown their best-loved (ok, hated) news source—and, naturally, provide the Republican party with their contact information.
Get your unlimited Newsweek trial >
When the results ultimately emerged, Newsweek placed eighth, with "honors" for, in the words of the awards page, having "FALSELY reported that Polish First Lady Agata Kornhauser-Duda did not shake President Trump's hand." Despite the RNC's claim, a video clearly shows that he was ignored for the initial handshake.
The administration clearly had plenty of critical Newsweek coverage to consider in its "nomination" process, potentially making the choice challenging.
The contest judges (or judge, perhaps) apparently passed up an attention-grabbing Newsweek cover analysis from over the summer which questioned what, if anything, the freshman president had accomplished in his first year on the job besides watching TV and golfing.
Also unmentioned: A 2016 Newsweek investigation of how the Trump Organization's overseas business ties could harm U.S. national security.
And just hours before the big announcement, Newsweek pointed out—seemingly unnoticed by "contest judges"—that the Secret Service spent more than $26,000 to rent tents, generator and lights ahead of Trump's big New Year's Eve party at his for-profit Florida estate and club, Mar-a-Lago.
Much as he once said Mexico was sending the U.S. drug dealers and rapists, but "some, I assume, are good people," Trump later conceded that possibly not all media outlets are on a high-speed train to hell.
Other Wednesday honorees included the New York Times, the Washington Post and CNN, the last of which the GOP page indignantly said "FALSELY edited a video to make it appear President Trump defiantly overfed fish during a visit with the Japanese prime minister. Japanese prime minister actually led the way with the feeding."
Critics, meanwhile, pounced on the irony of Trump's decision to call out the "fake news" media while frequently being questioned about the strength of his own relationship with the truth.
Former White House ethics czar Norm Eisen teed up the "Golden Pinocchio" award for Trump's biggest whopper of 2017, while the progressive American Bridge political action committee spoofed Trump's awards with the "Corrupties." In response to Trump's Fake News Awards announcement, the Committee to Protect Journalists hosted the Press Oppressors Awards last week, when Trump became the winner of the award for "Overall Achievement in Undermining Global Press Freedom."
Trump's Fake News Awards: Newsweek Clinches 8th Place, But The President Misses Even More Critical and Longer Stories | U.S.