As France and Germany Gear Up for Elections, the Fight Against Fake News Begins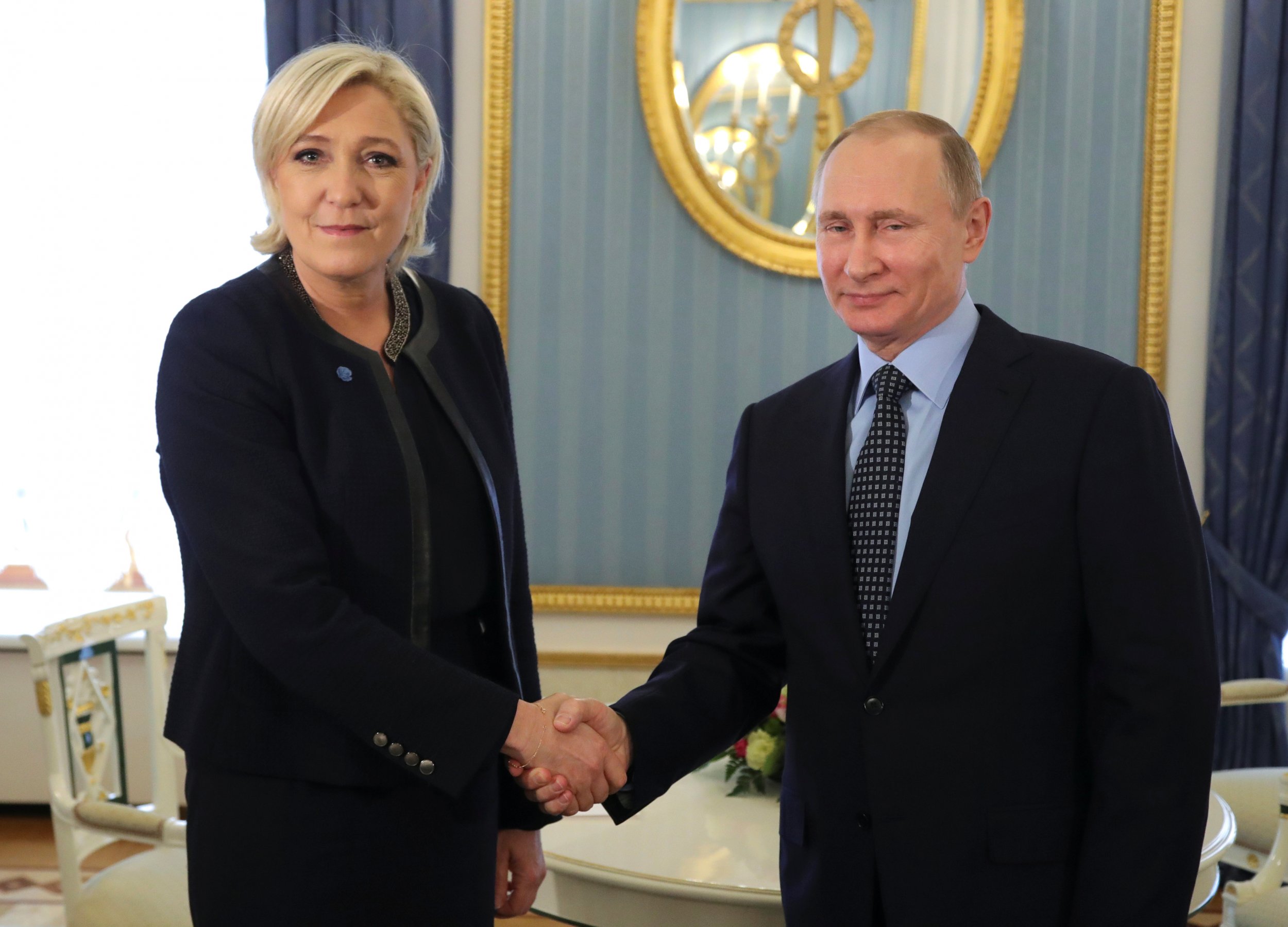 Russian President Vladimir Putin was speaking on the closing panel of the fourth Arctic Forum in the Russian city of Arkhangelsk on Thursday when he was asked a question unrelated to the challenges facing the region. Beginning to smile, the panel's moderator, CNBC's Geoff Cutmore, asked: "I just want to be very clear about this, you and the Russian government did never try to influence the outcome of the U.S. presidential election, and there will be no evidence found?"
To laughter and applause from the audience, Putin replied: "Read my lips—no! " He uttered the last word in English, pointing at his mouth for emphasis and bulging his eyes at Cutmore. Then, evidently satisfied with his answer, he leaned back slightly as the panel moved on.
In the German city of Essen, David Schraven wasn't laughing. The founder of Correctiv, Germany's first non-profit investigative newsroom, was deeply concerned about Russian interference ahead of Germany's federal elections on September 24. In that election, German Chancellor Angela Merkel, praised by many in Europe as the last hopes for Western liberalism, will run for a fourth term as leader.
He may have reason to be. On Wednesday, Richard Burr, the Republican chairman of the American Senate Intelligence Committee warned that Russia was likely acting to disrupt the upcoming elections in France—set for April 23 and May 7—and Germany. "What was a very covert effort [to interfere] in 2016 in the U.S., is a very overt effort, as well as covert, in Germany and France," Burr said during a press conference. (Russia has repeatedly denied all allegations of election interference.)
Read more: How to fight the weaponization of fake news
Tech firms and news organizations in both France and Germany seem to agree with Burr. They are determined that both countries' elections will not be shaped by the same forces that influenced the U.S. presidential elections. During an unusually bitter campaign, fake news flooded social media channels and websites, with Facebook and Google coming under heavy criticism for not doing more to combat it. Among the more lurid stories was a report saying that Pope Francis had endorsed Donald Trump for president and that police had found an FBI agent linked to Hillary Clinton's email leaks dead in an apparent murder-suicide.
The number of fake news stories in Germany has already increased though the country's elections are still six months away. Schaven and his team suspect that Russia may be behind some of the fake news clogging up social media sites ahead of the German elections. Far-right groups and other extremist actors, he says, are likely behind the rest. Fortunately, Correctiv has a plan to combat this.
In the week beginning April 3, in partnership with Facebook, it will roll out a tool that allows German Facebook users to flag a story that they believe to be false. Correctiv's team will then check the story and if it's inaccurate, the article—thanks to Facebook's news algorithm—will appear lower down on users' news feeds. Facebook will also mark the story as "disputed," and include an explanation about what's wrong with the article. Facebook account holders will then receive a warning if they try to share the piece.
Correctiv, which also has a small newsroom dedicated to debunking fake news, is hoping that this new project with Facebook will open them up to a far larger audience. French news outlets are already testing that theory.
On February 27, First Draft News, a British organization dedicated to improving standards in the reporting and sharing of online information, launched CrossCheck, a platform focused on clearing up misinformation around the French election campaign.
Members of the public can submit questions to the site about news stories they find worrying and First Draft's partners—which include Newsweek's sister publication the International Business Times, L'Express, Euronews and Facebook and Google's News Lab—will fact check them. Already, CrossCheck's website has nine pages of posts it has checked, with each page containing several disputed articles.
As part of its work with CrossCheck, Facebook helps the site to reach Facebook users and inform them about the work it's doing. As with Germany, Facebook also has a tool for French users to report fake news on the platform. Local news organizations, including AFP, Libération and Le Monde, have teamed up with the social media giant to act as its fact-checkers.
Le Monde, however, has been in the debunking game since 2009. That year, it began publishing a fact-checking blog called Les Décodeurs, which scrutinized politicians' speeches and interviews for inaccuracies.
By 2014, however, the blog had migrated to its own website and had begun working on larger pieces of data journalism. "It grown into a really huge thing," says Adrien Sénécat, one of Les Décodeurs' journalists. "The internet is like the Wild West; there are a lot of people hitting out against the mainstream media, saying that they are fake news."
Ahead of the elections, Les Décodeurs has created a Facebook bot that allows users to check the veracity of stories they are concerned about. Through the platform's instant messaging tool, users can send the bot links to stories they are uncertain about. The bot can also reply with articles about how to check the veracity of online information. Les Décodeurs has also launched Google Chrome and Firefox plugins that will alert readers if a story they are reading is true or false.
Le Monde is not the only newsroom with its own fact-checking services, says Jenni Sargent, the managing director of First Draft News. Journalists from France24, Franceinfo, BuzzFeed and Deutsche Welle all deserve credit, she says, for their own independent fact-checking efforts.
But as the U.S. election showed, inaccurate and misleading information is easy to find on the internet—and even easier to share. Organizations hoping to suppress it know they have a difficult fight ahead.