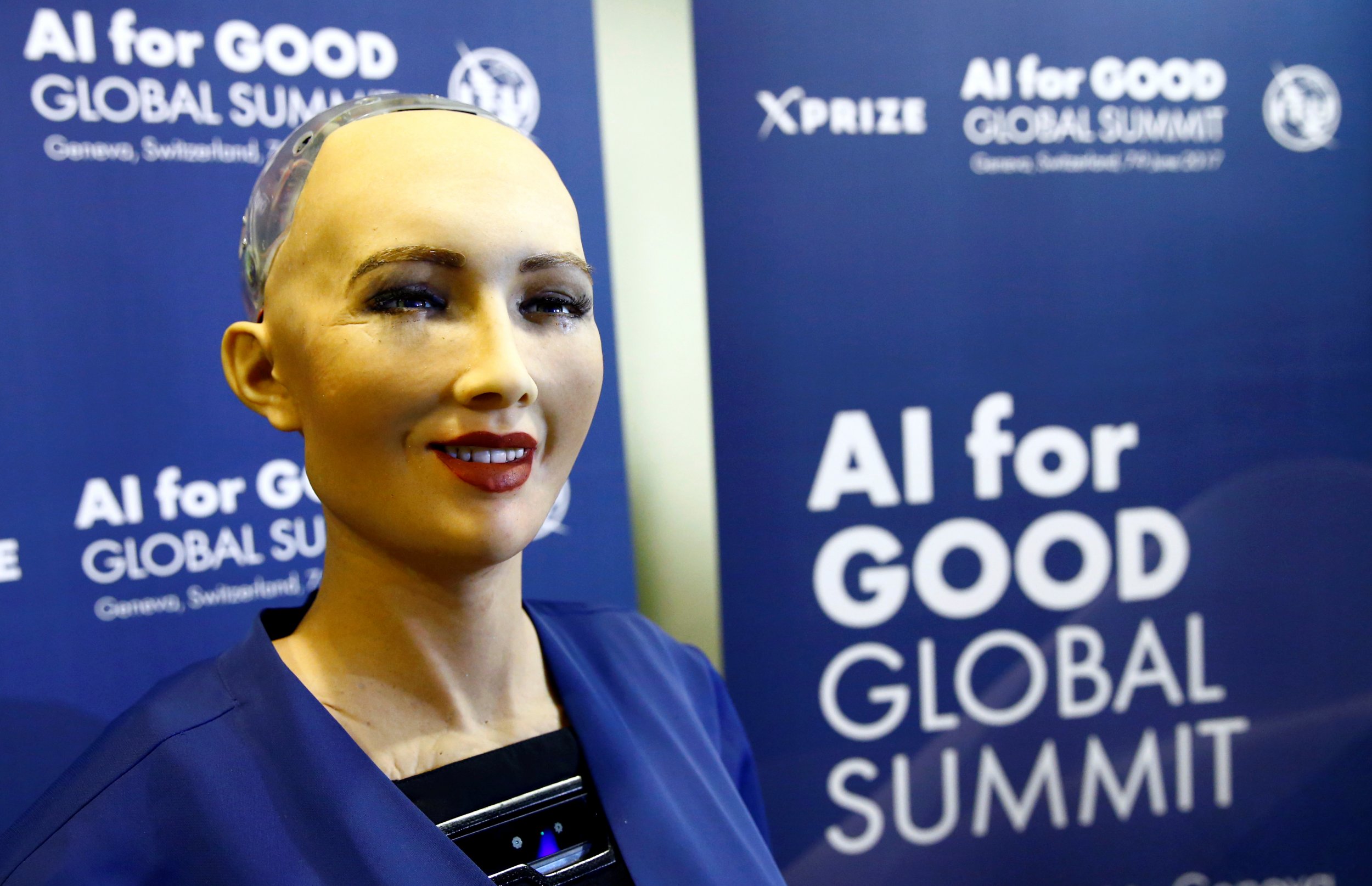 A satirical article claiming that Saudi Arabia beheaded its first and only robot citizen, a talking wonder of artificial intelligence named Sophia, went viral when readers failed to realize that the article was a joke.
Saudi Arabia granted citizenship to Sophia during a conference held for wealthy investors in October. The move was instantly criticized as a publicity stunt, and social media users pointed out that a human resembling Sophia wouldn't be eligible for citizenship in the conservative Sunni Muslim nation.
Running with that sentiment, the satirical website Duffel Blog published an article claiming that Sophia had been beheaded for "strutting around the city without a male escort, without a hijab, fluttering her plastic eyelashes at married men while expressing opinions of her own.
"The number of robot citizens in Saudi Arabia was reduced back to zero today after Sophia Robot was beheaded in a public square in Riyadh," the article, which was shared over 120,000 times on social media, reads.
Duffel Blog's website clearly states that it's not meant to be taken seriously. But that didn't stop people on the internet from becoming outraged at the news that the Saudi regime was once again treating a "woman" terribly and committing crimes against its own citizens. Experts say the response demonstrates how quickly people are willing to believe fake news if it confirms their biases.
"This demonstrates similar patterns that we have seen elsewhere in relation to fake news, especially from satirical websites," Harrison Akins, a researcher at the Howard Baker Center, told Newsweek.
"On social media, people have a tendency to look no further than the headlines and respond according to their own pre-conceived ideas and ideological positions."
The reaction on Twitter was uniform.
"Remember #sophiatherobot ? KSA just beheaded the robot. PS: Saudi Arabia previously made Sophia a citizen! #CantMakeThisStuffUp," one Twitter user @MalouElia noted.
"#Sophia the ai robot is a female citizen of saudi arabia which means she may be beheaded for expressing individual intelligence or not bowing to allah every ten minutes," Twitter user @GREGLIONS cried.
"SaudiArabia is 1st nation 2 give robot citizenship. A human is beheaded in Riyadh, a robot will be dismantled 4 breaking laws," @shridutt informed his followers.
The reaction seems ridiculous given how obviously satirical the Duffel Blog is. The article claims that a survey showed "79% of Saudi Arabian men approve of the execution, along with 100% of American men named Elon Musk."
Still, it is possible the joke elicited a strong reaction because many believe that Saudi Arabia is getting increasingly authoritarian. The government recently announced that it would loosen some of its restrictions on women, most notably by allowing women to drive, and that it would pursue a more moderate form of Islam.
But at the same time it cracked down on political dissidents and launched an anti-corruption campaign that most analysts believe is meant to rid the country of the crown prince Mohammad Bin Salman's political rivals. Now the crown prince may also be stoking war with Iran.
In response, some commentators argue Bin Salman, long known colloquially within the intelligence community as "MBS," is consolidating power in the same fashion as Russia's Vladimir Putin.
"Since MBS was empowered by his father, King Salman, in early 2015, Saudi foreign policy has been undergoing a Russia-style transformation embracing a full-on offensive character," Yury Barmin wrote in an op-ed for Al Jazeera.
"The Russian president is arguably the politician who brought realpolitik back into fashion."
Regardless of that, some experts argue that a little satire couldn't hurt Saudi Arabia.
"There is probably an uneasiness about whether we are seeing permanent change. Saudi Arabia is at a crossroads, so for the Saudi people and the rest of the world there is need for some levity," Jonathan Schanzer, senior vice president at Foundation for Defense of Democracies, told Newsweek.
"The argument seems to be binary. Either you are seeing an authoritarian crown prince or a great reformer, but it could be both," Schanzer added.
Either way, Sophia appears to be safe from Bin Salman's power plays for now.