Fake News Story About Chuck Schumer Implodes After Pro-Trump Conspiracy Theorists Claim Source Went Dark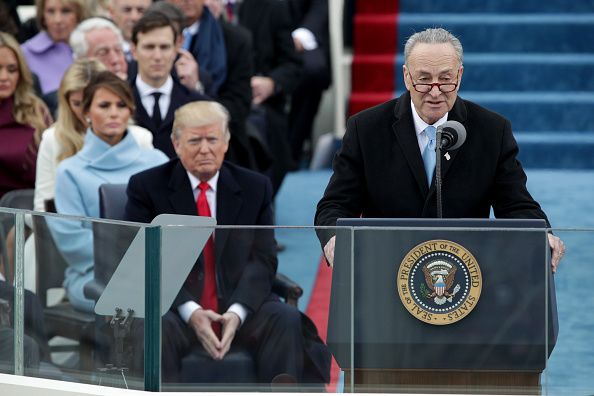 A story that had been teased out seductively on social media as being true abruptly sank into a fiery fake news wreck before ever reaching orbit on Tuesday.
The teasing on Tuesday included a Facebook post: "Michael Cernovich and I are going to end the career of a U.S. Senator," wrote the Trump-supporting proprietor of GotNews.com, Charles C. Johnson.
Cernovich, an ally in the conservative media sphere, took to Twitter to make a similar boast. "I am in possession of a sexual harassment complaint filed against one of Senator Gillibrand's colleagues," the right-wing provocateur wrote on Tuesday, referring to Democratic Senator Kirsten Gillibrand, who has engaged in a verbal back-and-forth with President Donald Trump about long-standing sexual misconduct allegations against the president.
Jack Posobiec, who with Cernovich was involved in pushing the so-called #Pizzagate conspiracy, a fake news story that linked Democrats to a completely made up pedophile ring, wrote on Twitter: "If you thought the media was outraged over the flawless Conyers takedown, wait until [it's] a sitting U.S. Senator." He was referring to Representative John Conyers, who recently stepped down amid sexual misconduct allegations.
By Wednesday morning, however, it became apparent that there would be no takedown of a U.S. senator. Cernovich deleted his tweet, and Johnson wrote on his website that he was offering up a reward in exchange for answers about what went haywire with the promised scoop.
Senate Minority Leader Chuck Schumer's office told Newsweek he was to have been the victim of the fake news story—one purporting to tie him to sexual harassment allegations that never happened. Not only did Johnson and Cernovich have no story to deliver, but the Capitol Police were called in to investigate who exactly was trying to set up Schumer.
The implosion of the nonstory is an example of how volatile the flow of information can be in this "fake news" era. Today's bombshell can rapidly turn into tomorrow's criminal investigation, thanks in part to the insatiable online thirst for headline-making scoops.
"The document is a forged document and every allegation is false," Matt House, Schumer's communications director, said in a statement to Newsweek about a mysterious email that apparently first arrived in Johnson's hands. "We have turned it over to the Capitol Police and asked them to investigate and pursue criminal charges because it is clear the law has been broken. We believe the individual responsible for forging the document should be prosecuted to the fullest extent of the law to prevent other malicious actors from doing the same."
The document House was referring to is actually a series of apparently fake documents and screenshots that appear to tie Schumer to a specific staffer, according to what Johnson forwarded to Newsweek. (The woman in question has denied that the actions alleged by the documents ever took place.)
Johnson said he received the documents on Monday night from an anonymous email address, anon192@protonmail.com. Newsweek has viewed the files, and they unquestionably look genuine at first glance. It also seems likely it took the fabricator more than a few hours to put them together.
Cernovich sent Newsweek forwarded texts that he claimed were sent between Johnson and the source of the files. In them, the person tells an elaborate story about Schumer and praises Johnson and Cernovich for their work. "Lol I love this," Johnson wrote back to the purportedly fake source about the allegations. "Fucking nuts, right?" the person writes back. "This is legit hilarious and awesome," Johnson replies. Both Johnson and Cernovich told Newsweek they had no role in forging the documents.
"After communicating with the source through encrypted email and texts, the source went dark," Johnson, who has been frequently accused of pushing conspiracies about such matters as Barack Obama's sexuality, told Newsweek. "I sent the document to multiple journalists, lawyers and members of Congress, all of whom agreed that it should be investigated."
One of those journalists was Cernovich, who last month fed BuzzFeeda story about sexual misconduct allegations surrounding Conyers. But Cernovich has also pushed numerous fake news stories that have smeared innocent people with baseless pedophilia allegations during his rise to media fame—which has been wedded in part to the rise of Trump, whom he supported for president throughout 2016. Cernovich told Newsweek he initially looked at the documents and screenshots and believed they were real.
"I thought I had something big, dude," he said over the phone about why he promoted the fake story on social media before it was formally vetted. "I spent the whole day chasing it down before I realized it was a hoax."
Asked who might have been responsible for sending the information, Cernovich posited that it could have been "4chan," referring to an image-board site from which many far-right conspiracies originate, or the "alt-left." Cernovich stressed to Newsweek that he never mentioned Schumer by name while teasing the fake story. He also stressed that other media outlets and personalities investigated the tip. (Other than Cernovich, Johnson and Posobiec, however, no media personalities bragged about it on social media.)
Critics of Cernovich, who point to his history of spreading fake news like #Pizzagate, pounced on his deleted tweets, calling them further evidence of the degree to which he could not be trusted as a source.
"Mike Cernovich [is] desperate for a win," Sam Seder, an MSNBC contributor, wrote on Twitter. "Reporters should keep in mind, among other things, this guy is simply not a credible source." Seder was fired from his position at MSNBC earlier this month after Cernovich dug up an old tweet of his and encouraged a calling campaign to get him ousted. Seder was rehired after Cernovich critics complained to MSNBC about the firing.
A petition is circulating around Twitter urging Jack Dorsey, the company's co-founder and CEO, to ban Cernovich from the social media platform, in part for spreading stories like #Pizzagate, which was believed to be the impetus for a North Carolina man traveling to a D.C. pizzeria in late 2016 and firing off an AR-15 rifle. The petition also accuses Cernovich of "weaponizing" the platform to target people he doesn't like with harassment.
One of those people is video satirist Vic Berger, whom Cernovich falsely insinuated was a pedophile in 2016, leading to what Berger said was a flood of death threats. Berger has publically criticized Cernovich and Posobiec for promoting fake stories on social media, which he has argued is dangerous.
"Cernovich and Posobiec are not journalists," Berger told Newsweek about the fake story surrounding Schumer. "They are harassers out to cause harm to people they don't like. They have a long history of wanting people to be punished for things they didn't do."
Newsweek reached out to Posobiec about his role in teasing the fake story about Schumer but did not immediately receive a response. In November, Posobiec, a Trump supporter with a large online presence, posted to his followers a Facebook photo and leaked information about Leigh Corfman, who earlier told The Washington Post that Alabama Senate candidate Roy Moore tried to sleep with her in 1979, when she was a teenager and he was 32. After being accused of "doxing" the woman, potentially putting her life in danger, Posobiec deleted the tweets.
For his part, Johnson was banned from Twitter in 2015 for seeking support to "take out" DeRay McKesson, a Black Lives Matter activist.
Cernovich protested to Newsweek that the depiction of his behavior on social media—which includes insinuating that innocent people were pedophiles, pushing conspiracy theories and apologizing for rape—was unfair, and that he too had been a victim of targeted harassment on the platform.
Newsweek contacted the Capitol Police about Schumer's office reporting the incident but did not immediately receive a response.
Johnson told Newsweek that he was offering a $10,000 reward for information about who sent him the bogus documents. In November, Johnson and Cernovich offered an entirely different kind of reward—$20,000 for credible information detailing sexual harassment allegations against "any sitting United States Senator or swing-district Representative," according to a post on GotNews.com.