Fake News Sites Are Targeting Macedonia's Historic Vote to Determine NATO and EU Membership
Macedonia has a fake news problem, again.
On the rare occasion when people in the U.S. think about Macedonia, the country is synonymous with fake news. News reports in 2016 from the tiny Macedonian city of Veles showed groups of unshaven, hoodie-wearing teenagers cranking out sensational news stories to earn advertising revenue. Hundreds of apolitical youth, facing widespread unemployment and low salaries in Macedonia, had found a way to exploit the political divisions in the U.S. to make a buck—but the story turned out not to be so simple.
In July, a joint investigation by the Organized Crime and Corruption Reporting Network, Buzzfeed and the Investigative Reporting Lab Macedonia, revealed that the fake news boom from Veles had been orchestrated by a Macedonian media lawyer with the assistance of several U.S. political operatives. U.S. law enforcement is reportedly investigating links between Russians, Americans and the fake news sites, according to the report.
Meanwhile, Macedonia is experiencing a new wave of fake news and online propaganda in the run-up to a historic referendum that will be held on September 30. Citizens will be asked to decide whether they want to change the country's name from the Former Yugoslav Republic of Macedonia (FYROM)—as it has been called since it gained independence from Yugoslavia in the 1990s—to the Republic of Northern Macedonia.
The country has been barred from joining the North Atlantic Treaty Organization and the European Union since independence because its larger neighbor, Greece, didn't agree that it should be called Macedonia. It took decades for the political leadership of both countries to agree on the name Northern Macedonia. Now, the country's voters will decide on its political path, voting "yes" or "no" to the question: "Do you support EU and NATO membership by accepting the agreement between Macedonia and Greece?"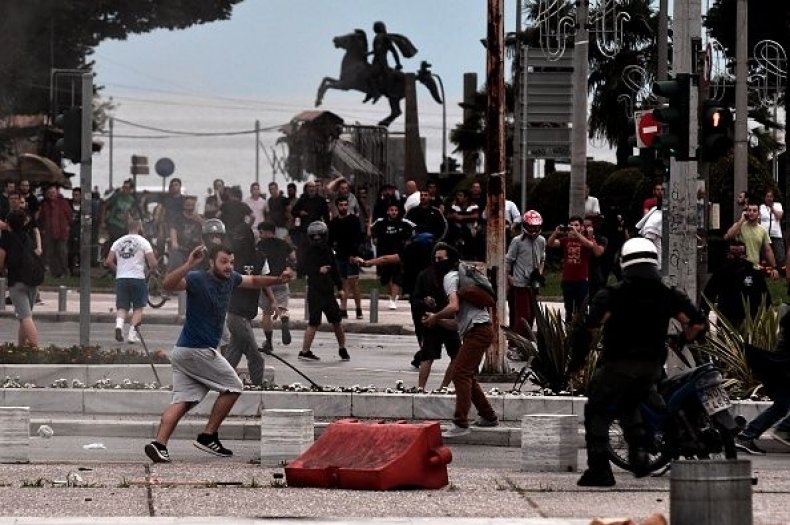 Western leaders have pulled out all the stops to lobby for Macedonia's Western-aligned future. French President Emmanuel Macron, German Chancellor Angela Merkel and U.S. Defense Secretary James Mattis have all urged Macedonians to vote "yes" in the referendum. Around 50 percent of all eligible voters in the country of 1.8 million inhabitants must vote in order for the referendum to be valid.
But in response, opponents of the referendum are using fake social media profiles to urge voters not to support the referendum. "Boycott the referendum...Don't destroy Macedonia," the messages, which have also been promoted on fake news sites, read. Some analysts argued that Russia, which has been vehemently opposed to Macedonia's future NATO membership, may be behind the effort.
"We do not want to see Russia doing there [in Macedonia] what they have tried to do in so many other countries," Mattis told reporters during a recent trip to Macedonia. "No doubt that they have transferred money, and they are also conducting broader influence campaigns."
Macedonia's leadership is split over the referendum. The country's Prime Minister Zoran Zaev—who negotiated the name deal with Greece—is a firm proponent of the country's EU and NATO membership, but Macedonian President Gjorge Ivanov is an opponent. During a trip to meet with members of the Macedonian diaspora in Detroit on Saturday, Ivanov said the referendum would be "harmful and defeating."