Fake Nuclear Attack Warning Sparks Panic in Canadian City Winnipeg
Residents of the Canadian city of Winnipeg were left in a panic on Sunday night as a prankster broadcast a nuclear attack warning message declaring that the city would be destroyed within minutes.
The warning sounded in the downtown neighborhood of Osborne Village warning that an attack had been launched against the U.S. and Canada and urging citizens to flee to nearby fallout shelters, CTV News reported.
The mechanical-sounding voice said six missiles were incoming within the next 15 to 25 minutes, and warned people to stay away from windows and start collecting vital survival supplies. The recording, which police believe was played through a home stereo system, said that Prime Minister Justin Trudeau would address the nation shortly.
Police received several calls before arriving at s suspected broadcast location, at which point the messages stopped. Police believe the audio was taken from an online video, which encourages others to replay the message as a prank, Global News said. Authorities are now attempting to track down the perpetrator.
"This is some jokester who probably thought it would be funny to play this audio and it's unfortunate," said police Constable Jay Murray. "I don't think they probably realized the amount of fear and panic they put into some people and the stress on, not only the police system, but other systems as well."
"I can't imagine if you have someone who thinks this is imminent, what is going through their mind," Murray added, "so it's a matter we take very seriously."
Ron Schuler, Manitoba state's minister responsible for emergency measures, assured Winnipeggers that no official threat was issued on Sunday, and any real alert would be broadcast through radios, televisions or cell phones. "If you are going to be notified, first of all, it is done by the proper channels," Schuler explained. "It's not done by a rusty van with speakers hanging out the side."
The false alarm came just weeks after Canadian residents were connected the the new Alert Ready warning system, allowing them be quickly notified of weather, fire, biological, hazardous, environmental, civil or terrorist events.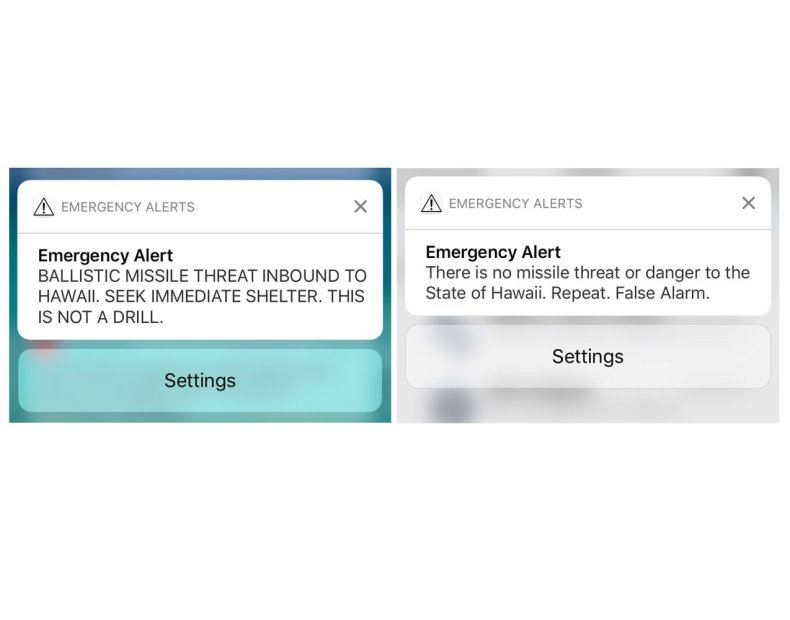 The fake warning has echoes of the accidental nuclear alert sent out in Hawaii in January, warning that a ballistic missile had been launched at the islands. The message was sent to cellphones and broadcast on television stations, before being officially cancelled 38 minutes later.
Coming at a time of high tensions between the U.S. and North Korea, the false warning sparked panic in the islands as residents scrambled for cover, with some even resorting to hiding in storm drains.
The alert was issued when an employee at the Hawaii Emergency Management Agency mistook a drill for a real threat. The anonymous worker said he did not hear the "exercise, exercise, exercise" announcement that followed the drill, and was "100 percent sure" the threat was real. The employee was later fired from the agency after an investigation.
Weeks later, Japanese citizens also received a false alarm warning of a North Korean ballistic missile launch. The accidental alert was quickly canceled with an apology from the broadcaster that sent it out.