Cops Catch Driver Trying to Skirt HOV Lane Rules with Female Dummy: 'She Just Oddly Stared at Us'
California Highway Patrol officers stopped a man this week for driving in the carpool lane with a female mannequin.
The fake passenger was made out of a mannequin head, long brown wig and a bright red Los Angeles Angels sweatshirt stuffed to make it seem more lifelike. Officers nicknamed her "Angel."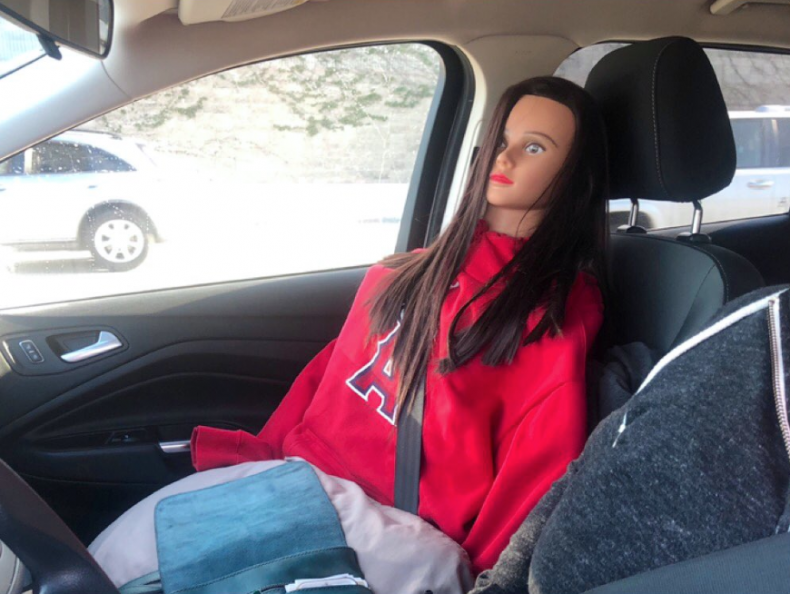 "Angel didn't have much of a personality as a passenger when we met her this morning during our Carpool Enforcement on #hwy4," the Contra Costa California Highway Patrol (CHP) tweeted on Thursday. "She just oddly stared at us while we issued her chauffeur a ticket for carpool violation. #nicetry #mannequin"
The unnamed driver was issued a citation and sent on his way.
Earlier in the week, patrol officers stopped another carpool cheater with a dummy. The offending motorist said he had gotten away with his ruse for two years before being stopped.
Carpool cheaters are a problem on the other side of the country, too: In May, Highway Patrol Officer Andrew Spina of the Suffolk County Police Department was monitoring the Long Island Expressway when he noticed something odd about a 2002 Saturn.
When Spina pulled the car over, he discovered its front passenger was in fact a dummy, complete with sunglasses, blue hat and hoodie. The mannequin was also carrying two water bottles in its lap.
Spina issued 34-year-old James Britt a ticket for violating the rules of the high-occupancy vehicle (HOV) lane.
Of course, motorists have gone further extremes to pass HOV lane requirements: On July 1, a Nevada hearse driver was surprised to learn the corpse he was carrying didn't qualify as a second passenger. "He doesn't count?" he asked the officer who pulled him over. In a tweet, the Nevada Highway Patrol-Southern Command wrote, "I guess we should clarify this, living, breathing people count for the HOV lane."
In Washington state, HOV fraud has gotten so bad that patrol officers have begun to post images of fraudulent passengers. Notable examples included a skeleton, a Trump cutout and a pillow stuffed in a hoodie.