A doctored picture of Parkland shooting survivor and gun control activist Emma Gonzalez that was circulated on social media this weekend appears to be the latest attempt to discredit the March for Our Lives organizers.
Gonzalez was one of the young activists who appeared in a photo shoot for Teen Vogue this month. Photographer Tyler Mitchell proudly shared the pictures he took on Twitter on Friday, one of them showing Gonzalez tearing up a shooting target sign.
Soon afterward, Twitter accounts and bots affiliated with right-wing personalities and platforms began sharing an altered version of the picture that added a sickly skin tone to Gonzalez's complexion and replaced the target shooting sign with the U.S. Constitution.
A short clip showing Gonzalez tearing up the sign while surrounded by gun control activists Jaclyn Corin, Sarah Chadwick and Nza-Ari Khepra was similarly doctored under the guise of "political satire."
The alteration of the image faced widespread criticism. In a Twitter thread, Teen Vogue's chief content officer Phillip Picardi described it as "proof of how democracy continues to be fractured by people who manipulate and fabricate the truth" as he reflected on the catch-22 of giving young people a platform when that same platform exposes them to vitriol.
"The attacks being lobbied against Emma follow the all-too-familiar patterns: she's an opinionated woman, she's Latinx, she is queer. Some say those are strikes already against her when confronting the establishment," Picardi wrote. "From where we stand, these are even more reasons we have to listen to what she's saying and continue our unwavering support. These things don't make her less American—they're exactly what America does mean, especially to young people."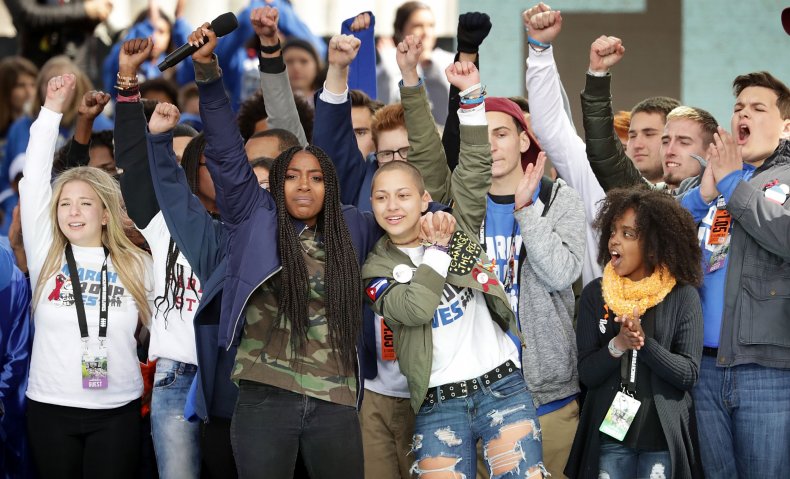 Gonzalez, who described herself as "18, Cuban and bisexual" in the first few lines of an essay published in Harper's Bazaar in February, wore a Cuban flag patch on her arm during her speech at Saturday's march. Conservative social media users blasted her for wearing the flag, claiming she was showing support for the communist country. But the flag was an homage to her father, who migrated to the U.S. in 1968, according to fact-checking website Snopes, at a time where thousands of Cubans left the island because they opposed the Castro regime.
Fellow Parkland survivor David Hogg was also a target of attacks and so-called memes, some of which went as far as comparing him to a Nazi supporter.
"I remember when I thought these people wouldn't stoop to mocking children whose friends were murdered in a massacre. No matter your political beliefs, we must agree this behavior is heinous," comedian, actor and writer Kumail Nanjiani wrote in response to conservative pundit Bill Mitchell's attempt to joke about Hogg.