Woman Who Faked Pregnancy, Tricked Adoption Couple is Arrested on Felony Larceny Charges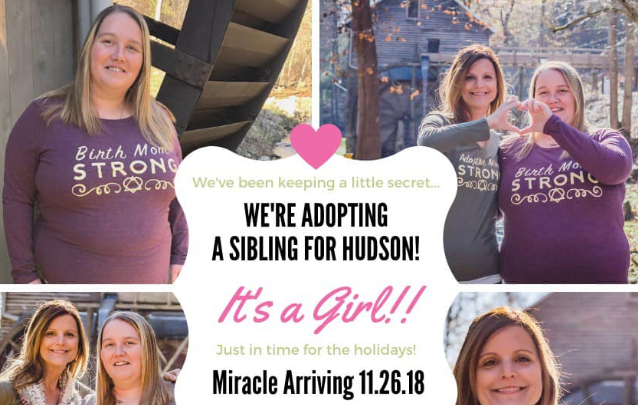 A Virginia woman who faked being pregnant right up until delivery, and lied to a California couple looking to adopt her baby, was arrested Monday.
Prosecutors filed charges in Scott County Circuit Court in Virginia against Elizabeth Jones, who admitted to tricking a California couple into believing she would give them a baby daughter through an adoption arrangement. Laura and Matt Trayte of Lake Forest, California, kept in daily contact with Jones, even traveling across the country for a professional "It's a Girl! We're Adopting" photo shoot posted to social media. The couple showered her in gifts and services right up until Jones faked going into labor and ultimately checked herself into a hospital and later lied about having previously had a miscarriage.
The couple first shared the heartbreaking ordeal with local news outlets late last year, telling WJHLT-TV in December, Jones "was going to be a part of our life for the future and the baby's future. We dove headfirst into this process with our hearts."
Because faking a pregnancy is not illegal, prosecutors had to find other legal means in the couple's demand for justice. On Monday, Jones, of Nickelsville, Virginia, was arrested on nine counts of felony larceny for receiving gifts under "false pretenses" during her fake pregnancy. Jones had previously been convicted of credit card fraud, The Washington Post first reported.
WCYB-TV reported in January that Jones reached out to the couple in September 2018, claiming she was five months pregnant and wanted them to adopt her child. Jones claimed she "wanted to focus on her career" and they set up an adoption agreement after the Traytes tried several expensive in vitro procedures. The Traytes told local news outlets earlier this year they spent countless hours each day checking the progress of their future child on the other side of the country.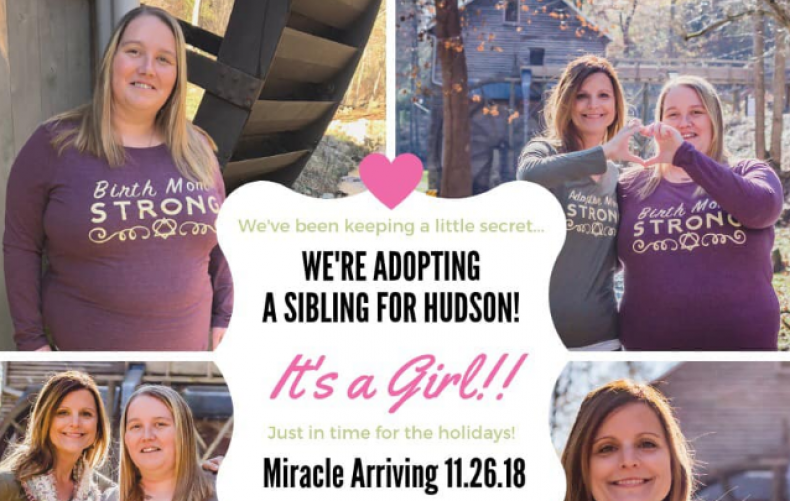 Jones said in January she was going to therapy to figure out why she duped the Traytes into believing she was pregnant and open to adoption. However, she did not believe she would be pursued with criminal charges.
In addition to receiving gifts from the couple, Jones posed for several professional photographs with the Trayte family, including their young son, Hudson, who was even brought to the hospital to meet his new baby sister before the ruse was uncovered. Jones even contacted the Traytes saying she was going into labor and getting blood in her jeep as she rushed to the hospital to give birth, urging them to hurry and meet her there.
A November Facebook post entitled "A Sibling for Hudson" shows Laura and Elizabeth making hearts with their hands and wearing "Birth Mom Strong" and "Adoptive Mom Strong" long-sleeved shirts while smiling. Hudson is seen posing between the Trayte parents holding a heart and puzzle-shaped sign that reads, "Waiting for our missing piece."
Jones has previously said she regrets lying to the couple, but still made up several stories after the Trayte family rushed to the hospital only to find her giving them a "blank stare," as Laura told local news outlets. Jones also said that while she is sorry for lying, she doesn't think she should be subjected to any legal repercussions.
"I don't think so, because I don't feel like what I did was criminally wrong," Jones said, when asked if she should be prosecuted. "Now Morally? Yes. But I've never seen someone be charged with something morally...".
Wise County Commonwealth's Attorney Chuck Slemp was made special prosecutor on the case, which indicted Jones last week.
"Our office worked with the Sheriff's Department," Slemp told WCYB-TV. "They investigated and they worked with folks to determine whether there was a crime, and they sought the indictments. Now that an indictment has been issued, our office will be prosecuting it."
The Trayte family said they hope this "psychological attack" on them and prosecution of Jones will lead to changes within the adoption industry.