Fake Slave Body Bags Lined Up Outside Alabama Courthouse in Protest Over Former SCOTUS Justice
Protesters lined fake body bags outside an Alabama county courthouse Wednesday night to draw attention to the county's history with slavery.
The protest, organized by a group called Reclaiming Our Time, is one of several that have taken place over the last 20 weeks outside the Albertville Marshall County Courthouse. According to a Facebook event description for Wednesday evening's event, participants gathered to protest the Confederate flag and Confederate monument stationed outside the courthouse and to raise awareness about the county's history with slavery.
"In addition to our protest tomorrow, we'll dive into the history of Marshall County," Reclaiming Our History wrote in a Wednesday Facebook post ahead of the scheduled protest. "We'll start with the Cherokee people being forced out of Marshall County and end the learning segment with learning about John Marshall and what we know about the 150 people he owned."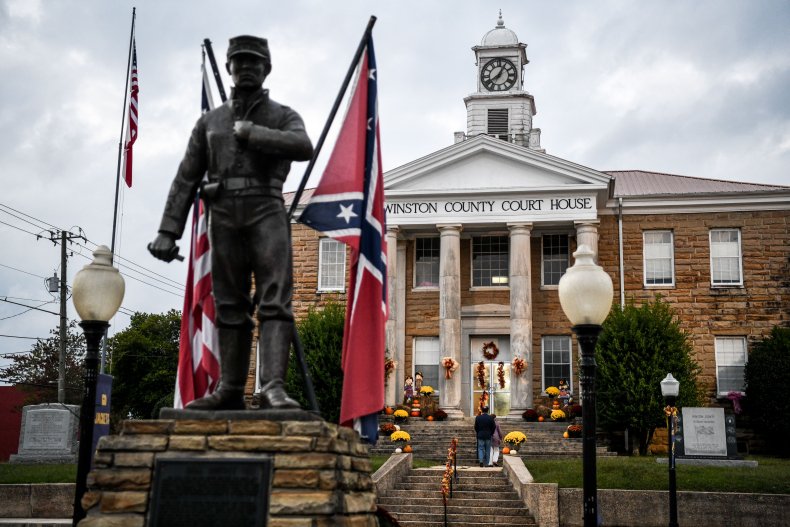 Marshall County was named for John Marshall, the fourth chief justice of the U.S. Supreme Court who was appointed by former President John Adams and who ran the court from 1801 to 1835. Marshall was active in the slave trade throughout his life, according to Supreme Injustice: Slavery in the Nation's Highest Court, a book assessing the Supreme Court's history with slavery. Five of the opinions that the Supreme Court has referenced most often through its history were written by Marshall, author Paul Finkelman wrote in an excerpt published by The University of Chicago Law Review Online.
"Marshall's massive personal investment in human bondage and his nonjudicial public life inform his slavery jurisprudence," Finkelman wrote.
Marshall's history as a slave owner has also been documented by the American Constitution Society, which said Marshall owned "hundreds" of slaves in a September report titled, "No Law School Should be Named for John Marshall." According to Finkelman, four law schools have been named after Marshall.
In video footage captured Wednesday by WHNT-TV, several stuffed black bags were seen lined up on the grass outside the courthouse, with accompanying signs identifying the names and prices of the former slaves that protest organizers said Marshall owned. The signs also included a recurring phrase: "Marshall's heritage of hate."
Behind the protesters, a Confederate flag fluttered in the wind on a pole beside the American flag and Alabama's state flag.
Unique Dunston, the founder of Reclaiming our Time, told WHNT-TV she sought to educate people on the pieces of Marshall's biography—as well as the history of the county as a whole—that she said have been overlooked.
"I think we should tell the full story, if we're going to tell the story at all," Dunston told the station.
Newsweek reached out to the Marshall County Commission Office for comment but did not receive a response in time for publication.