'Betrayed and Murdered the Kurdish People': Fake Video of Banner Hanging Outside Trump Hotel Viewed Over Two Million Times
A fake video showing a banner hanging from Trump Tower in Las Vegas accusing the president of betraying the Kurdish people has been viewed more than two million times on Twitter and has not yet been taken down.
The post by Paul Lidicul, a user with less than 5,000 Twitter followers whose fake video was first reported on by AFP Fact Check, features a doctored "Greenpeace" banner hanging from the top of the hotel reading: "Betrayed and murdered the Kurdish people!"
The tweet falsely suggesting the banner was unfurled at Trump Tower, Las Vegas yesterday had picked up 96,900 likes and 2.4 million views by the early hours of this morning.
"Happening right now at the Trump Tower Hotel in Las Vegas. #KurdsBetrayedByTrump," the post read.
Twitter had not taken the 22-second video down at the time of writing, despite Greenpeace USA confirming that the image was computer-generated.
Responding to the fake news tweet, Greenpeace USA said: "We want to make clear that this is a computer generated animation and not executed by Greenpeace."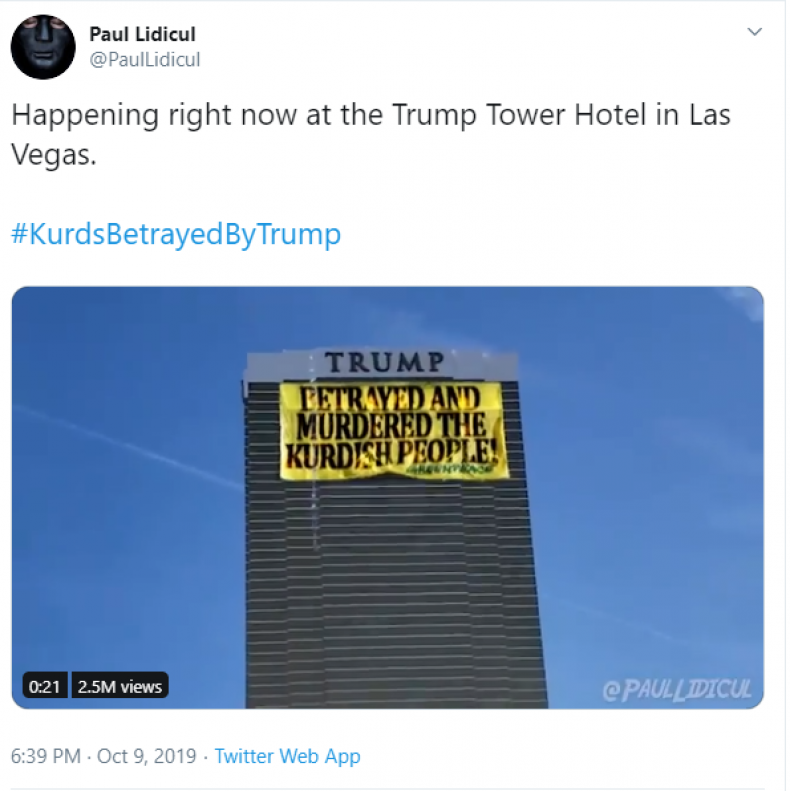 The doctored video had also been posted twice on both Facebook and Instagram in posts found by AFP Fact Check—the fact-checking blog run by Agence France-Presse.
A 17-second version of the film was posted to YouTube yesterday but has only been viewed 84 times.
Copies of the video appearing on Facebook had been viewed more than 11,000 times collectively, while one of the Instagram posts had received more than 1,400 likes. Both the Facebook and Instagram posts featuring the doctored clip flagged by AFP Fact Check were still available at the time of writing.
Newsweek has contacted YouTube and Twitter for comment on this story, but did not receive a response at the time of publication.
A Facebook company spokesperson said: "We are committed to combatting the spread of misinformation, including removing content that violates our standards, reducing content that is misleading or false, and providing people with more information when they do encounter false news to better inform them about what to read, trust, and share.
"In this instance, many of the videos have been fact-checked as false by our third-party fact-checking partners. Therefore on Facebook, fact-checked videos are getting reduced distribution and include Related Articles linking to the fact checked piece."
The spokesperson added that fact-checked videos on Instagram were removed from hashtags and the "Explore" function. They also confirmed that the video would not be removed entirely from Facebook and Instagram.
AFP Fact Check exposed similar videos of computer generated banners waving from Trump Tower in Las Vegas earlier this year after Twitter user Paul Lee Ticks posted a viral video of a computer-generated banner reading: "Concentration Camps!" waving from the hotel.
The video of the computer-generated "Betrayed and murdered the Kurdish people!" banner appeared this week after President Donald Trump announced Sunday that U.S. troops would be withdrawn from northeastern Syria.
His widely-criticised move paved the way for Turkey to begin attacks on U.S.-allied Kurdish militias in the area on Wednesday, which resulted in the deaths of at least five civilians, according to the Kurdish-led Syrian Democratic Forces.