'Unpresidented': How Fake 'Washington Post' Was Created by Anti-Trump Activists to Tell of President's Removal From Office
A collaborative project nine months in the making finally came to fruition Wednesday morning, as fake editions of The Washington Post dated May 1 were distributed throughout Washington, D.C. Printed copies accompanied a fake website replicating the longstanding news organization, reporting the fictional downfall of the Trump presidency thanks to women-led protests and chronicling how Trump's imagined exit from the White House had effects rippling across the globe.
The culprits behind the stunt were members of various anti-Trump, left-wing activist organizations and individuals who've long-called for the president's removal from office through online opinion pieces, protests or "resistance guides." At the end of the various fake stories was an "action guide," detailing how to effectively resist Trump in an attempt to force him from office.
The front page of the hoax newspapers read: "Unpresidented: Trump Hastily Departs White House, Ending Crisis." Other imagined headlines littered the front page, such as "Celebrations Break Out Worldwide as Trump Era Ends," "Pres. Pence Begins 'Clipped Duck' Term," and "How DC Stepped Up to Shut Down Trump."
"It's very much a dream. It's not deception. More along the lines of speculative fiction: what could be, what might be, what we would like to see happen in the future," L.A. Kauffman, a long-time activist and author of resistance and protest books, told Newsweek. She was one of the main organizers of the project. "Most people at first don't want to take anything you're handing out on the street. They're afraid you're trying to get them to buy something."
Kauffman was photographed outside the White House Wednesday morning handing out the fake newspapers for free, alongside other women. The papers were also distributed to people coming out of Union Station near the Capitol building. An unidentified woman said it was a "special edition" that was "free."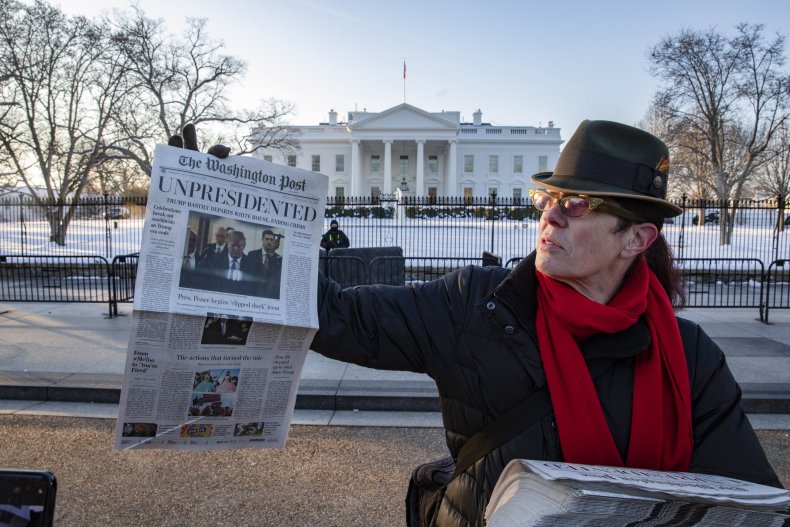 But Kauffman did not create what she calls the "unauthorized Washington Post" overnight, nor did she do so by herself. The intricate detail, everything down to the font, layout and fine print, appeared nearly identical–at a glance–to the real print and online versions. However, the stories were all fake, and things like the Post's signature slogan printed at the top of each paper, which is "Democracy Dies in Darkness," now read "Democracy Awakens in Action."
"There are many skilled artists out in the world today," Lisa Fithian, an activist and protest organizer who participated in the hoax paper, told Newsweek.
"We've been working on it for nine months," Kauffman said. "We had a lot of fun with the stories about the actions that turn the tide and how D.C. stepped up to shut down Trump, but the foundation for those stories are real insights how ordinary people can withdraw cooperation and consent from authoritarian rulers."
Kauffman and Fithian said they had the help of multiple people, including Onnesha Roychoudhuri, a Brooklyn-based writer and author of The Marginalized Majority: Claiming Our Power in a Post-Truth America; The Yes Men, a left-wing performance group headed by Jacques Servin and Igor Vamos; Paul Engler, author of This Is an Uprising: How Nonviolent Revolt Is Shaping the Twenty-First Century; and Sophie Lasoff, co-author of the Resistance Guide. Roychoudhuri and Servin confirmed to Newsweek they were involved.
One story began, "On May 1, barely 6 months after the midterm elections, Donald Trump appears to have abandoned the White House and abdicated his role as president." Other articles credited women and the #MeToo Movement for ousting the president, with lines such as "Women's marches flooded some 650 towns and cities nationwide with protesters waving signs, pushing strollers, chanting slogans and wearing crocheted pink hats topped with cat ears."
When asked whether fake stories like these give fuel to the fire for Trump and conservative allies who call truthful reporting "fake news," both Kauffman and Fithian disagreed.
"It's so clearly dated in the future that that kind of response reflects willful misunderstanding of what we've created," Kauffman said. "Trump's discourse about fake news cannot be allowed to take our dreams and our future away from us."
On Twitter, the Post issued a statement about the fake newspapers and website, saying they were "aware of a website attempting to mimic The Post's" and knew about the fake papers. "They are not Post products, and we are looking into this," they added.
As of Wednesday afternoon, the fake website replicating the Post's was no longer active. However, Servin told Newsweek he was working on restoring the website and planned to leave it online "forever."
"It's a roadmap to the future. We're going to keep it up until Trump is ousted by civil action," Servin said.
He did not believe the paper would take legal action, and he emphasized that he and his fellow activists were fans of the powerful, well-known paper, whose reach stretches far beyond Washington.
"It's meant in good humor. It's not like we dislike The Washington Post. We love The Washington Post," Servin said. "It's that they are the newspaper of record in D.C. and you can say things in the voice of The Washington Post that carry more authority."
This article has been updated to include information from Jacques Servin.