Faked Deaths and Mock Funerals Offer Cathartic Experience for South Koreans
Thousands of South Koreans have been simulating their demise and participating in mock "funerals" that aim to improve life by faking death.
The Hyowon Healing Center opened for business in 2012, and since then more than 25,000 people are reported to having taken part in the fake funerals. Hyowon is also a funeral home conducting real funerals, but began to offer the "living funerals" in response to the problem of suicide in South Korea.
South Korea is said to have one of the highest suicide rates in the world, with 29.6 deaths per 100,000 people in 2016, according to the World Health Organization.
Officials at the healing center say the simulated death ceremonies are meant to inspire a newfound appreciation for life, and spark reconciliation and forgiveness among family and friends. Elderly people and the terminally ill are also said to participate, apparently intending to prepare for death in a kind of "rehearsal."
In a VICE video of one of the events, a large group of people are seen wearing what look like funeral robes while seated next to wooden coffins. A man guides them to write out their wills and they oblige, before directing the group to get into the coffins.
"Now, sadly, it's time to go," the man says. "Next to you there's a big wooden box. The box is known as a coffin."
The participants dutifully climb into the coffins and lay down before closing their eyes.
"Now, all of you are dying," the guide continues. "Your organs are failing, one by one, and you will eventually take your last breath."
The coffins are then closed. After an undetermined amount of the time, the coffins are opened as the man says, "With the top of your coffin, a new life has opened," and participants emerge from the coffins as their "old hardships" are left "in the coffin in the other world."
"We don't have forever," said healing center leader Jeong Yong-mun to Reuters. "That's why I think this experience is so important—we can apologize and reconcile sooner and live the rest of our lives happily."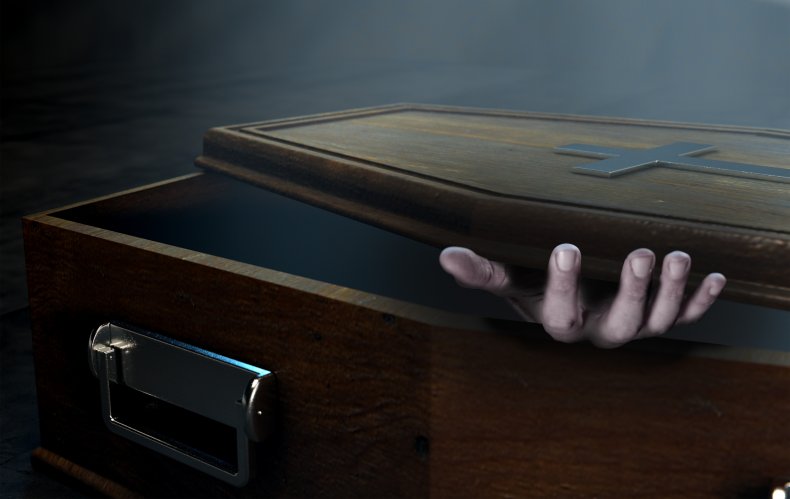 Jeong says he doesn't accept every person who wants to participate in one of the simulated funerals, and occasionally dissuades those who are considering suicide.
"I picked out those people who have asked themselves whether... they can actually commit suicide, and I reversed their decision," said Jeong.
The free service appears to attract a wide age range, from teenagers to the elderly. Rather than seeing it as a morbid ritual, many participants consider the ceremony a cathartic experience that results in a renewed and refreshed outlook on life.
One 75-year-old participated as part of a "dying well" program offered by a senior center, commenting that "once you become conscious of death, and experience it, you undertake a new approach to life."