'Falcon and the Winter Soldier' Captain America Reveal Leaves Fans Emotional
Marvel fans got a look at the all-new Captain America in last night's The Falcon and the Winter Soldier finale, with some rejoicing that "dreams do come true."
Spoilers ahead...
Anthony Mackie is now Marvel's first Black Captain America in a major change to the MCU canon.
The final episode in the record-smashing Disney+ series saw Sam Wilson (played by Anthony Mackie) embrace his role as the new star-spangled Avenger as the former Falcon took to the sky with Steve Rogers' (Chris Evans') shield and wings from Wakanda.
In 2019's Avengers: Endgame, Steve Rogers retired as Captain America and handed the shield over to a reluctant Sam.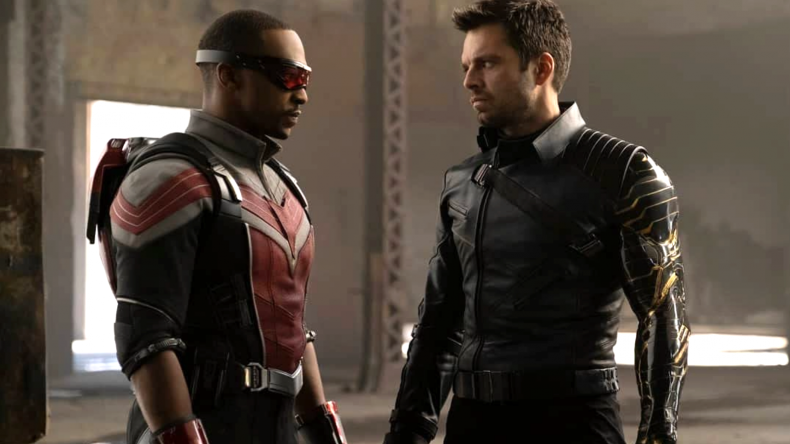 The reveal at the end of The Falcon and the Winter Soldier is made even more significant after Isaiah Bradley (Carl Lumbly), an experimented-on Black Super Soldier, told Sam in episode five that "they will never let a Black man be Captain America. And even if they did, no self-respecting Black man would ever wanna be."
Many fans are celebrating the finale and Mackie's role as the new Captain America on social media today.
"dreams do come true," one fan tweeted. "anthony mackie is our captain america."
While another added: "'I'M CAPTAIN AMERICA' EXACTLY SAM WILSON IN THE CAPTAIN AMERICA LOOK AT HIM."
Another fan tweeted: "Everyone, praise Anthony Mackie. AKA, CAPTAIN AMERICA."
Another praised Mackie's monologue as Captain America in the finale, tweeting: "everyone loves to say x y or z actors deserve emmy awards for any emotional performance but i promise no one is TOUCHING anthony mackie's cap monologue. i genuinely believe it's the most sincere and well performed line delivery in the entire mcu."
Another added: "this speech was so powerful and anthony mackie's delivery of it was absolutely perfect. CHILLS."
"the speech he gave here was so so so powerful, i cried sm during the whole thing. he truly is captain america," said another.
Series director Kari Skogland spoke about Captain America being played by a Black man and how important that is today.
"I believe this is the most important show of the century. We were taking on a Black man picking up that shield and what that meant and what that was going to look like in a very racially charged time," Skogland told Global News. "That was a really important image to look at and to explore. We had to not pull any punches and really dig into it."
The Falcon and The Winter Soldier is streaming now on Disney+.