'Fall Guys' Bidding War Gets Huge Donations from Ninja, MrBeast & More
Fall Guys: Ultimate Knockout has taken over the internet since its launch earlier this month, and, while TimTheTatman struggles to get his first Crown, the game's developers at Mediatonic have started a charitable campaign that's garnered major traction from some of the world's most popular content creators. While brands like Wendy's, Fallout and Walmart trip over themselves to get a custom Fall Guy, those pleas have shifted their attention to a worthy cause.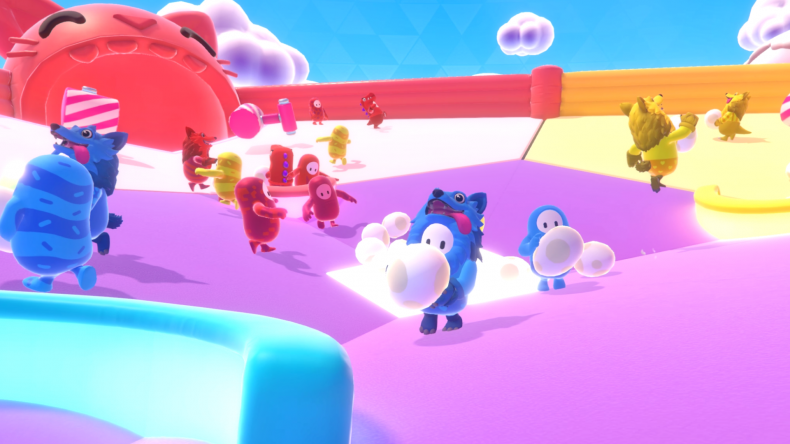 On Monday afternoon, the official Fall Guys Twitter account announced that, despite the immense offers from global brands interested in an in-game appearance, it would offer the coveted reward to just one account that would pledge the highest amount to the U.K.-based SpecialEffect charity that has been helping those with physical disabilities experience video games since 2007.
The rules of the contest are simple: all an interested brand has to do is pledge to donate a new high bid, and they'll be in the running to get their own Fall Guy costume in the game. The sole winner will be crowned at the end of the month, as announced by the game's official social media channels.
While the campaign initially started with donations in the tens of thousands of dollars, the competition has recently begun heating up over the past few hours, with some of the internet's biggest personalities now getting involved. What started with the popular looter shooter Warframe committing to a $20,000 pledge has since swelled to $330,003 from the pervasive G2 esports team.
But, not to be outdone, there are still plenty others who remain on the hunt. Unsurprisingly, fans of the charitable YouTuber MrBeast concepted their own Fall Guy design shortly before he committed to a second pledge for $300,000.
Then, of course, there are the FPS trainers at Aim Lab, who committed $210,069.
And, to mark the $200,000 threshold, Twitch superstar Tyler "Ninja" Blevins even threw his own hat into the ring.
With these huge stats in mind, it's clear that hunger remains high for a Fall Guys appearance, particularly amongst digital content providers. But, more important than stamping a logo on a clumsy jelly bean, is the commitment these bidders have made to a massive influx of cash for a charity helping disabled gamers around the world.
For its part, those involved with SpecialEffect are humbled by the outpouring of support from fans and brands. In a tweet, charity CEO Mick Donegan said "it's both humbling and jaw dropping to watch the Battle of the Brands developing. Mediatonic and Devolver have been long-term supporters of our work through One Special Day and many other channels, but THIS idea has knocked us sideways!" The charity's official Twitter seconded this notion, saying the organization was "blown away by the response so far."
With still many more days to go until the Fall Guys bidding war is done, there's no telling how high these pledges might run. One thing that is certain, though, is that some serious contenders have started to come out of the woodwork. Will one of the current bidders reign supreme, or has the true winner yet to drop a huge bag of cash? Between snagging tails and ragging on yellow team, we can't wait to find out.
Fall Guys: Ultimate Knockout is available now on PS4 and PC. Those who'd like to donate to SpecialEffect can do so here.
What do you think of the Fall Guys bid war so far? Which brand will take the Crown? Tell us your predictions in the comment section!