'Fall Guys' Season 2: Start Time and Everything You Need to Know
The second season of Fall Guys is about to begin, giving players more costumes, new stages and some quality of life changes that fans will enjoy.
Announced during a special PlayStation presentation in August, the new season will finally allow Fall Guys players to earn new rewards and play in different stages against friends and others online.
Before you set out to earn the most crowns, though, read on for all the necessary information about Fall Guys Season 2.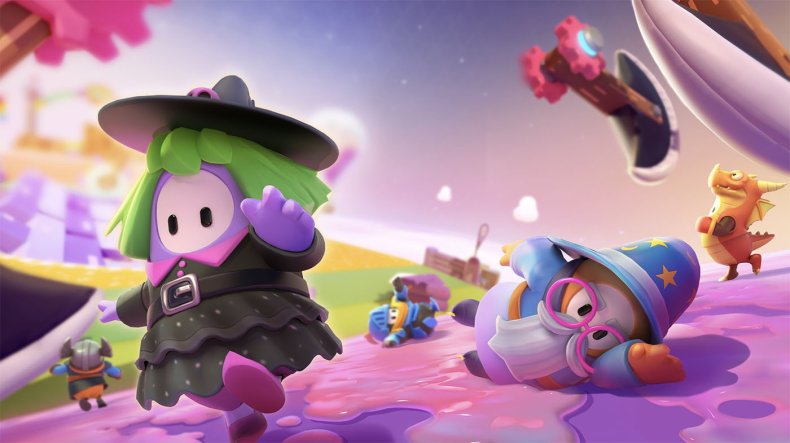 FALL GUYS SEASON 2 START TIME
While Mediatonic has confirmed season 2 of Fall Guys will begin Thursday, October 8, there has yet to be exact timing on the update.
At time of writing, the official Fall Guys Twitter account has only stated the date of when Season 1 ends and Season 2 begins, which is October 8. However, if we look back at previous updates, especially the midseason update, we see that it went live around 9 a.m. EDT.
For now, players can expect Fall Guys Season 2 to go live on PS4 and PC at around 9 a.m. EDT on Thursday, October 8. We'll update this section if exact timing is given or if the official Fall Guys account corrects us.
In the meantime, players can earn double the fame points from October 5 to 8, so get in and earn the season 1 content you can.
FALL GUYS SEASON 2 CONTENT
Mediatonic confirmed that Season 2 will be Medieval-themed, so that means the stages and new costumes will have a fantasy feel.
Earn costumes that dress your bean as an ogre, princess, a jester and much more. On Wednesday, the official Fall Guys Twitter account gave its followers a look at what to expect, which you can see below.
As for stages, there will be four stages with medieval motifs that will be added to the rotation of Fall Guys. We only have one confirmed stage and IGN got an exclusive look at the upcoming Knight Fever level.
Mediatonic also confirmed that there will be a new way to identify yourself in-game. In the customization feature, players will be able to add a banner with specific logos as well as a nickname to their online name.
The developer also confirmed that players will be able to randomize their costume in the customization feature, in case you're having trouble mixing and matching your various parts.
And, of course, Thicc Bonkus, a new spiked rolling pin obstacle, will be added to stages. So be sure to avoid it in the new season.
Fall Guys: Ultimate Knockout is available now for PS4 and PC.
Are you excited for Fall Guys season 2? Let us know in the comments section.